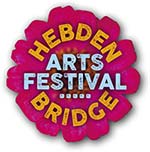 Friday, 5 October 2018
More Wonderful Women come to Hebden Bridge
Scotland's National Poet Liz Lochhead, local musician Magpahi, sound artist Debbie Sharp, Rochdale's all women Cantare Choir join protest singer Grace Petrie on the bill for the Weekend of Wonderful Women in Hebden Bridge.
The weekend organised by Hebden Bridge Arts Festival celebrating the rich contribution women have made to Calder Valley and the arts running from 26 - 28 October in Hope Baptist Church.
Liz Lochhead will be reading from her collection Somethings Old, Somethings New  on Saturday 27 October. Liz's work ranges from the bittersweet to the rude and raunchy mixing poems and monologues accompanied by the soulful sax of Steve Kettley.
Rochdale's all female choir Cantare  conducted by Lucy Pankhurst close the festival on Sunday 28 October. Lucy is a descendent of the Pankhurst family who were key figures in winning the vote for women a century ago, and their debut gig in Hebden Bridge is chance to join in singing the suffergette anther. The choir will be joined by Splinter Ensemble playing specially composed music by Lucy, including Grimm Tales which is her  21st century spin on some of our favourite fairy tales.
Kate Radford runs the Arts Festival's Nova Collective supporting emerging local artists and throughout the weekend she is staging All The Things They Never Told You. Her immersive installation aims to reveal  the truth about your potential as a woman, and the world that you deserve to live in
Also running throughout the festival is speakHer, a sound sculpture by artist Debbie Sharp celebrating the 100 year anniversary of the Representation of the People Act. Inspired by Calderdale's own local Women's Social and Political Union and Emmeline Pankhurst's rousing speech in  support of the striking weavers on the wooden steps of Bridge Mill. Tthis unapologetic sculpture amplifies what protest means to women today and what is still to be fought for.
On Friday 26 October local writers Tessa Gorzjeiko and Alison Andrews will present Pampiric in the Banyan Tree on  Market Street. Their work in progress is the sharing of a piece around older women and the secrets of eternal youth.
"We thought it might be nice to celebrate diverse female voices during the Weekend of Wonderful Women and we hope there's a bit of something for everyone," said Arts Festival Artistic Director Helen Meller. "It's also Pumpkin Festival that weekend too so we're hoping that there will plenty of interaction between the two audiences checking out what is on offer around town."
"Grace Petrie opens the festival on the Friday night and her new album Queer as Folk is rightly  getting rave reviews. We've just heard she has won a support slot on Frank Turner's UK arena tour so this will be a chance to this committed performer in an intimate venue."
Tickets are available now from the Festival website or at Hebden Bridge Town Hall Monday-Friday 9-5pm.
The Arts Festival would like to hear about the women who have inspired you – past or present, local, national and international. Share your ideas by email.
Previously
HebWeb News: Weekend of Wonderful Women - 4 October 2018
HebWeb News: Festival street performers - photos - 2 July 2018
HebWeb News: Kids test out special purple ice cream - 28 June 2018
HebWeb News: Street Superstars back for Arts Festival - 26 June 2018
HebWeb News: Non-conformists head to Hebden Bridge Arts Festival - 21 June 2018
HebWeb News: Win an original John Hegley cartoon - 13 June 2018
HebWeb News: Non-conformist singers needed for Arts Festival - 8 June 2018
HebWeb News: Landscape scores rediscovered - 4 June 2018
HebWeb News: Hebden Bridge Labels wanted - 1 June 2018
HebWeb News: Non-conformists head to Hebden Bridge Arts Festival - 7 May 2018
HebWeb News:Café Culture is back thanks to generous grants- 2 May 2018
HebWeb News: A Cosey night out at the Arts Festival- 30 April 2018
HebWeb News: DJ Dave Haslam is in the hot seat - 31 March 2018
HebWeb News: Top comic Bridget Christie plays Hebden Bridge Arts Festival - 21 March 2018