Valley superstars debut at the Trades
Monday, 9 November 2009
Former Owter Zeds mainman John Armstrong brings his new band Wobbly featuring some of the valley's top musicians to the Trades on Friday 20th November.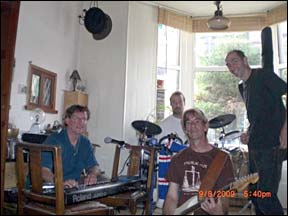 Wobbly have only been together a few months but have already won a strong following along the valley for their mix of dancey rave, dub-reggae, funk and a bit of rocking soul.
They are something of a local super-group featuring John on keyboards, Moog and vocals, Bones Moore, formerly of the Stuffed Badgers, on space guitar/vocals, Nick Lunn playing bass and former Enid drummer Grant Gilmour.
Support comes Northzone's free styling and world beats as well as a set from DJ Yaka who is one of the Valley's up and coming disc spinners.
"Wobbly haven't been together very long but they're attracted a strong and knowledgeable following in a very short space of time which is not that surprising when you consider their pedigree," Trades Club Spokesperson Paul Clarke told the Hebden Bridge Web.
More info from 01422845265 or boxoffice@tradesclub.info
---
Listen now
---
Previously on Hebweb
We try to make sure that the Hebden Bridge Web news is correct,
but if you are aware of any errors or omissions, please
If you have comments on Hebweb news please make
a contribution to our
© Hebden Bridge Web