Nothing to Declare at the Trades Club
Tuesday, 5 January 2010

Local DJs Nothing to Declare are playing a special charity gig featuring the very best house tunes at the Trades on Friday, 8th January in memory of one of their friends who recently passed away.

Following a sell out show at the club last year DJs Nash, Munch, Joel Booth and Marc Jeffrey return to play house classics from the 1990s as an aural memorial to Liam Jones and all proceeds from the event will go to Phoenix House in South Shields.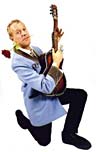 The local theme continues on Saturday afternoon when Cabaret Heaven's Mike Hancock dons a Noel Edmonds hideous jumper for a very special Multi-Coloured Swap Shop organised by the club and Hebden Bridge's Transition Town team.

It's a chance to make a small dent in capitalism and reduce your carbon footprint by swapping the CDs, books clothes and other terrible yuletide presents your maiden aunt misguidedly gave you on Christmas morn. As an added bonus tea, coffee and homemade biscuits are on offer as you swap that James Blunt CD for something useful.

Saturday evening sees local author and Trades member Anna Chilvers launch her very well received début novel 'Falling Through Clouds' published by Bluemoose Books. Internationally acclaimed Lesley Glaister said 'Anna's prose is razor sharp...her dialogue pitch perfect' so Anna has decided to host a free launch event – although donations can be made on the door to Amnesty International – featuring DJs Johnny Boy of La Puta fame, Daz and Dave and Ketchup Queen.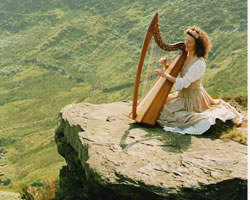 The weekend finishes off with a Sunday night gig from up and coming harpist Fiona-Katie Roberts who not only composes amazingly contemporary songs but also designs and builds her own harps. Fiona-Katie has played show stopping and foot tapping shows at festivals across the UK and USA. Support comes from Andy Hill who as well as being a well reviewed singer-songwriter is also president of the Earby Liberation Front (ELF) who want to bring Earby back into Yorkshire where it belongs.

"The last Nothing to Declare was possibly our most successful night of the year in 2009 but their second night is especially poignant as they want to remember Liam Jones and all proceeds will go to a very worthy cause," Trades Club spokesperson Paul Clarke told the Hebden Bridge Web.

"It isn't often we have a book launch at the club but this one is a cracker as one of our members Anna Clilvers has released a stunning first novel and she has also booked a fantastic line up of DJs to help celebrate that achievement.

"We will be putting on more Sunday gigs this year after pressure from our members and Fiona-Katie's extraordinary ability on the harp is the perfect start for a series of Sunday night gigs throughout 2010."

More info from 01422845265 or boxoffice@tradesclub.info
---
Listen now
---
Previously on Hebweb
We try to make sure that the Hebden Bridge Web news is correct,
but if you are aware of any errors or omissions, please
If you have comments on Hebweb news please make
a contribution to our
© Hebden Bridge Web