Monday, 12 June 2017
Shout out for Open Weekend
The voices of Hebden Bridge folk will be ringing out during the town's first Open Studios and Gardens weekend.
They will be heard in Shout! A half-hour film, featuring audio collected from Hebden Bridge residents comprising sounds of the town and stories from the community as they shout out into the sky their thoughts and feelings in particular when it rains. The film will screen at 9.30pm on Friday 7 and Sat 8 July at Calrec on Valley Road.
Shout! is being staged as part of the first Open weekend - which is a collaboration between Hebden Bridge Arts Festival and the Open Studios - supporting local horticulturalists and artists to open their gates and studios to the public.
Trail from Art in the Shed to the Blue Pig
The Open Gardens team have created their longest ever route along the Calder River taking in a trail from Salem Garden featuring Art in the Shed along to the bowling club for tea and cakes through to Hebden Bridge Cricket Club to take in a match and ending at the Blue Pig for some poetry readings.
15 town centre gardens
There are also 15 town centre gardens taking part including Hope Baptist Church, and Hebden Bridge Local History Society are commemorating the bicentenary of the death of Dr Rev John Fawcett at Machpelah.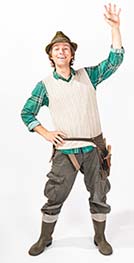 Junior gardeners, Mr Bloom and wellies
Junior gardeners can join CBeebies star Mr Bloom for a free session full of green fingered fun and games in the Town Hall at 2pm on Sunday 9 July. Straight after that show Her Indoors will be helping people plant wellies that have been donated to the Open Weekend.
Mr Bloom said: 'I'm really excited to pop along and say 'Ello' to the Tiddlers of Hebden Bridge. There's loads of activities planned for kids and grown-ups alike, so no doubt it'll be a marvellous weekend!"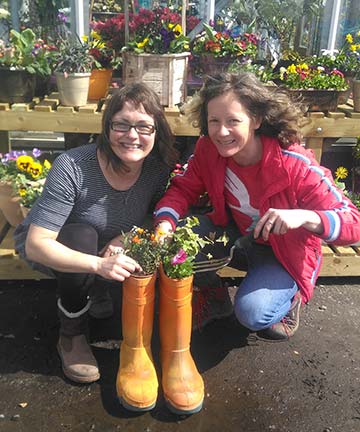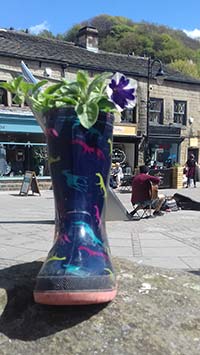 Ninety artists and craftspeople
Ninety of our best local artists and craftspeople are also taking part in the Open Studios in Hebden Bridge, Todmorden, Heptonstall and Mytholmroyd. They will talking to art lovers about how their work is shaped in their very individual studio spaces or homes, and there will be a chance to buy original work too.
Arts Festival Artistic Director Helen Meller said, "When we first got together with the Open Studios to create the Open Weekend we had no idea how big it would get so we're grateful to all the local artists and gardeners for their support.
"It's a chance to see some of the best gardens across our town and also to talk to local artists and makers about their creative processes right where they create their work."
7-9 July
All Open Weekend events from Friday 7 July to Sunday 9 July are free and for details go to the Festival website. Free guides including a map of the Open Gardens and Studios are available from the Town Hall and local shops