Lion of Zimbabwe to roar at the Trades
Monday, 23 November 2009

Thomas Mapfumo has cancelled his visit due this Thursday.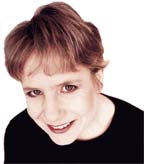 Comic Claire Summerskill has been described as the 'lesbian Victoria Wood' so she's the perfect choice to finish Cabaret Heaven's autumn season at the Trades on Saturday 28th November.

Claire's charming mix of stand up and funny songs have won her slots on Radio 4's Women's Hour and a chance to sit down with Richard and Judy before their TV programme imploded.

Steve Best was described by The Times as being in a 'class of his own' with a fiendishly clever show that harnesses a mind-boggling array of gadgets and gags in a glorious display of wild tomfoolery.

Saturday kicks off with the first of the club's Marvellous Tea Dances which are hugely popular across Yorkshire as dancers take to the floor all afternoon to the shake their tail feathers to the all time great hits of the 40s and 50s.

Kitsch irony for all the family is the order of the day as dancers can relax over a pot of fairtrade tea served in china cups and the choice of a mouth-wateringly selection of lovingly decorated classic and seasonal cakes, buns and biscuits.

"Booking Claire Summerskill is just like hiring a young Victoria Wood and she is the perfect choice to close a hugely successful autumn run for Bernard and Peggy who are the heartbeat of Cabaret Heaven. "

"There is already a huge buzz around our first Marvellous Tea Dance which is part of our commitment to being a club for all the community so I would get along early if you want a good spot on the dance floor."
Enid mainman Francis Lickerish plays the Trades


Enid founder member Francis Lickerish makes a welcome return to the Trades on Friday 27th November with his unique brand of progressive rock.

Lickerish was the guitarist and composer with the legendary progressive rock band who dominated the early 70s with classic albums like 'Region of the Summer Stars' and 'Aerie Faerie Nonsense' before he took a long break from the music industry.

Now he's back with his new band Secret Garden who have just released a new album 'To Wake the King' which has won rave reviews and many critics are saying it is the progressive rock album of 2009.

Secret Garden is packed full of virtuoso musicians including vocalist Hilary Palmer, former Enid keyboard player Willie Gilmore and guitarist Jon Beedle who has toured with Cliff Richard of all people.

Support comes from Hebden Bridge singer/songwriter Nic Chapman and his band playing songs from his forthcoming album 'Narrow Road to the Deep North.'

"The Trades is pleased that Francis Lickerish is coming back to the valley for what will be a real treat for progressive rock fans especially as his new album has been so well received," says Trades Club spokesperson Paul Clarke.

More info from 01422845265 or boxoffice@tradesclub.info
---
Listen now
---
Previously on Hebweb
We try to make sure that the Hebden Bridge Web news is correct,
but if you are aware of any errors or omissions, please
If you have comments on Hebweb news please make
a contribution to our
© Hebden Bridge Web