Football and Jazz and at the Trades
Sunday, 6 June 2010
The 1966 special
England fans will have a rare chance to watch the whole of the 1966 World Cup final at the Trades Club before the 2012 tournament kicks off in South Africa on Saturday 12 June.
Most England fans have seen the goals but many have never watched the national team's finest hour in its full glory and they will be plenty of time over a pint or two to debate whether Geoff Hurst's decisive third goal was over the line or not.
Then at 7.30pm it is game on the club's big screen as England's take on the much underrated USA team and food will be available all day as well as smelling salts for the faint hearted.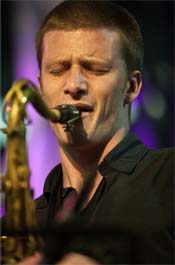 Once again HX7 Jazz have booked yet another hotly tipped young quartet as tenor sax star Sam Crockatt and his gang drop into the valley on Thursday 10 June. Sam's playing is gentler than many on the scene but has an intensity and energy all of its own which won his album 'Howeird' the Parliamentary Jazz Award for best album last year.
Crockatt is backed by Kim Downes on piano who is rated one of the best young pianists in the country and their intense solos are held together by Oli Hayward on bass and Ben Reynolds on drums.
The Trades has always played host to some of the best new clubs in Calderdale and Friday 11 June is the debut for Beats team Music Always Demands Movement or MADM for short.
MADM promise a night of Wonky Acid House, Techfunk, Breakz and Tekno and they have made their intension clear to be a top club by booking hugely popular European DJ Meat Katie who is jetting in from Spain for the event. The event will be powered by the awesome Anonymous Sounds rig and local DJs will on hand to add to the mayhem.
"Many England fans have never watched the whole of the greatest day in the England game so it's time to kick back with a pint to watch Bobby Moore and that magnificent team lift the biggest prize in world football," Trades Club spokesperson Paul Clarke told the Hebden Bridge Web.
"HX7 Jazz is rapidly becoming one the best jazz nights in the north and I'm not surprised Jazz fans in Parliament voted Sam Crockatt's latest collection their album of the year.
"MADM approached us because they said that breakz fans didn't have a decent night anywhere along the valley and we were amazed when they talked Meat Katie into jetting in for their first night."
More info from 01422 845265 or Trades Club Box Office