Trades Club: The Beat, Nancy Elizabeth and Love Music Hate Racism fundraiser
Sunday, 17 January 2010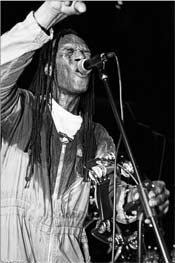 Ska legends The Beat featuring Ranking Roger bring their high-energy show packed full of Top 10 hits to the Trades on Saturday January 23rd.

The Beat emerged from the tough working class suburbs of industrial Birmingham as Thatcherism began to tear the country apart. But their message of hope and peace saw them ride the Two-Tone wave to the top of the charts along with The Specials and The Selector.

A string of hits followed including 'Tears of a Clown', 'Mirror in the Bathroom', and 'Can't Get Used to Losing You' as they became regulars on Top of the Pops.

Their albums 'I Just Can't Stop It' and 'Wha'ppen' both went Top Five as the band headed off to America for successful tours with Talking Heads and The Pretenders. The Beat were huge supporters of CND playing to rallies of 250,000 people at their peak and their anthem 'Stand Down Margaret' become a rallying call during the Miners Strike.

The Beat imploded at the height of their fame in the late 1980s with Ranking Roger going off to form General Public and half the band setting up as the Fine Young Cannibals. The Beat reformed in 2003 with Ranking sharing vocal duties with his son Roger Junior backed up by a top quality band including former members of Dexy's Midnight Runners.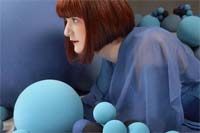 New folk singer and LIPA graduate Nancy Elizabeth is at the start of what many are tipping to be a long and illustrious career and she opens the weekend on Thursday January 21st promoting her latest album 'Wrought Iron'.

Nancy Elizabeth has been described as the best thing to 'come out of Wigan since Poole's Pies' attending the same college as the Verve's Richard Ashcroft and one reviewer noted 'for every Tori Amos there's a PJ Harvey and Nancy Elizabeth could come from the same lineage'.

Friday sees Liverpool's Pete Bentham and the Dinner Ladies play a Love Music Hate Racism gig sending out a clear message that bigotry and music just don't mix.

Pete and The Dinner Ladies have build a reputation as a wild live act transporting kitchen sink punk rock n roll from Merseyside to the Upper Valley and one critic said they are 'hopelessly loveable…a way more fun version of Pulp and Victoria Wood all rolled into one'.

"We are absolutely delighted that The Beat are coming back to the club as they are not only a brilliant live band playing some of the biggest hits of the 80s but we are all looking forward to singing along to 'Stand Down Margaret'," Trades Club spokesperson Paul Clarke told the Hebden Bridge Web.

"Nancy Elizabeth is one of the leaders of the new folk movement across the Pennines in Manchester and she has developed into a mesmerising live act.

"The Trades has always stood against fascism and with a convicted race hater in the European Parliament there has never been a more timely time for this Love Music Hate Racism fundraiser."
More info from 01422845265 or boxoffice@tradesclub.info
---
Listen now
The Beat featuring Ranking Roger
Pete Bentham and the Dinner Ladies
---
Previously on Hebweb
We try to make sure that the Hebden Bridge Web news is correct,
but if you are aware of any errors or omissions, please
If you have comments on Hebweb news please make
a contribution to our
© Hebden Bridge Web