Troubadours, folk and blues at the Trades
Sunday, 13 June 2010
Travelling troubadours Orkestra del Sol join the Mental Elf team to celebrate the apex of the solar cycle at the Trades on Friday 18 June.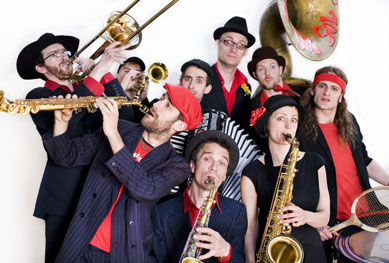 Orkestra del Sol have won a reputation of being Scotland's answer to the raucous celebratory wedding bands of Western Europe. The ten piece ensemble blend the best of brass, the swinging sounds of old New Orleans, the rolling rhythms of the Middle east and the bouncing beats of UK ska.
Their lively stage antics pack a real punch making a mockery of any attempts to categorise their sound and support on the night come from DJs Babel and Marco del Sol.
Before Orkestra del Sol kick off football fans will have chance to watch England on the big screen taking on Algeria in their second qualifying game during the first World Cup to be held in Africa.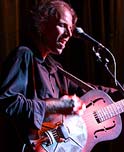 Steve Tilston Trades Roots has consistently booked some of top performers on the circuit and on Thursday 17 June he welcomes bottleneck/slide guitar legend Brooks Williams.
Blues singer Brooks who has been on the road for the best part of twenty one years was dubbed by his peers as one of 'America's musical treasures' and this tour coincides with the release of his seventeenth album 'Baby O' which is the first he has recorded in this country.
Fans of this guitar-picking road warrior can expect a mix of early blues songs with his own original compositions thrown in and as always Steve Tilston will be on hand to play a few songs from his massive back catalogue.
Up and coming indie pop stars The Stations bring their unique brand of atmospheric rock to the club on Saturday June19 June. A lively crowd is expected for a high energy show by a band described by Manchester Music as "buoyant rock full of differing attitudes from straight up grunged up mantras, to the sliced up chop of a guitar that sounds like speeded ska going through a distortion pedal".
"The last time Orkestra del Sol played the club their electrifying stage show guaranteed a sell out and once again Mental Elf have pulled off a real coup by getting them back," Trades Club spokesperson Paul Clarke told the Hebden Bridge Web.
"There seems to be no end to the gems pulled out of Steve Tilston's contact book and his regulars are in for a real treat as after over 20 years on the road Brooks Williams is easily one the best live performers to set foot on our stage."
More info from 01422 845265 or Trades Club Box Office
Listen/watch now