Haiti benefit at the Trades
Sunday, 24 January 2010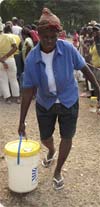 The Hub DJ collective have organised a benefit night at the Trades to raise money for the victims of the Haitian earthquake on Friday 29th January.

The free admission event will feature the usual house classics from Scott and the regular DJs but everyone who turns up will have to a make a donation to help the millions left homeless and starving by the massive earthquake that rocked the island.
Jazz Club: The HX7 Club: A brand new monthly, jazz venue starts this week, organised by Dave Nelson. Read Hebweb News Report.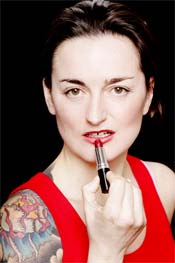 The first Cabaret Heaven of the winter season kicks off on Saturday 30th January with headliner Zoe Lyons who the Observer described as 'confident and razor-sharp.'

Zoe has won a hatful of awards for her stand-up winning the Funny Women 2004 prize, Comedy Newcomer nominee at Edinburgh in 2007 and the coveted best joke award at the 2008 festival. She has made a string of TV and radio appearances as well being a patron of London Pride.
Regular hosts Bernard and Peggy will keep an eye on the acts with top class support coming from Frank Dapper who is Britain's top manipulator of tennis rackets, balls and pretty much anything else you can throw at him in a jaw dropping show.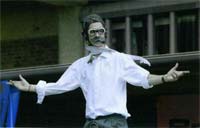 "Like all of us The Hub DJs have been touched by the plight of those left homeless by the Haitian earthquake so although they're not charging they asking everyone who comes along to dig deep as every penny will help a person in desperate need," Trades Club spokesperson Paul Clarke told the Hebden Bridge Web.

"The first Cabaret Heaven is back with a bang featuring Zoe Lyons who we will persuade to tell the best joke of the 2008 Edinburgh Festival and a quite potty turn from Frank Dapper that has to be seen to be believed."
More info from 01422845265 or boxoffice@tradesclub.info
---
Listen now
---
Previously on Hebweb
We try to make sure that the Hebden Bridge Web news is correct,
but if you are aware of any errors or omissions, please
If you have comments on Hebweb news please make
a contribution to our
© Hebden Bridge Web