News, Features and Upcoming Events
Digital Switchover - BBC2 analogue to be switched off this Wednesday, 7th September. Digital equipment will need to be tuned to pick up available channels. See Digital UK for more info.
Heritage Weekend at The Birchcliffe Centre: The Birchcliffe Centre is not only home to the Hebden Bridge Local History Society Library but also the newly formed Pennine Horizons Digital Archive. Read more - 1 Sept
Calling former Brass Band members: Hebden Bridge Junior Band is celebrating its 40th anniversary with a reunion evening. Read more - 31 Aug
Get in quick for Po'Girl tickets - see What's on section - 1 Sept
Programme of local history evenings: local volunteers against Franco, temperance in the Upper Valley, sexing chickens in the 30s and much more - see Local History Group or the HebWeb What's on section - 26 Aug
Mountain bike enthusiasts are being encouraged to take on one of three routes on the Bronte Mountain Bike Challenge in aid of Sue Ryder - 30 Aug
Parrot sighted in Old Town - Liz Dodds wonders if anyone has lost a parrot? Mainly red chested parrot/ parakeet seen in the big trees near Old Town Cricket Club at 6pm Weds. "Had a lovely voice, singing and calling". - 24 Aug

The Outside Track at Wainsgate: The Summer season of concerts at Wainsgate Chapel resumes on Sunday September 4th with a welcome return visit by acclaimed acoustic/ folk band The Outside Track. Read more - 22 Aug
Hebden Bridge and the HebWeb feature in the Guardian's Northerner blog by Berringden Brow's Jill Robinson: "You can celebrate the Queen's Diamond Jubilee if you want to, but Hebden Bridge Town Council isn't joining in." (20 Aug)
The Book Case will continue - under new owners in the Autumn - 19 Aug
Hebden Bridge to London by train? - plans have been submitted to link Huddersfield, Dewsbury, Hebden Bridge and Todmorden to Londonl via a new service, which would also see increased direct trains being offered between Leeds, Bradford and Halifax. See Yorkshire Post story - 17 Aug
HebWeb Forum discusses the riots. And concern grows once again over siting of communications mast. See Forum - 11 Aug
Sainsbury's coming to Upper Valley? See Forum thread. Latest post: planning refused.
Book News - Future still unclear for The Book Case with upcoming retirement of Peter and Anne Tillotson. Read their recent statement and see top ten bestsellers in July, along with the latest book news. Read more - 3 Aug
Newly elected Town Council - minutes of its first 4 meetings, and 8 committee meetings including the new Picture House and Young People committees, are now available online. (3 Aug)
Tourism debate - see HebWeb Forum. "Hebden Bridge is magical! It holds so much history and beauty that we have yet to find elsewhere. It woulden't matter if there were less shops or fewer cafes - there is something unique about its buildings, canal boats, walks and lovely people."
Pop visionary Julian Cope to make a rare trip to Yorkshire playing classics from across his hit studded career at the Trades Club in Hebden Bridge on Friday 28 October. More info (2 Aug)
Profile on Mytholmroyd and Hebden Bridge in Yorkshire Post. 'It's the wild, wild west of Yorkshire. Hippies and highwaymen, murderers and Methodists, artists and alternative healers . . . Glyn Hughes . . . insisted its character was determined by geology, the millstone grit, whose blackened outcrops he likened to "the bones [that] press through the flesh of a hungry cow".'
Job offer - Freelance Project Worker: Calderdale Sustainability Forumneeds a flexible hours/ freelance project worker. See Small Ads (1 Aug)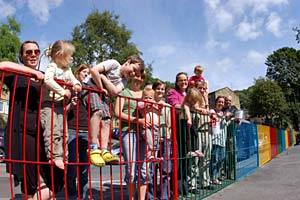 Painting the Little Park: Parents and friends at the Victoria Road playground on Saturday. Read more about what they are doing. Thanks to Andy Spencer for photo - click to enlarge. (25 July)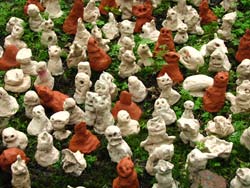 Every year, the children of Hebden Royd have created a Sculpture Trail within Colden Clough Local Nature Reserve. The Sculptures are arranged around what was once the site of Lumb Mill ? one of many mills along the length of the Colden Valley. Read more (21 July)
See July Transition Town Newsletter. (15 July)
The Wombles go skipping in Hebden Bridge - Guardian's The Northerner - another piece from Berringden Brow author Jill Robinson. (15 July)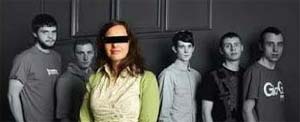 STOP! DON'T READ THIS - the story. Miss Rusty's book is finally published for all to read, and includes her account of being sacked from Calder High along with ideas for working with disaffected teenagers. Read HebWeb review

'Inspirational' Teacher Steve Cann cleared - The General Teaching Council for England has confirmed that there was no case to answer. Steve was the union rep suspended from Calder High in early 2009 along with Leonora Rustamova (Miss Rusty) Read more (5 July)
PICTURE HOUSE DECISION - Hebden Royd Town Council are to take over the Picture House. The transfer should ensure the cinema's survival and development. Read more (29 June)
Yorkshire Post feature on the Trades Club
Job vacancy: Executive Director, Hebden Bridge Community Association. More info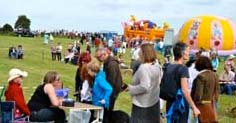 Blackshawhead Village Fete, this Saturday 3rd Sept is not only one of the highlights of the year in this part of "the tops" but heralds the start of a week-long festival of fun for the local community. Read more - 31 Aug
Eastwood Recycling Centre: Have your say. Local residents are being offered the chance to have their say about how improvements to the Centre can be made. Read more - 30 Aug
Punk greats at the Trades this weekend. See What's on section - 30 Aug
"This hard-working lady, disabled by caring beyond the call of duty, has been plunged into dire poverty by a government of millionaires." See this Forum thread on Government policies - 29 Aug
Thanks to Hebden Bridge, Calderdale leads the way with asset transfer. Read more - 26 Aug

The best of folk at Hebden Bridge's Folk Roots Festival in November. Two generations of the leading lights of the folk world come together for a one off show at Hebden Bridge's Folk Roots Festival in November. Steve Tilston, who's songwriting was praised by John Lennon, will be joined on stage by Becky Unthank. Read more - 22 Aug
Workers' Liberty's summer camp took place in Hebden Bridge, in West Yorkshire, on 19-21 August. 35 young activists, a mix of young workers, university and school students and unemployed people, took part in a weekend of political discussions, workshops and socialising. Read report (23 Aug)
The Trades Club has told the Hebweb that the Julian Cope gig is now sold out in a record time for the club. There a few tickets left for Friday's Robby Woomble gig but they are going fast so you will need to get in quick.
Local Women take action against street harassment in West Yorkshire. Read more about Hollaback! West Yorkshire
Blackshawhead Fete: People in Blackshawhead are putting finishing touches to their plans for the annual Village Fete, which this year takes place on Saturday 3th September. Read more - 9 Aug
Small ads - recent ads include gardening, rent a desk, flats, rooms, cottage and houses to rent, life drawing, Greek conversation sought.

Town Hall Open Day - Hebden Bridge's Town Hall, a grade II listed building, will welcome visitors this year during the national Heritage Open Days initiative in September. More info (2 Aug)

Ian Coates - latest, on his way back to Hebden Bridge after 12 years riding round the world on his Honda - update from the Balkans - See HebWeb Feature for latest update. (1 Aug)
New community market offers free stalls for fundraisers and vegetarian cafe. Read more (28 July)
New outdoor clothes shop to open in Market Street on 19th August - more info
The Picture House is looking for film fans to help make a real community cinema. Become on of the Friends Of The Picture House. Read more (25 July)

Seventeen days of comedy, music, literature and drama came to an end on Sunday, 3rd July as the 18th Hebden Bridge Arts Festival drew to a close. Read more

Local Paintings Online: Calderdale has now put online what the council describes as some of the finest oil painting collections in the country with work dating from the 17th to 21st century. Read more (11 July)
Arts Festival 2011 Final Week - a full and varied programme of music, drama and dance still to come.
Job offer - Hebden Bridge Community Association are seeking help in marketing office space in the new Creative Quarter. See Small Ads
Vandalism at Station - British Transport Police (BTP) is appealing for information after flowers and plant pots were vandalised at Hebden Bridge station. Read more - 4 July

Hanging Basket Fever Hits Hebden
This week over 300 baskets and planters have been put up across Hebden Bridge and Mytholmroyd. Read more
Small Ads - I just wanted to let you know that through my small ad on your site I found my ideal new home, meeting all my requirements. Thank you very much for such a great resource - Message received 6 July
Former mayor wins back control in St Pol - Hebden Bridge's twin town moves left. (30 June)
University of Third Age - reports of the May meeting on the role of the Lord-Lieutenant and the June meeting entitled Keep Learning: Live long and prosper. Read more - 28 June
Now BBC covers the discussion about the 'So Hebden Bridge' sign on the HebWeb Forum
Guardian piece mentions HebWeb Forum - 'A sign on the main A646 road . . . "That was So Hebden Bridge." There's currently a thread discussing this on the excellent Hebweb local community forum; some like it; others loathe it. Is the sign a symbol of quirkiness, or simply pretentious?' Article written by Berringden Brow author, Jill Robinson.
HANDMADE PARADE TRIUMPH - "It just keeps getting bigger and better every year." Nearly 700 people took part in the parade and an estimated 5,000 lined the route to enjoy amazing giant puppets, dazzling artwork, a riot of colour and toe-tapping music. Read report - see photos - 14 June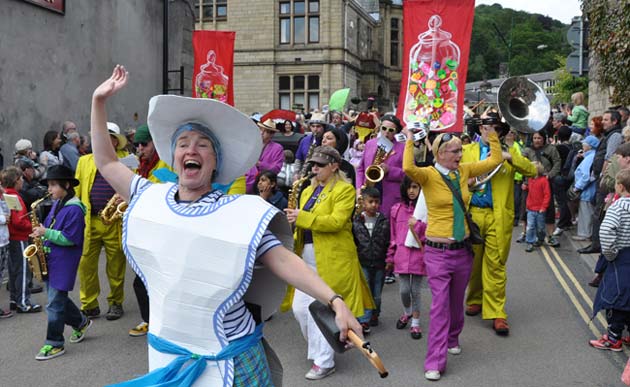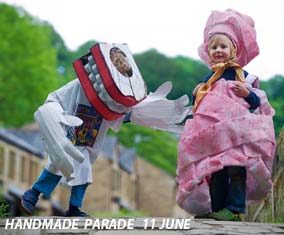 Blues Festival Report - from Craig Shaw. "Many music lovers, regulars at other festivals, said they were blown away by the quality of the music." Read more - 5 June
PACE EGG PLAY 2011 See photos and video (including 3-D) - Heptonstall Pace Egg information and Midgley Pace Egg information. Over £1700 raised for charity. See also, HebWeb feature
Five hundred words on Hebden Bridge - "We have more coffee shops, hairdressers and accessories shops than you could toss a stick at, yet struggle to keep an electrical goods store open and even to kickstart a cobblers." Read more from Angie Cairns' 500 words.
Small Ads - "We placed a job ad on the Hebweb recently, intending to keep it there for 2 weeks, but we had to take it down after 3 days due to the huge response generated"
DIGITAL SWITCHOVER DATES: The change from analogue to digital TV will happen next year, 2011 Read more
Glyn Hughes: local author and poet Glyn Hughes has died. Glyn was the author of Millstone Grit and the award winning Where I used to Play on the Green, and a contributor to the HebWeb, including 11 poems - see our Features section. Add your comments on our Lives Remembered page
Radio 4 comes to Heptonstall - iPlayer link to Ramblings
Life in a Northern Town: 1980s Hebden Bridge footage featured in an 80s pop video - more info and discussion
Regional newspaper sales were down in the last 6 months of 2010. According to ABC, sales of the HB Times were down 18.2% to 2766 copies. (Making the HebWeb a much better prospect for advertisers!)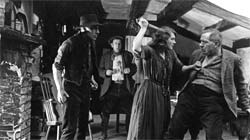 Helen of Four Gates: the HebWeb talks to film-maker Nick Wilding about how this classic silent film was tracked down to once again enthrall audiences at the Hebden Bridge Picture House. Read more

Hebden Bridge a "GREAT TOWN" - Ian McMillan writes poem about Hebden Bridge which has won the 'Great Town Award' given by The Academy of Urbanism. Hebden Bridge has previously been voted the 4th funkiest town in the world and the UK town with most local identity. Read More

Jason Elliott's 500 Faces of Hebden Bridge is now complete. See web gallery of all 500 faces

More from Hebden Bridge Web