Hebden Bridge Folkfest
Update: Wednesday, 14 July 2010
Steve Tilston and Mouldy Joes launch Hebden Bridge folk Festival
Local folk stars Steve Tilston and the Mouldy Joes headline the opening session of the first Hebden Bridge Folk Festival at the Trades Club this Friday.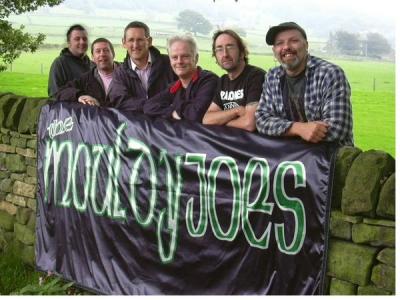 Steve Tilston has made his home in Hebden Bridge hosting regular roots sessions at the Trades featuring the best of folk new and old, but he is also one of Britain's best singer/ songwriters.
Over a 30 year career Steve has produced trailblazing albums like 'Songs From a Dress Rehearsal' and penned classics songs like 'The Slip Jigs and Reels', 'The Naked Highwayman' and 'Here's to Tom Paine'. Dirty Linen magazine said Steve 'can stand shoulder to shoulder with any singer/ songwriter/ guitarist in the world' and he is a consummate live performer.
The Mouldy Joes always pack them in at the Trades being regular visitors to the valley after forming five years ago in the small unclaimed bit of land in between Halifax and Huddersfield. They came together in a cosmic collision of colleagues, invited guests and unsuspecting advert responders to create a raucous live set of their own songs and covers of an Irish persuasion.
A packed opening night sees The Durbvervilles make the short trip from the Batley delta of West Yorkshire melding folk, roots and alt. country based on strong harmonies and a keen ear for catchy tunes.
"Steve Tilston has been a huge supporter of the first Hebden Bridge Folk festival so who better to open events than one of the greats of British folk who as well as reeling off classic after classic is a relaxed and very funny live performer," says Trades Club spokesperson Paul Clarke.
"The Mouldy Joes will close the evening with their usual anarchic take on Irish folk and it's always a pleasure to welcome The Durbervilles who are bit more restrained but no less entertaining."
Monday, 12 July 2010
The inaugural Hebden Bridge Folk Festival kicks off this coming weekend featuring legendary live act The Men they Couldn't Hang and folk royalty Robin Williamson.
The festival at the Trade Club has been put together by a group of local folk fans who were sick of having to travel out of town to see top quality acts in towns with no real folk tradition.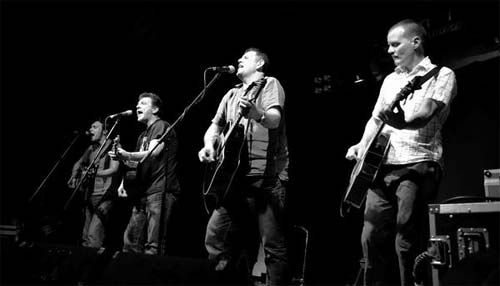 Headliners on Saturday night the Men they Couldn't Hang make the short trip from their native Batley promoting their new album 'Devil on the Wind' which has been hailed by critics as a real return to form.
The MTCH made their name in the 1980s as the most political of the folk groups who sprang up during the Thatcher years with a series of hit indie singles including 'Shirt of Blue' which was their response to police brutality during the Miners Strike. They also had a reputation as an incendiary live act built around their cover of Eric Bogle's anti-war anthem 'The Green Fields of France' which was voted into the number three slot on John Peel's Festive 50.
Folk giant Robin Williamson makes a welcome return to the valley thanks to Steve Tilston who is hosting a session at 5pm featuring some of his own songs and a selection of classics from the Incredible String band mainman.
Robin Williamson was one of the pioneers of British folk revival co-writing a series of critically acclaimed albums with the String Band which have had a huge influence on most of the nu-folk acts hitting the charts a generation later.
After the String Band broke up Robin went solo with a typically eclectic series of solo albums that have never been scared to push the boundaries of folk and his last show at the Trades saw him demonstrate his virtuosity on harp as well as his still amazing work on the fretboard.
The festival is kicked off on Saturday afternoon by Will Kaufman and his tribute to the life and work of folk hobo Woody Guthrie scheduled for 3pm. Will takes the audience on journey through Woody's life as a documenter of working class struggles during the Great Depression which will certainly resonate in their difficult times. He will trace the genesis of how 'This Land is Your Land' was written in response to the mindless jingoism of Irving Berlin's 'God Bless America.'
"A bunch of us thought it was bizarre that Hebden Bridge didn't have its own folk festival when you consider the huge folk tradition round here so we thought we'd start with a small scale event which we want to become an annual event," Trades Club spokesperson Paul Clarke told the Hebden Bridge Web.
"We also wanted it to reflect the vast spectrum of folk music which is why we booked The Men they Couldn't Hang who have perfected their high octane live show after twenty five years on the road and Robin Williamson who is the godfather of the nu-folk revival."
More info from 01422 845265 or Trades Club Box Office
Listen/watch now