Out on the Floor at the Trades Club
Monday, 8 February 2010
It's time to dust off those flared trousers and sprinkle some talcum powder on the Trades dance floor as the club brings Northern Soul back to the Valley on Saturday 12th February.
Northern Soul may have been born at Wigan Casino but West Yorkshire has a proud history of soulies strutting their stuff and throwing swan dives to the likes of Al Wilson, Dobie Grey and the mighty Gloria Jones.
La Puta DJ Johnny Boy is the man on the decks with a set packed full of Northern classics to practice your footwork across the club's sprung dance floor.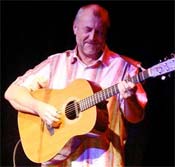 The weekend kicks off of Thursday 11th February with a complete contrast as North East folk legend Bob Fox is the latest in the long line of quality bookings for Steve Tilston's Folk Roots nights.
Bob has been filling clubs on the circuit for 35 years and was described by the equally legendary Ralph McTell as 'an artist of great ability and integrity' and even better as 'having one of the best voices in England.'
Bob's high standing in the folk community was confirmed in 2006 when he joined Kate Rusby, Karine Polwart, Jez Lowe and Jon Tams to record the new Radio Ballads for Radio 2.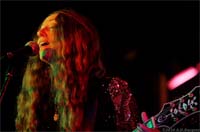 Local recording artists The Steals have been steadily building a following through constant touring and they make a welcome return to the club on Saturday 13th February.
The Steals effortlessly blend electronic folk with a smidgen of psychedelic rock driven by the beautiful voice of Jayn Hanna and various critics have described them as mysterious, haunting, heart breaking and life affirming.
They are joined on a full bill of non-traditional folk by A Rookery, Swallowing the Sea and Daniel Land and the Modern Painters.
"You'd have to be dead not to enjoy the driving Northern Soul beats and Johnny Boy is promising wall to wall classics, but remember to bring your dancing shoes," Trades Club Spokesperson Paul Clarke told the Hebden Bridge Web.
"We've had a run of outstanding North East folk acts with Jez Lowe, Vin Garbutt and the Unthanks playing storming sets so it's fitting that another Geordie legend Bob Fox completes the set.
"The Steals are on the verge of great things so we're expecting a high octane set from them backed by a top quality bill of quirky, offbeat folk."
More info from 01422845265 or boxoffice@tradesclub.info
---
Listen now
---
Previously on Hebweb
We try to make sure that the Hebden Bridge Web news is correct,
but if you are aware of any errors or omissions, please
If you have comments on Hebweb news please make
a contribution to our
© Hebden Bridge Web