News, Features and forthcoming Events
Ian Coates rides back into Hebden Bridge on his Honda, after leaving to travel round the world in 1999. The HebWeb has been following his travels for the past 12 years and the coverage on the HebWeb helped to make his incredible trip famous worldwide. See our feature. Photos above: Howard Holmes
Nutclough extension: Calderdale approve controversial plans. See Forum message
Council grants: Hebden Royd seeks applications for its community grants. Read more. (9 Jan)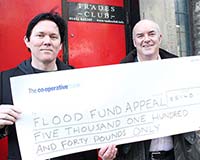 Trades Club donates £5000 to Flood Fund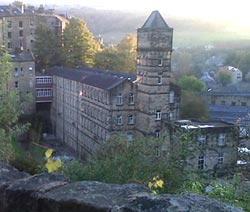 Calderdale competence challenged over plans for Nutclough Mill, one of Hebden Bridge's finest old buildings. The Head of Planning of Calderdale has been sent a formal letter of complaint concerning its handling of the application. Read more (7 Jan)

Postcard from Palestine 10 - Hebden Bridge's Ron Taylor, part of an international group of supporters, sends the HebWeb his latest news from Palestine. "Leaving Bethlehem" Read more.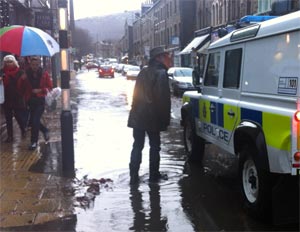 Market Street flooded yet again as the wettest year in memory comes to an end. Some shop keepers were closing early, putting up flood defences and sandbags. Photo: HebWeb at 2pm, New Year's Eve. Update 3.05pm: The Bookcase reports the road now re-opened, and that the cause this time was the drains.
Below: Carols in the Square - hundreds braved the rain for the annual Christmas Eve singing of carols.
Calderdale Budget Proposals for 2013 to 2016: Have your say. Calderdale Cabinet are asking residents and businesses for feedback on their proposals during a month of consultation. Read more. (15 Jan)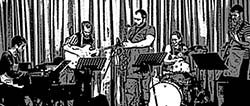 HX7 JAZZ: The Allsorts led by Canadian drummer and composer Katie Patterson, Jazz Yorkshire's Young Musician of the Year 2012 Read more. (15 Jan)
Ban the Burn campaign goes to Europe: questions are being raised about the legality of Natural England' decision to stop prosecuting the Walshaw Moor Estate - campaigners want the replacement of the sphagnum moss to slow the run-off during heavy rainfall. Read more. (14 Jan)
Hebden Bridge Walkers Action Relaunch: on Monday January 14th, 7.30 at Hebden Bridge Town Hall, anyone with an interest in walking is welcome. Read more.
Keep NHS Calderdale public, a lobby will urge on Thursday 17 January at the next NHS Clinical Commissioning Executive Meeting. Read more. (14 Jan)
New Town Hall - job vacancies. Hebden Bridge Community Association are pleased to be currently recruiting for a number of posts. Read more. (10 Jan)
Hillsborough and Bernard Ingham: pressure is growing daily for local papers to end the Bernard Ingham column given his continued failure to apologise for 'disgraceful' remarks following the Hillsborough tragedy. Update: 11 January. Read more.
Have your say on Council budget: Calderdale Council is inviting people to have their say on the Council's budget for 2013/14 to 2015/16.
Energy Switching in Calderdale: Anyone in Calderdale can now easily take part in a deal that could save them as much as £250 per year. But just how green is the initiative? Read more. (3 Jan)
The Big Ass Christmas Concert raised in excess of £400 for Ravenscliffe Special School. Read more. (4 Jan)
Christmas tree recycling (4 Jan)
HEBWEB REVIEW OF THE YEAR 2012: Many thanks and Happy New Year to all those who read and support the HebWeb, especially those who have sent their news items, event details and photos, shared their views on the Forum and submitted their Small Ads.
Guardian Online: Creating a winter valley of lights in flood-hit West Yorkshire. And how Calderdale helped. (31 Dec)
The Trades Club thanks the HebWeb: "The Trades has had a great year with more than 30 sell-out gigs and a huge part of that is the regular updates we get on Hebweb" Read more.
Small ads: "We've successfully rented our house. Thanks for an excellent service - I'll heartily recommend Hebweb, as our house was previously listed through an estate agent who didn't manage to get us a tenant in 3 months - through Hebweb we had 4 prospective tenants within a week." (4 Jan)
Hebden Bridge floods on Channel 4: Our floods featured in "Is Our Weather Getting Worse? The Hebden Bridge slot is five minutes starting around 6 minute into the programme. (6 Jan)
Ian Coates of Hebden Bridge has been travelling the world on his Honda since 1999. He's now nearing home. See HebWeb Feature for latest update from the near the German/ Danish border. (29 Dec)
Mike Harding back on stage at the Trades, the first time since he performed at the Miners' Strike Benefit in 1984. Read more - updated with a copy of original ticket from a HebWeb reader.

Hebden Bridge and its Co-op featured in this Radio Four programme - about 11 minutes in (21 Dec)
Proposed Calder High Academy: public meeting to be held in new year with speaker from Anti-Academies Alliance. Read more
Trades Club featured in article in The Independent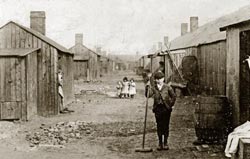 City in the Hills - Corinne McDonald and Ann Kilbey told a meeting of the Local History Society of Dawson City, the building of the Walshaw Dean Reservoirs and the publication of a new book. Read more (16 Dec)
Our MP, Craig Whittaker will vote against same-sex marriages. Yesterday in Parliament, he told the Culture Secretary, Maria Miller that the views of people of faith should never be marginalised, referring to the Coalition for Marriage petition, calling for no change in the definition of marriage. See Forum discussion from earlier this year. (12 Dec)

Maxine Peake brings Pendle Witches show to The Trades Club - Silk and Dinnerladies star join up with the Eccentronic Research Council (ERC) Update: tickets going fast."Thanks to the coverage on Hebweb we sold over 100 tickets on day one". Read more. (13 Dec)
Yorkshire Post article: "The Yorkshire town bouncing back six months after the summer flood . . . . With the snow-capped hills glistening in the distance . . . Hebden Bridge looks as pretty as a Christmas card. (12 Dec)
The factories are gone - but the music plays on - Hebden Bridge played its part in the industrial struggles of the 19th century, the growth of trades unions and the birth of co-ops. Today the factories are all but gone, but the Trades Club remains and thrives. Read full article by Peter Lazenby (9 Dec)
Forum: hot topics include the proposed development at Mytholm Works, bus problems and Calder High becoming an academy.
Women's Business Network: Ladies4Networking, a group set up to forge links and open up new opportunities for businesswomen, has won an award. Read more. (7 Dec)

Another big name for the Trades Club - After an epic 18 month chase the Trades Club has finally singer songwriter, King Creosote. Read more. (6 Dec)
Bus Services Consultation: All this year, people have been writing to the HebWeb Forum vividly describing the failures of the local bus service. Now there's to be a consultation. Read more
Mytholm Works: Councillors overrule planners' recommendation to dismiss Supermarket and Hotel plans. See Forum thread (4 Dec)
Local Green Belt threatened - latest HebWeb Forum thread
Local plan: drop in consultation event on Tuesday, 4 December. More info
Forest School expands: Tinderwood Trust, which has been delivering Forest School for nearly 7 years in the upper Calder Valley and beyond have moved into another new site. (3 Dec)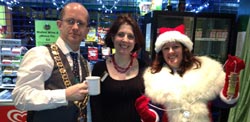 Festive Cheer at the Picture House: The Picture House welcomed two new members of staff as regular members of staff took the night off to enjoy a well earned Christmas Knees Up.
Mytholmroyd Flood Action formed and will work on behalf of local residents and businesses in Mytholmroyd and Cragg Vale who may be at risk, and will look at ways to minimise the effects of any future flooding. Read more.
What's on over the next few days? Nutcracker at the Town Hall, Zeitgeist Pop-Up Christmas Shop, HX7 Jazz, Big Ass Christmas Concert, Remembrance Carol Service and more. See What's on.

UN role for White Ribbon's Chris Green. Chris has proudly accepted an invitation from UN Secretary-General Ban Ki-Moon to join his Network of Men Leaders. Read more. (10 Dec)

Record turnout for Arts Festival open meeting: Festival photographers Sarah Mason and Craig Shaw were on hand to discuss their photos documenting a rich variety of events. Read more (7 Dec)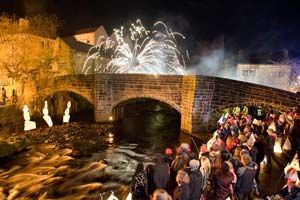 Valley of Lights Gallery on the HebWeb: we've now added 6 photos from Ian Hodgson.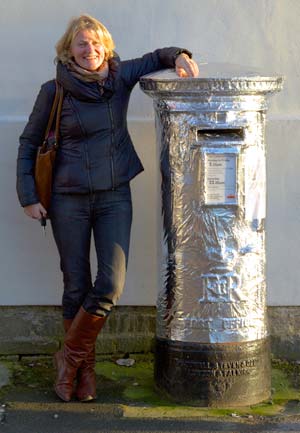 Silver postbox outside Mytholmroyd post office, to recognise the achievements of Karen Darke. Photo: H Gregg. Read more 3 Dec
The VALLEY OF LIGHTS stunned the many hundreds who packed the streets of Hebden Bridge Thursday evening, 29th November. A magnificent evening of parades, illuminated cyclists, frosty moonlight, music, street markets and entertainers showed once again what a quirky, funky, colourful, creative community we live in. More photos. Updated, to include a sample of photos from Craig Shaw and Ian Hodgson. See also: Forum thread
Town Council bye-election: Jonathan Timbers (Lab) wins the West End seat in Hebden Bridge and Julia Gibson (Lib-Dem) has taken the White Lee seat in Mytholmroyd. More info (16 Nov)
Floods: Daily Telegraph article - "How a pioneering 'shop local' campaign helped Hebden Bridge in Yorkshire recover from a devastating flood this summer." (14 Nov)
Nutclough Mill: oversight leads to deferment of decision on planning application. See Forum thread
Hebden Royd Town Council Bye-Election: candidate Robin Dixon corrects leaflet. Read more
Members of Wadsworth Environment Group at their Wainsgate Graveyard Tidy-Up on Saturday 10th November. Click photo to enlarge
Help save the NHS - this Friday at Central Library. See What's on.
Free Marketing Workshop: Businesses in Hebden Bridge are invited to a November marketing workshop which promises to reveal some truly distinctive ways to get visitors to spend more and stay longer. Read more (9 Nov)
Thanks to Andy Spencer for this photo of this year's firework display
Green light for Youth House: Calderdale Council has given the green light for Hebden Bridge Light Opera Society (HBLOS) to take over responsibility for Youth House in Hebden Bridge. Read more (30 Oct)
Hebden Bridge Eccentrics: Proud to support the Naked Rambler. Thanks to Craig Shaw of Blu Planet Photography for this photo. Click to enlarge. Update: See news report (29 Oct)
Guardian Northerner uses HebWeb coverage of the Naked Rambler. Northern correspondent of the Guardian, Martin Wainwright writes, "Witness current comments on the community website, the Hebweb, which is one of the best of its kind in the country. No, world." (25 Oct)

New faces at Arts Festival: Hebden Bridge Arts Festival has appointed six new trustees as it prepares for its 20th anniversary next year. Read more and see photo. (22 Oct)
The completely renewed Victoria Road Little Park re-opened Sat 20th October, thanks to the efforts of parents and local councillors over the past couple of years. Read more
Hebden Bridge Community Fayre a great success: Forty groups participated and several hundred members of the community came along to see the rich diversity of community life within Hebden Bridge on display. Read more (16 Oct)
Ted Hughes' brother writes book on "Ted and I" - see Yorkshire Post and Guardian pieces.
RSPB lodges EU complaint over Walshaw Moor controversy: The group says the government has failed to protect the landscape from activity to promote grouse-shooting. See Guardian article
Queues outside The Book Case in Hebden for the Julia Donaldson signing - the queue stretched all the way to the Co-op. See video clip from Fran Robinson of the Mytholmroyd Net.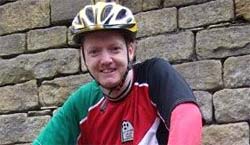 Former Green Party councillor completes cycle tour round Britain's coast. Former Green Party Town Councillor, Jamie Johnson has spent five months cycling 5000 miles round the UK coast raising funds for Palestinian refugees. Read more (9 Oct)
After the floods Market Street is gradually coming back to life after this summer's floods. Valley Organics re-opened today, the Deli is back open, Element Jewellery relaunches on Saturday, the Yorkshire Soap Company and Home Oh on 13th October, and Oxfam next month. (5 Oct)
Flood fundraising auction - Auction took place on Friday evening (28th) at the Town Hall and raised nearly £6500. Background info here.
Town Council - latest minutes now online
Hebden Bridge Blues Festival wins Blues Festival of the Year Award at the British Blues Awards
Any Questions at Hebden Bridge Town Hall: Listen now in iPlayer. A lively Hebden Bridge audience asked the panel questions on squatting, overseas student visa restrictions, disability benefits and asset transfers.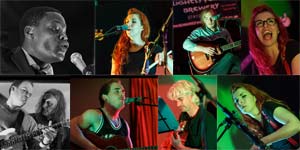 Floodstock: An evening of Live Blues music in aid of the the Calder Valley flood victims was held on Saturday (1st) at Mytholmroyd Community Centre. More photos from Craig Shaw.
Guardian Northerner: Hebden Bridge shows off its new Town Hall: "Famous for its sense of community, the Pennine paradise has bucked all trends by building itself a magnificent new home for scores of local groups and activities." Berringden Brow's Jill Robinson takes a tour.
Flood defences pledge for Mytholmroyd and Hebden Bridge: New defences will be developed quickly, says the Environment Agency, according to this BBC report
BBC Look North: Hebden Bridge and Mytholmroyd back in business.
Karen Darke to turn on Mytholmroyd Christmas lights! Karen, Olympic Paralympic medalist, grew up in Mytholmroyd and went to Calder High School. Read more (29 Nov)
BROWN'S SITE: Planners recommend refusal of Supermarket and Hotel plans. Councillors will make the final decision at their meeting of 4th December. More info (27 Nov, 2pm)
Friends of Hebden Bridge Picture House repainted the gates, swept up leaves, rubbed rust off railings and cleared debris from the roof of our community owned cinema. Read more. (28 Nov)
Flood alert - no longer in force from Tues, 27th at 9.29am
Calder High Academy? Parents have received a letter from the chair of governors, Rob Good, dated 23rd November, confirming that "the Dept. for Education's view is that Calder High School will become a sponsored academy."
Calder Ward Forum - you can take part in the 4th December session at the Waterfront Hall in the Town Hall or online. Read more

Mark Thomas plays the Trades Club - Comedian and outrageous, leftwing political provocateur Mark Thomas brings his mix of laughs and debate to the Trades Club on 13 February. Tickets on sale Tues 27 Nov. Read more. Thurs 29 Nov update: Sold out
More news from the Trades: Colin Blunstone date at Trades replaced by Gaza benefit. Read more. (22 Nov)
Pecket Well waste plan: Residents of Pecket Well fear serious environmental problems from expansion of waste processing plant. Read more. (Updated 22 Nov)

Woodland management by horse at Hardcastle Crags. Trained horse logger Peter Coates and his horse Nathan, will help staff and volunteers move the heavy timber around the site. Read more. (19 Nov)

More big names at the Trades Club - Pop Legend Edwyn Collins and rising folk stars Stornoway are the latest big names to announce dates at the Trades Club. Read more. (19 Nov)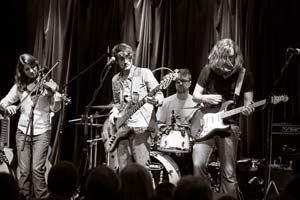 See gallery of photos from this year's Folk Roots Festival, with thanks to Craig Shaw
Nutcracker: A Christmas show for all the family this December at the Waterfront Hall in the new Town Hall. The role of The Nutcracker will be played by West End Gruffalo star Timothy Richey. Read more

Blues Festival Announces its 2013 Line-up - Running for three days at the end of May 2013, the organisers have laid on another spectacular bonanza for blues lovers everywhere.
Fairport Convention warm-up for Folk Roots Festival - with a greatest hits set at the Trades Club (6 Nov)
University of the Third Age: Probably few of the members of U3A expected a talk on cancer to be vibrant and uplifting but this was what they got from Kate Hayward at their October meeting. Read more (5 Nov)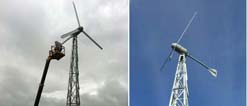 Community wind turbine at Blackshaw Head is now fully up and running, generating an income for the local community. Read more (4 Nov)
Town Council supports proposals for supermarket on Brown's site - see Forum discussion

Local musicians Wally Woodcock and Steve Andrews release a CD of 13 original compositions, entitled Songs from a Shed. Read more
Proposed supermarket and hotel - a packed public meeting upstairs at the Stubbing Wharf pub fired questions to Calderdale planning officer, architect Sam Deakin and planning consultant Roger Lee. Read report on Energy Royd website (23 Oct)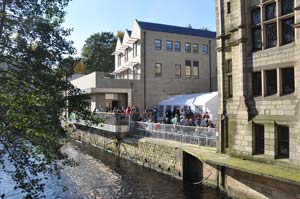 Above: Oktoberfest, celebrating local beer and cider, with the new Town Hall thronging in the warm Hebden Bridge Sunday sunshine. Click photo to enlarge.
Floods: Calderdale Council want to hear from people affected by the recent floods - see online questionnaire. And see What's on for details of drop-in session at Town Hall.
Hebden Bridge: Hippy redoubt, artsy hub, unofficial lesbian capital of Britain, ecotown, hill walker's paradise … is there a more Guardian-friendly destination than Hebden Bridge? So starts the Guardian review of The White Lion. (30 Sept)
Insurers accused of 'ducking and diving' over flood pay-out - see Yorkshire Post article (11 Sept)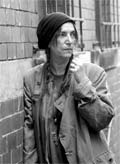 Patti Smith, outside The Trades Club, before her performance, photographed by Bev Manders. Bev thanked Patti for donating money to the flood relief. Patti told Bev it was the least she could do. She hadn't been to HB before and was about to go for a stroll around town. (Click photo to enlarge. 8 Sept)
Hebden Bridge Trades Club featured on BBC1 Breakfast News, as part of an item on the touring Africa Express train. Also featured by the Guardian Northerner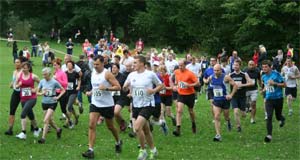 Alice's Run in celebration of the life of Alice Redmond. Epilepsy Action's very own multi-terrain, 10km race, setting off from Mytholmroyd.
Flooding, which hit Hebden Bridge and Todmorden for the third time in a couple of months on Saturday, has cost the Environment Agency around £1.4m this year. See Yorkshire Post report. (28 Aug)
Flood warning: Saturday afternoon (25th), the Environment Agency had just one flood warning for the UK - for Hebden Bridge, Old Gate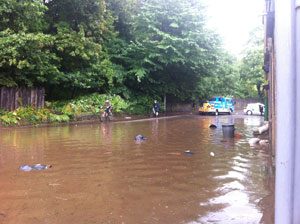 More flooding: police closed the main road to Tod after rain from this afternoon's storm (25th) flooded the Stoney Lane area - photo thanks to Russell Horn
Millionaires, ministers and the murky world of Walshaw Moor - New Internationalist
Town Council Annual Report - including councillor attendance and updates from the Mayor and committees. (20 Aug)
Hebden Bridge flooding may have been caused by aggressive burning: Letter to The Observer signed by over 60 local people. (19 Aug)
Census results show increase in Calderdale's population. Read more
Flood advice video, including footage from local photographers, and interviewing Mary Dhonau, chair of the Flood Protection Association, who gives advice and practical tips on preventing floods, dealing with floods and minimising flood risks. (2 Aug)
YouTube video of Hebden Bridge getting on its feet after the flood. Inspiring collection of images put together by Jason Elliot.
Daily Mail on Hebden Bridge and the floods: "Until just over three weeks ago, the 5,000-plus residents of Hebden Bridge, West Yorkshire, could be forgiven for feeling ever so slightly smug." Read more
Guardian Northerner: "National campaign against moorland bog-burning to launch as grouse-shooting begins. Residents of Hebden Bridge, devastated by moorland run-off in this summer's floods, join environmental campaigners to set up Ban the Burn." See too, HebWeb News
FLOODED AGAIN - THE JULY FLOOD
A couple of weeks after the previous flood, one month's rain falls in three hours
FLOOD NEWS AND PHOTOS - together with links to YouTube and media coverage. Burnley Road from NatWest Bank to the Marina, most of Market Street to past the Co-op and George's Square were among the places flooded by today's torrential rain. This time, it wasn't the rivers, but drains were overwhelmed. Birchcliffe Road and Keighley Road were rivers of water. Read more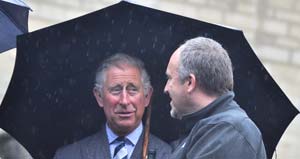 Royal Visit: Hebden Royd Town Clerk, Jason Boom sharing a joke with Charles on the Old Bridge at lunchtime today. Click to enlarge. More photos (6 July)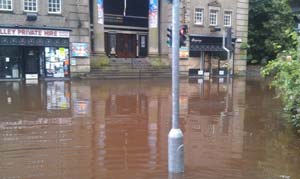 PICTURE HOUSE: After much effort from Staff, Friends of the Picture House and passers-by the Picture House only missed one screening after being flooded up to a depth of 5 ft in places.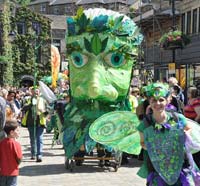 The sun shines
on the HANDMADE PARADE
Nearly 700 people took part in the parade and several thousands more lined the route to enjoy amazing giant puppets, dazzling artwork, a riot of colour and toe-tapping music. News and links, including one to Guardian gallery and to Calendar. See also: HebWeb photo gallery.
THE JUNE FLOODS
Photos and info: the worst flooding in Hebden Bridge for over 30 years. After heavy rain all day Friday, 22nd June, flood sirens went just before 8pm. Just hours later, the whole of the centre of Hebden Bridge was flooded. Market Street, Bridge Gate, Old Gate, Albert Street and Crown Street were all under water and impassable.
The dramatic events of Friday, 22nd June have led to dozens of local shops and businesses suffering damage and serious loss of stock. We encourage all HebWeb readers to support the fund set up by the Community Foundation.
Small Ads - "I am very pleased to say the response was terrific and both properties are now let." (Less than a week)
Calder High: Former Calder High teacher of 27 years, Anne Todd, tells of an atmosphere of mistrust and anxiety among staff, lack of experience among management, deteriorating behaviour since the last inspection and streaming imposed without consultation. Read more in the HebWeb Forum.
Small Ads - "We placed a job ad on the Hebweb recently, intending to keep it there for 2 weeks, but we had to take it down after 3 days due to the huge response generated"
Five hundred words on Hebden Bridge - "Everything in the house was heated by the fire, all the old terraced houses used coal for heat and cooking back then, the valley had a serious smog problem." Read more from Dave Bridges' 500 words.
Local papers: HB Times office to close, journalist Susan Press tells HebWeb - see Forum thread. Update from Cllr Tim Swift: Halifax Courier to go weekly. "Those interested in the many goings-on in the upper valley are increasingly likely to turn to the 'Hebweb', the flourishing local website of town news and views." says Martin Wainwright, writing in the Guardian's Northerner Blog

Jason Elliott's 500 Faces of Hebden Bridge

Small Ads - I just wanted to let you know that through my small ad on your site I found my ideal new home, meeting all my requirements. Thank you very much for such a great resource
Mytholmroyd Net - serving the community of Mytholmroyd for 12 years
More from Hebden Bridge Web