Comedy, Reggae and Strictly Come Tango Dancing at the Trades
Monday, 19 July 2010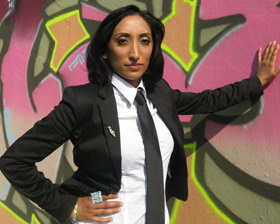 Controversial stand up and Guardian columnist Shazia Mirza makes a welcome return to the Trades Club on Thursday with an all new set of top quality mirth.
Hailing from Birmingham Shazia made her name in the aftermath of the 9/11 outrage performing in a hajib to highlight the impact of those murderous attacks on the lives of British Asians, but since then she has won a reputation as one of the funniest comics working the circuit.
She has also written a column for The Guardian once 2004 which focuses on her difficult relationship with her parents and her experiences as a young Muslim woman. Her wry take on the life of a British Asian woman won her a place on the inaugural Muslim Women's power list as one of the 20 most successful Muslim women in the UK.
It is a little known fact that she was a science teacher in a high school before becoming a comic and actually taught top UK rapper Dizzee Rascal.
This weekend sees the first of what will be an annual reggae weekender at the club kicking off on Friday with the mighty Overproof Sound System who are dedicated to bringing dub back to the masses.
Touring constantly since 1999 they made their breakthrough three years later when 'Watch What You Put Inna' propelled them from just being a great club night to the national stage. Since then they have become regulars on the festival circuit pumping out reggae classics into the wee small hours via their huge soundsystem.
Subsound Alliance are Liverpool's premier roots reggae ambassadors making the trip from Merseyside on Saturday. The ten piece played the local circuit for a couple of years before graduating to sell out national tours as well as a string of summer festival dates including Beat Herder two years in a row.
The band boasts full vocal and brass sections as well as a driving rhythm section, and their rapturously received set at the Beat Herder festival proved to many that they are a party band for all tastes.
The weekend ends on Sunday with our own Latin version of Strictly Come Dancing with two classes dedicated to learning Argentinean Tango.
The first workshop taught by dancemaster Dino at 1.30 is an introduction to the basics of Tango and at 3.30pm there is a chance to try out a variety of styles and different steps on the club's sprung dance floor.
In the relaxed classes you can change partners unless you prefer to dance with the person you came with and Tango fans are asked to wear non sticky shoes for pivoting.
"We're delighted to welcome back Shazia Mirza back to the club where she was such a massive hit at Cabaret Heaven and since then she has become one of the top stand ups in the UK as well as being by far the funniest communist in The Guardian," Trades Club spokesperson Paul Clarke told the Hebden Bridge Web.
"Reggae has always done well for us so it seemed natural to put on a weekend for dub fans along the valley and we've secured two of the best live acts in Europe to open what will become an annual event at the club."
More info from 01422 845265 or Trades Club Box Office
Listen/watch now