News, Features and forthcoming Events
Community Festival and Event Fund launched: Organisers of events and festivals in Calderdale now have the opportunity to apply for up to £2000 in funding from Calderdale Council's recently launched community fund. More info (20 Sept)

Buses: Labour candidate takes bus boss for a ride. Labour's Parliamentary candidate for Calder Valley, Josh Fenton-Glynn, has highlighted concerns at cuts to bus routes by taking the boss of West Yorkshire's Transport Authority for a ride on one of the services set to be affected. More info (17 Sept)
HB Partnership offers Community groups their 'three minutes of fame'. More than twenty community organisations are expected to participate in HB Partnership's annual "Hebden Bridge, our town" review of the year. Read more (15 Sept)
Nest Estate Water Nightmare continues: Tenants and residents on the Nest Estate, Mytholmroyd are currently being dogged by a burst to the water main on a near weekly basis. Read more (16 Sept)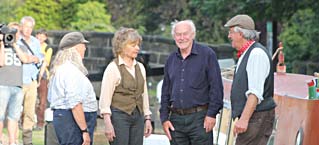 Legendary Thespians Timothy West and Prunella Scales were in town filming a new Channel 4 series looking at the history of Britain's canals. Read more and see larger photo. (11 Sept)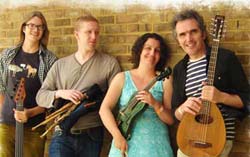 Hebden Bridge Folk Roots line up announced and will include The Demon Barbers, Jez Lowe and the Bad Pennies, Kathryn Williams and Steve Tilston. Read more (10 Sept)
Superfast broadband is coming:
Ten years after Hebden Bridge's very first broadband connections, following an effective community campaign, spearheaded by the HebWeb, we learn that over 90% of Calderdale will receive superfast fibre broadband from 2014. Read more (9 Sept)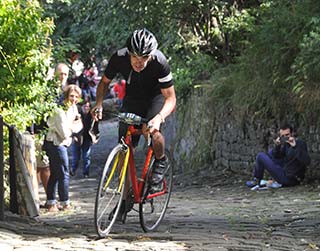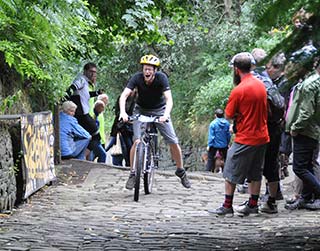 CYCLING UP THE BUTTRESS: the hardest and steepest 350 metre climb out of Hebden Bridge took place Saturday 7th September. More photos and News item. And now the YouTube video
Britain's favourite market town? Hebden Bridge has been shortlisted in the 'Britain's favourite market town' category in the BBC Countryfile Magazine Awards 2013. Read more (3 Sept)
Adventure Racer Heather Dawe at The Bookcase: one of the UK's leading endurance athletes is making a personal appearance at The Book Case on 10th September. Read more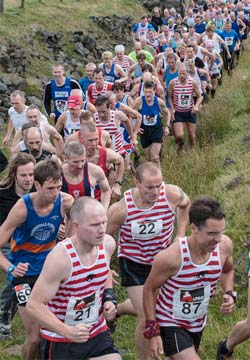 Above: Fell Race at Blackshaw Head. See more photos from Craig Shaw of the annual Village Fete. And HebWeb News for background.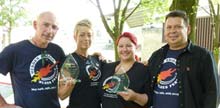 Hebden Bridge Blues Festival has won the prestigious British Blues Award for "Festival of the Year" for the second consecutive year at the ceremony in Colne yesterday. Read more. (26 Aug)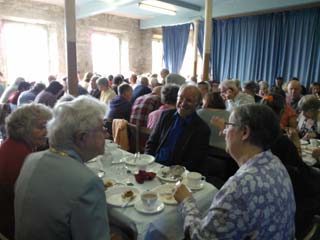 Old Town Methodist Church closes after 150 years. Photo taken at the tea following the closing service and celebration on Sunday, 18 August.The church congregation started life meeting in the old weaving rooms above Club Houses before building the church. Click photo to enlarge
Eastwood Recycling Centre to close on 28 August for 4 months, for demolition and reconstruction of waste shed - no local alternatives wiill be provided. Read more
Wuthering Bytes: A Weekend Festival of Interesting Technology. 25 Talks and Workshops. See What's On for more info.
Mike Smith, who lives in Hebden Bridge has been successfully re-elected to the West Yorkshire Area Committee of the Co-op Group for a further three year term. Read more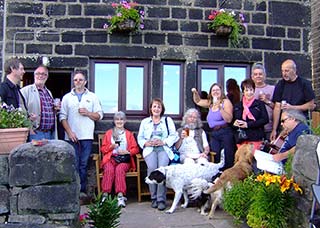 Fox and Goose Co-op: Glasses are raised as co-operative pub share offer hits its target. Read more and see photos (12 Aug)
Fox and Goose share offer success: target reached and now exceeded. Co-operative Pub dream looks set to become reality. Background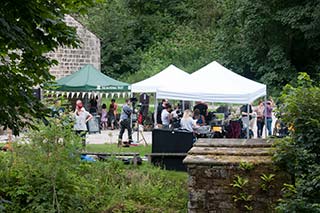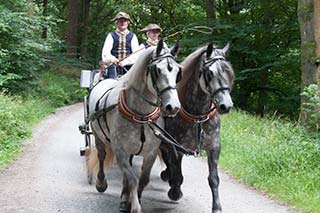 Death Comes to Pemberley, and Hardcastle Crags. BBC to film part of the sequel to Jane Austen's Pride and Prejudice in the Crags. Read more (updated 7 Aug)
Burlesque Ban overturned: Last night Hebden Bridge Town Council overturned the ban on burlesque events at the Picture House. See discussion and news on the HebWeb over the past month.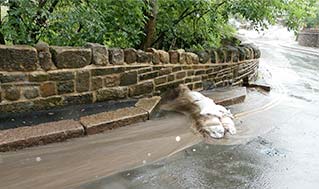 The above picture shows how makeshift flood defences helped prevent Market Street being flooded again. The photo is reproduced thanks to the Facebook page Calder Valley Flood Victims. Click photo to enlarge.
Hebden Bridge Signal Box is one of 26 historic railway signal boxes across the country to get listed status. See Guardian report

Walk and Ride Festival: With the Grand Depart of the Tour de France 2014 less than a year away, this year's Festival will feature a series of cycling events to whet the appetite of cyclists everywhere. More info
MAD Festival coming to Calder Valley: Rural regeneration agency Pennine Prospects are organisaing a Making and Doing (MAD) festival which will take place on the weekend of October 5 and 6. More info
Phew! What a difference a year makes. The Daily Express compares last year's floods in Hebden Bridge to this year's heatwave.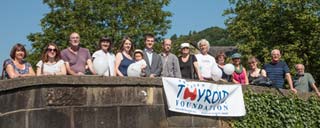 Above: Jill Liddington with family, friends and supporters at the start of her walk. More photos and background to Jill's walk to raise money for British Thyroid Foundation. Photo: Craig Shaw (7 July)
Burlesque Festival barred from Hebden Bridge Picture House: Organisers of Hebden Bridge Burlesque Festival were left reeling after a request to their Local Council to stage an event in Hebden Bridge's historic Picture House was rejected. Read the story. And read extensive and passionate discussion on the HebWeb Forum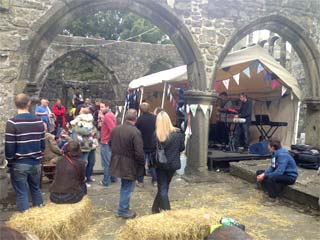 Heptonstall Festival on Saturday 21 September was a great success with two stages (one in the old ruins), together with a local bawdy drama, magic, storytelling, dancing and more. More photos.

Hebden Bridge Comedy Club to feature Rob Rouse and Will Franken. A combination of popular telly comic Rob Rouse and quirky American act Will Franken mean tickets on the night are highly unlikely and buying sooner rather than later may be a good idea. More details. (19 Sept)
Eastwood Recycling Centre closure extends to five months. Calderdale and SITA apologise; no local alternative has been made available. Read more
History and Astronomy Societies' Autumn and Winter events now added to the HebWeb What's On section.
Riverside School out of 'special measures'. Riverside has been judged by Ofsted as no longer requiring special measures, only four terms after being placed in the category. Read more (11 Sept)
Fox & Goose: temporary closure pending community buy-out. Read more (10 Sept)
Hebden Bridge: more plaudits - Last year's Valley of Lights won APSE's best community and neighbourhood initiative, and the Old Gate pub restaurant is Yorkshire Post's "Pub of the Week". (8 Sept)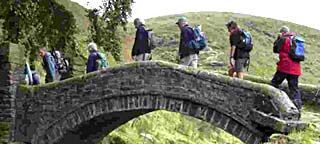 Walk and Ride Festival started Saturday 7th September. Challenging cycle events, horse rides and walks to discover the world of moths are just some of the delights of this year's Festival. Read more
Seaport at Sunrise: Local writer, poet and artist Ian M. Emberson has written a novel which has its roots in his National Service in the 1950s. Read more about the book and what some readers have said. (5 Sept)
The Performance Ensemble: Plans are underway for an exciting community performance project for Calder Valley residents to be delivered in early 2014. If you are close to 60 or above and have lots of stories to tell, this is for you. Read more (6 Sept)
Northlight Art Studios - an art studio for the community!After it's Summer break, courses and workshops kick off again for another exciting year of creativity at the Back Door space. Read more (28 Aug)
A short History of the Little Theatre was recounted by Ray Riches to the University of the Third Age. (28 Aug)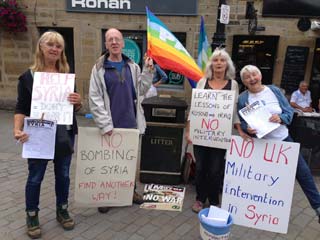 Syria Vigil: Thurs. 29th Aug from 12 to 2.
Photo: HebWeb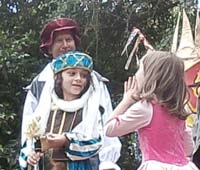 King's Troupe play Stratford: The King's Troupe from Hebden Bridge performed Richard III at The Dell in Stratford Upon Avon. Read more (27 Aug)
Nest Estate Water Woes: Leak follows leak, the system is broken, old asbestos pipes - neither Yorkshire Water nor Calderdale will take responsibility. Mick Piggott recounts the story. (22 Aug)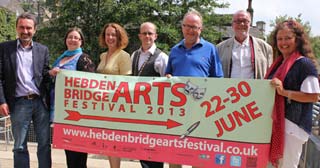 Arts Festival thanks sponsors: Hebden Bridge Arts Festival have thanked their sponsors who helped them attract more than 11,000 people to events in a record number of local venues. (23 Aug)
£3 million boost to help reduce impact of flooding. Residents and businesses in the Upper Calder Valley will see the start of a £3 million programme to reduce the impact of flooding this autumn, especially in Mytholmroyd, Eastwood, Jumble Hole Clough and A646 flooding hotspots. (22 Aug)
Summit for Mytholmroyd: Calderdale Labour Group has today revealed plans for a cross-community summit on the future economic development and prosperity of Mytholmroyd, on Tuesday 24th September at St Michael's Church. Read more
Calderdale seeks more adoption parents: In its campaign to seek more adoption parents, Calderdale's campaign is coming to Hebden Bridge on Friday, 30 August. Read more
Responsible dog ownership event in the park, as concerns grows surrounding dog fouling on 22 Aug. Expert advice, micro-chipping and face painting. More info
Portuguese riders to visit Hebden Bridge: On Monday 26th August until Monday 2nd September, Hebden Bridge Equestrian Centre will be host to five young Portuguese riders, their instructor Nuno and Secretary Thelma. Read more
Buses public meeting on Buses: Hebden Bridger Action Group formed following public meeting. Read news item for more info and see Forum discussion. Click image above to enlarge. Photo: Paul Clarke
Swimming Pool: the current Swimming Pool Committee finally respond to criticisms and urge support to help the pool open in the Spring. Read more
Mytholmroyd Swimming Pool: Calderdale approves plans. If all goes as is hoped, swimmers will be able to enjoy a local pool by Spring 2014. More funds are still needed. Read more and how you can donate.
Major changes to bus services serving Hebden Bridge are being considered, including a 10 minute service to Halifax and Todmorden, paid for by cuts to services to hilltop villages. See Metro's Bus Review page for Hebden Bridge and the HebWeb Forum.
Hebden Bridge Vintage Car Rally, organised by The Rotary Club, was held at Calder Holmes Park 3-4th August 2013. See What's On

Hardcastle Crags: Pitch your tent in picture perfect surroundings. This summer the National Trust has created a 'pop-up' campsite in the Crags. Read more
Hebden Bridge Cold Calling Control Zone. The community of Dodnaze united in the fight to ensure their area stayed free from unwanted cold callers last week, six years after the zone, the first in Calderdale, was launched. More info
Arts Festival Board thanks the HebWeb and Festival volunteers, and invites people to influence next year's festival by filling their questionnaire. More info (21 July)
Off Stage Choices - At the recent University of Third Age session, Andrew Rawlinson recounted his theatre experience from Tod Operatic to General Manager of a leading Theatre Group. More info (18 July)
Burlesque Debate: at it's meeting of 10th July, Hebden Royd Council decided to set up a sub-committee to establish a booking policy for the Picture House. See response from Burlesque Festival. Over a thousand have signed the petition and there are over 100 messages in the HebWeb Forum thread.
Josh Fenton-Glynn was selected on Saturday 24 June to represent Labour and fight Craig Whittaker at the next General Election. About Josh and Josh's answer's to HebWeb questions.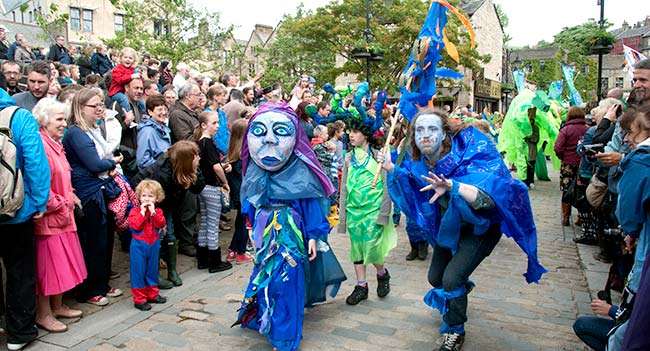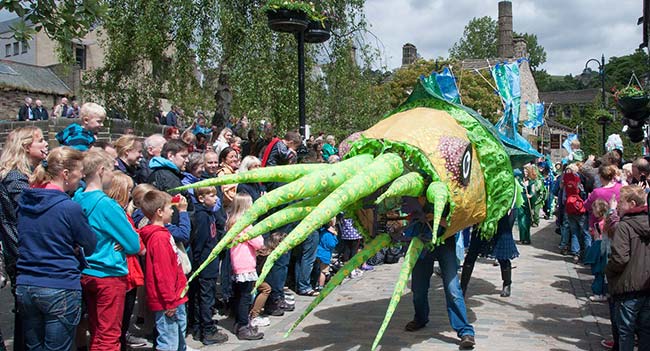 Small ads: Received Sat 18th - "I've had an overwhelming response and the property is now let"
MORE PHOTOS OF BIGGEST HANDMADE PARADE ever
Yorkshire Life: 10 reasons to love Hebden Bridge
"Unbelievable result Hebweb. So many enquiries in response to the small ad on your site and now have lovely new tenants. What a success - Thank you Hebweb." Message received 6 May.
Rachel Lucie Jewellery Designs - I'm a local jewellery designer-maker with several collections of silver, pearl and gemstone jewellery for all occasions. See Listings
HebWeb Listing a-z
Hebden Bridge Acupuncture Centre is a relaxing, quiet and safe therapeutic space offering Traditional Acupuncture which takes into account your unique situation and whole being. See Listings




Bernard Ingham column ended: campaigners have learned that Bernard Ingham has been told his longrunning column in the HB Times has ended. They had been calling on Ingham to apologise for what he said about Hillsborough. Read more
Small Ads - "I am very pleased to say the response was terrific and both properties are now let." (Less than a week)
Small Ads - "We placed a job ad on the Hebweb recently, intending to keep it there for 2 weeks, but we had to take it down after 3 days due to the huge response generated"
Five hundred words on Hebden Bridge - "Everything in the house was heated by the fire, all the old terraced houses used coal for heat and cooking back then, the valley had a serious smog problem." Read more from Dave Bridges' 500 words.

Jason Elliott's 500 Faces of Hebden Bridge

Small Ads - I just wanted to let you know that through my small ad on your site I found my ideal new home, meeting all my requirements. Thank you very much for such a great resource
Guardian Northerner: Hebden Bridge the UK's coolest place? The Yorkshire Paradise has won its fourth accolade in a decade. Born, brought up and living here, Rachel Pickering is loyal, but has one or two cautionary thoughts. (25 March)
HebWeb archive: quickly view HebWeb home pages of the past few years.
The Trades Club thanks the HebWeb: "The Trades has had a great year with more than 30 sell-out gigs and a huge part of that is the regular updates we get on Hebweb" Read more.
Small ads: "We've successfully rented our house. Thanks for an excellent service - I'll heartily recommend Hebweb, as our house was previously listed through an estate agent who didn't manage to get us a tenant in 3 months - through Hebweb we had 4 prospective tenants within a week." (4 Jan)
Hebden Bridge and its Co-op featured in this Radio Four programme - about 11 minutes in

TOUR DE FRANCE: on Sunday 6 July 2014, the eyes of the world will be on Hebden Bridge when the 200 competitors of the Tour de France cycles through our town, and Cragg Vale's famous five-and-a-half mile incline, the longest in England. Read more
More from Hebden Bridge Web