News, Features and forthcoming Events
Todmorden Lamplighter Festival: The 4th annual Lamplighter Festival will take place on Saturday, 19th November - a mythical fire and light spectacular with parade, illuminated installations and street festival. Read more
Friday was the last day to vote to help Hebden Bridge win the Great British High Street competition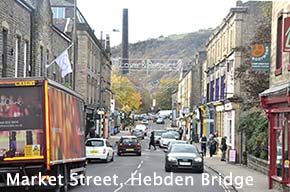 Lindsay Rimer Murder arrest: "A 63-year-old man from Bradford was arrested by West Yorkshire Police on 8 Nov."- see BBC Report. Update: the suspect has now been released on bail. (10 Nov)
Judges Swoop on Hebden Bridge: Market Street in Hebden Bridge was on full alert Thursday morning as a crack-team of expert judges visited to find out what makes it so special and a contender to win the Great British High Street competition. Read more and how to vote (3 Nov)
Parking Discussion: does Hebden Bridge need more parking? Or should we walk more and spend our money on supporting public transport rather than cars? Should pedestrians come before drivers? See HebWeb Forum discussion
Calderdale Flood Action Plan Published: Of interest to Hebden Bridge will be the statement that construction of the Hebden Bridge flood alleviation scheme will start in 2018 and be completed by 2020. The Mytholmroyd scheme is more advanced and will be completed by 2019. Read more. (28 Oct)
New Access Forum for Hebden Bridge: The newly created Hebden Bridge Disabled Access Forum is holding its second meeting on Monday 31st October at 1pm to 3pm in Hebden Bridge Town Hall. Read more (25 Oct)
Yorkshire Post's weekend walk: Hebden Bridge, Jumble Hole Clough, Heptonstall and back (24 Oct)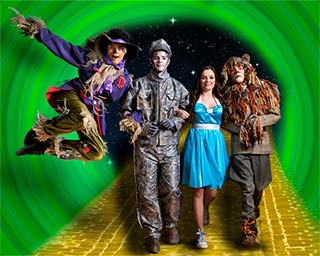 The Wiz from Calder Valley Youth Theatre, who are based in Hebden Bridge. They're preparing for their next major production The Wiz which will be performed at the Halifax Playhouse from 2nd to 5th Nov. Read more
Our Town: Review of the Year. 25-30 local organisations introduced their work and shared news of past activities and future plans at Monday's meeting of the HB Partnership (24 Oct). See What's on or below for details.
Craig Whittaker, our MP, spoke Friday in Parliament against a new law to pardon all gay and bisexual men in England and Wales historically convicted of sexual offences that are no longer criminal. Read more. 22 Oct)
Festive Fandango is back: The popular Festive Fandango encouraging shoppers in Hebden Bridge to spend locally is back after last year's scheme was washed out by the Boxing Day flood. Read more (14 Oct)
Hebden Bridge on YouTube
Rethinking Human Security: report of public meeting. About 60 people gathered round tables at the Town Hall on Sunday Oct 9th to discuss what human security meant for them - as individuals, in our community, country and globally.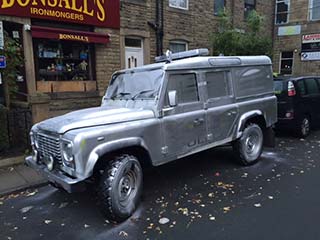 Police vehicle sprayed silver, opposite market. Inspector John Simpson said, "Some people might find this funny but the extent of the damage means that this vital emergency vehicle will be off the road whilst it is repaired at a cost."  11 Oct

Calder Valley welcomes refugees: The Welcome Festival is on Sat 29th Oct at the Birchcliffe Centre, 1.30-4pm. Refugees from several towns will come together for an afternoon of performance and other activities. Read more (5 Oct)
Hebden Bridge Annual: Egg Heads from the Egg Factory have spent the last year making a massive omelette - a new book called the Hebden Bridge Annual. Read more to find out how to pre-order. (28 Sept)
Mark Steel's in Town - the BBC Radio 4 programme featured the comedian at the Trades Club, Hebden Bridge. Now on iPlayer here. HebWeb had a couple of mentions as did View from the Bridge. And of course "That was So Hebden Bridge"
A new chapter for flood-hit library: Hebden Bridge Library is fully reopening on Thursday 29 September, after refurbishment following the flooding at the end of last year. Read more (16 Sept)
Cragg Vale School under threat of closure again. Have your say on its future, as Calderdale Council outlines options and is seeking people's views. Read more (14 Sept)
Making Hebden Bridge Accessible For All: apply now for free survey to show how your shop or cafe can be made accessible Read more (15 Sept)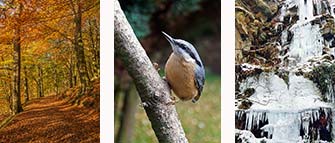 Hebden Bridge Camera Club winners. More info and larger photos
Government Flood Review: "Disappointing" - says Leader of Calderdale Council. The review found that a 20% heavier extreme rainfall event would lead to 400 more homes flooding in Mytholmroyd and a similar number in Hebden Bridge. Read more (9 Sept)
The Rainy Season: earlier this year, the HebWeb featured this book by Berringden Brow writer, Jill Robinson. Today, Owen Jones' Guardian article on men and domestic violence retells episodes of abuse from Jill's book. (8 Sept)
Breathing new life into the Hebden Vale Centre: a home for the Environment Agency and a future car park are options Calderdale are discussing for the future of the site which was badly damaged in the 2015 floods. Read more (5 Sept)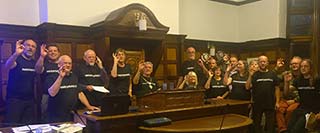 Hebden Royd Town Council support Andys Man Club: The single biggest killer of men aged under 45 is suicide! At the council meeting on 31st August, members showed their support to the #Andysmanclub campaign by wearing the slogan t-shirts for the whole meeting. Read more (1 Sept)
Small Ads: "House successfully rented through Hebweb. Fantastic posting wall!" From message received 23 Aug.
Calder Valley Labour Party overwhelmingly backs Corbyn. Victoria Theatre was hired for this evening's meeting. Jeremy Corbyn received 141 votes and Owen Smith 28. Hebden Bridge and all towns and villages of the Upper Valley are in the Calder Valley parliamentary constituency. (9 Aug)
Ted Hughes' brother dies aged 95. "Gerald Hughes was a hugely influential figure in Ted's youth, particularly during the poet's first seven years whilst living in Mytholmroyd" - see ITV news report
No place for young men: Alex Kostyakov has written a moving piece on work chances for young men in Hebden Bridge. Why do you never get served a latte by a young man, and is there a connection with break-ins at the park and station cafes? Read more. (13 July)
HebWeb Small Ads - jobs offered, accommodation, cleaning, tax books, summer school, venues, plumbing, services and other quirky Hebden Bridge stuff.
Concerns over flood grant callers:
Calderdale Council has been made aware of concerns from some residents over companies visiting properties in flood-hit areas and asking them to sign a document to apply for a Repair and Renew flood resilience grant. Read more (14 Nov)
Christmas Lights Switch On - Friday, 25 November in Hebden Bridge and Saturday 26 November in Mytholmroyd. See What's on for more info.
Flood grants help Mytholmroyd resident repair and prepare Calderdale Council remind residents there's still time to apply for flood resilience grants for alterations to protect their property in future. Read story of Roger Barr of Mytholmroyd. (10 Nov)
Sixth Form Closures in the Upper Valley: calls for wider debate. The Green Party has sent the HebWeb a press release, challenging local councillors, and calling for the public to have full information and to be fully consulted. Read News and see Forum thread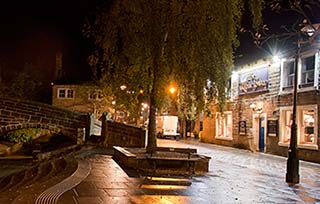 The White Swan Takes Flight Again after being closed due to catastrophic flood damage last Boxing Day, was finally able to re-open its doors on Thursday 3 November following extensive restoration work. Read more (6 Nov)
Get Trevor mobile: Trevor Bannister featured on Look North helping flood victims since Boxing Day - see this clip. Support Trevor by helping to replace his van, lost in the flood- click here. (4 Nov)
Balanced Stones in the river, in front of the wavy steps, by Juan Cerruffo. Photo: Ian Hodgson. Click photo to enlarge
Community Association needs more help: Join Trustees of the Hebden Bridge Community Association for a cuppa and a piece of cake in the Town Hall cafe on Thurs 10 Nov between 4pm and 7.30pm and find out about becoming a trustee. Read more. (1 Nov)
Scout Road school reopens: Students and teachers are back at Scout Road school in Mytholmroyd for the first time since the Boxing Day 2015 floods. Read more. (1 Nov)
HebWeb: Sounds and Vision - two new YouTube videos from Jason Elliott added to this new section on the HebWeb. One shows Hebden Bridge in Autumn - the other, an interview with Liz Wood of The White Swan, shortly to be re-opened. HebWeb: Sounds and Vision (24 Oct)
Rotary Club: just what is it? Members are constantly asked just what is the Rotary Club and what does it do. In this article for the HebWeb, some of their wide ranges of activities and support are described. Read more (20 Oct)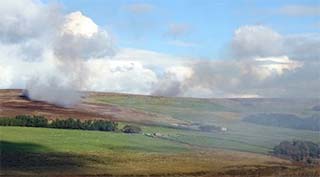 Walshaw Moor Estate resumes burning – despite flood risk to Hebden Bridge. See report on Upper Calder Valley Plain Speaker (14 Oct)
Hebden Bridge Arts Festival is looking for a Treasurer. Someone with experience of financial management and who could also help develop its programme and community activity. Read more (10 Oct)
£750,000 repairs complete at flood-hit A646 Hebden Bridge to Mytholmroyd road. Now fully open to two-way traffic, as works to repair the road and retaining wall are complete and temporary traffic lights removed. Read more and see time-lapse video.
Selling my house on HebWeb was "extremely successful - I hope to complete on the sale in 2 weeks time, and I think I could have sold it a few times over."
Trades Club nominated for national live music award. Music industry insiders have nominated Hebden Bridge Trades Club for the Live Music Business Awards where they will join the likes of London's 02 Arena and the Glastonbury Festival. Read more (26 Sept)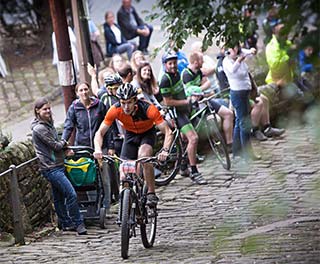 Cycling up the Buttress - Photo: Craig Shaw
Work on Scout Road progresses: Work to allow flood affected Scout Road in Mytholmroyd to reopen is now in its final stages as a safety fence is being installed. Read more. (1 Sept)
Steam Punk weekend in Hebden Bridge. Photo from the After Alice Project. CC BY-NC. Click photo to enlarge
Smll Ads: "I had so many wonderful responses to my ad for someone to help me re-organize my house post-flood, I wanted to employ everyone! Thank you." - Susan
Vintage Car Weekend: report of the two day event which drew record crowds and helped raise over £25k for local charities and good causes. Read report (18 Aug)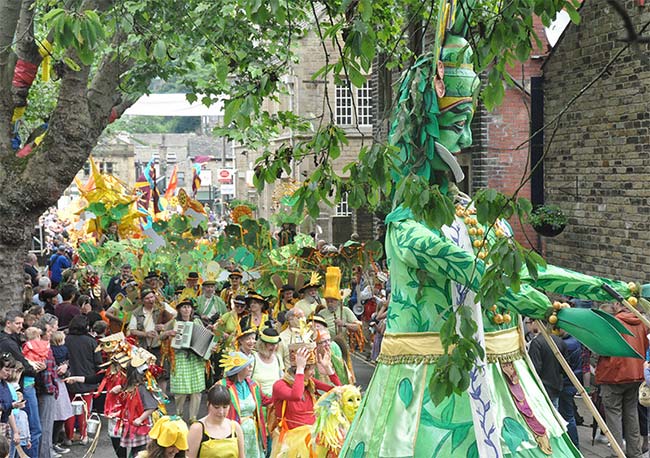 Handmade Parade 2016 - more photos of the Parade, and news report
Tories punish Cllr Rob Holden for whistleblowing: founder of vital floods Facebook Group is removed from Conservative Party on Calderdale, and from the Flood Steering Group! Read more (13 June)
Questions re police raid on Calder Valley Conservatives. The journal which broke the original story has now published an update, raising serious questions of public concern. Read more. (10 June)
Police seize documents at Calder Valley MP's HQ. On Wednesday, police seized the accounts of the Calder Valley Conservative Association in connection with enquiries they are currently undertaking. The Party Chair has resigned. Read more (27 May)
Love our Streets: 20mph speed limit from Friday. One hundred and eleven streets in Hebden Bridge will have a 20mph speed limit from Friday, as part of the Love our Streets campaign. Read more (26 May)
Labour win Hebden Bridge's Calder ward. Josh Fenton-Glynn won 2310 votes, against 1424 votes for the current councillor, Janet Battye (Liberal Democrats). Jane Scullion (Labour) won the Luddendenfoot ward which covers Mytholmroyd. More results and figures (Updated 8 May)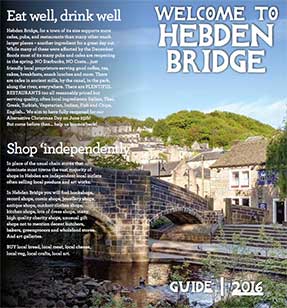 2016 Hebden Bridge Tourist leaflet.
More info here
From Steve Farrell, now living in Mysore, India: "As someone who lives abroad, the Hebweb site has always been critical for keeping in touch 'back home' in Hebden. I've just needed to re-advertise my home for rent, so where to turn to? The Hebweb, of course. The Ad was up within minutes and there were 10 enquiries within 24 hours. Superb!" See Small Ads.
Small Ads: "Amazing but my house in Tod got rented out within 30 minutes after putting the house on Hebweb." From message received, Thursday, 26 May 2016
The Manchester and Leeds Railway: 175th Anniversary - 1st March 2016. Read story (PDF) from Friends of Hebden Bridge Station.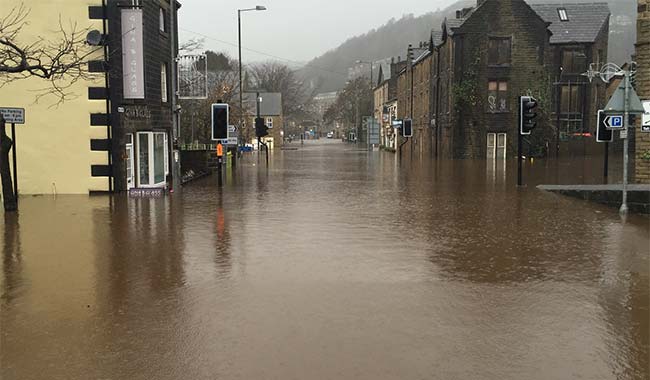 See HebWeb Feature:2015 Boxing Day Flood for coverage, info, links, videos, etc.
HebWeb Quirky Small Ads:
As well as services, and houses and homes offered and wanted, recent ads have included Jewellery workshop, bycycle maintenance classes, English, French, Italian, Spanish and Voice tuition, Hawaiian massage and Mindfulness. See our Small ads page.


Happy Valley writer loves Calderdale. "Hebden Bridge is vibrant; there's a lot going on artistically and it's also got great galleries, pubs and restaurants." Sally Wainwright talks of our "dramatic and awe-inspiring" landscape and the influence of local historian Jill Liddington's Anne Lister book. Read her Guardian article

HebWeb on Twitter - The HebWeb now has over 2750 followers.
"Many thanks Hebweb, the Small Ad asking for Volunteers to cook and help at Wadsworth Lunch Club has already had success. We now have someone coming to help cook. We'd still welcome a washer up, and occasional helpers please."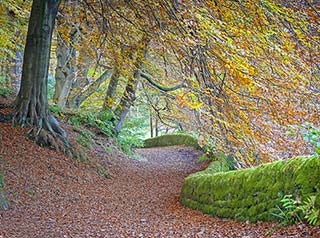 Camera Club Annual Exhibition winning pictures: visitors were asked to vote for their 3 favourite images in order of merit. Read more and see the 3 winning photos.
Guardian Northerner: What the UK can learn from Hebden Bridge? The BBC's Mind the Gap asks how London's success can be replicated elsewhere: Claire Donnelly argues that our small town could have the answer. Read more
Hebden Bridge, the UK's second city, BBC article by Evan Davis. "Hebden Bridge is an inverted city with a greenbelt centre and suburbs called Manchester, Leeds and Liverpool." Read the article
Small Ads - I just wanted to let you know that through my small ad on your site I found my ideal new home, meeting all my requirements. Thank you very much for such a great resource
Small Ads - "We placed a job ad on the Hebweb recently, intending to keep it there for 2 weeks, but we had to take it down after 3 days due to the huge response generated"
Small Ads: "Ad posted Monday, lease to be signed Saturday and tenant moving in Sunday. Thanks HebWeb."

"Unbelievable result Hebweb. So many enquiries in response to the small ad on your site and now have lovely new tenants. What a success - Thank you Hebweb."
HebWeb also available on the slightly shorter hebdenbridge.uk as well as hebdenbridge.co.uk
Hebden Bridge: more plaudits - Last year's Valley of Lights won APSE's best community and neighbourhood initiative, and the Old Gate pub restaurant is Yorkshire Post's "Pub of the Week".
Britain's favourite market town? Hebden Bridge has been shortlisted in the 'Britain's favourite market town' category in the BBC Countryfile Magazine Awards 2013. Read more
HebWeb uses Google ads to help cover its costs and they vary for each user. This has worked well for many years. However, please let us know the url of any ad thought to be inappropriate. If we agree, the ad will be blocked.
Guardian Northerner: Hebden Bridge the UK's coolest place? The Yorkshire Paradise has won its fourth accolade in a decade. Born, brought up and living here, Rachel Pickering is loyal, but has one or two cautionary thoughts.
Small Ads - "I am very pleased to say the response was terrific and both properties are now let." (Less than a week)
Small ads: "We've successfully rented our house. Thanks for an excellent service - I'll heartily recommend Hebweb, as our house was previously listed through an estate agent who didn't manage to get us a tenant in 3 months - through Hebweb we had 4 prospective tenants within a week."




More from Hebden Bridge Web