News, Features and forthcoming Events

Something wicked this way comes: Kenneth Branagh's Macbeth to be broadcast live from the Manchester to the Picture House on 20 July. Sold out. More info (updated 18 July)
Hebden Bridge Comedy Club on 11 August features Alex Boardman and Jonathan Mayor
Skateboard pool causes sickness and diarrhoea: Some teenagers are suffering from sickness and diarrhoea after swimming in the skateboard park filled with river water. See Calendar report and now Mail Online.
Brown's Site Retail Assessment: Questions are being raised over a new Retail Assessment which backs plans for a supermarket. The assessment was made available on the Calderdale website at the end of last week. More info (15 July)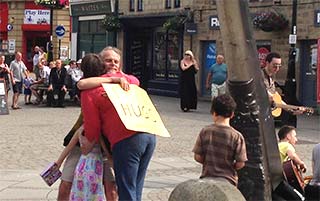 Hebden Bridge in the sunshine: Free hugs were being given out in the square Sunday (14 July). "So Hebden Bridge," onlookers commented.

Left Unity and People's Assembly movement comes to Hebden Bridge, to oppose the current Coalition Government's austerity policies, and to present an alternative to Labour's reaction to these policies. More info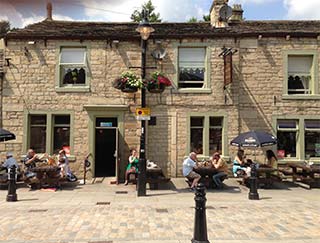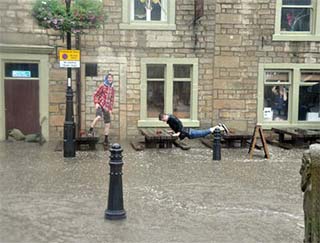 July floods one year on. Above Hebden Bridge, basking in the July 2013 heatwave. Hover over image to see the same scene a year ago today, 9 July 2012. See HebWeb report of the July 2012 floods.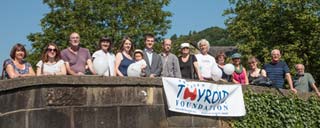 Above: Jill Liddington with family, friends and supporters at the start of her walk. More photos and background to Jill's walk to raise money for British Thyroid Foundation. Photo: Craig Shaw (7 July)
The Burlesque Debate: Cllr Christine Davenport, former mayor and member of the Picture House Committee writes a message to the HebWeb Forum explaining why she voted the way she did. Read her message
R2's Jeremy Vine covers the burlesque debate - slide to 98 minutes into the programme.
Craig Whittaker MP asked a question yesterday in Parliament: What discussions has he (the Minister) had on the effect of the Government's energy policies on the Welsh economy?

Canal Walk to London: Historian Jill Liddington to walk canals to London. Next Saturday, a 200-mile sponsored walk to raise funds for British Thyroid Foundation sets out from the Hebden Bridge hump-back bridge (by PO), assemble 10am, depart at 10.30. Read more. (3 July)
No sex please, we're British - Daily Telegraph article on Hebden Bridge's burlesque saga. Meanwhile the discussion continues on the HebWeb Forum. (3 July)
Burlesque Festival barred from Hebden Bridge Picture House: Organisers of Hebden Bridge Burlesque Festival were left reeling after a request to their Local Council to stage an event in Hebden Bridge's historic Picture House was rejected. Read the story. And read extensive and passionate discussion on the HebWeb Forum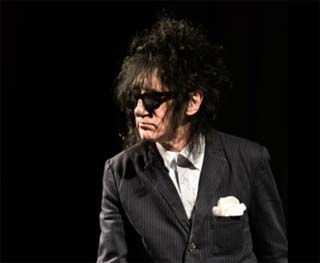 John Cooper Clarke at the Picture House last night (30 June) - see more festival photos from Craig Shaw
Fox Friends stall in George's Square: People wanting to buy shares in the Fox and Goose Co-op pub project are invited to ask questions in George's Square on Saturday (July 20th) Read more
Off Stage Choices - At the recent University of Third Age session, Andrew Rawlinson recounted his theatre experience from Tod Operatic to General Manager of a leading Theatre Group. More info (18 July)
Training opportunity: use and management of People's Community PA. Course starts Monday evening, 22 July. More info (17 July)
Latest Minutes of Hebden Royd Town Council now online, including last week's meeting where the Picture House booking policy was discussed.
Demolition on Old Gate began Monday, 15th July, described on the HebWeb Forum as "one the oldest remaining buildings in the Town Centre". Old Gate was closed to traffic. Click photo to enlarge (15 July)
More photos of Jill Liddington's walk to raise money for the British Thyroid Foundation from those who have joined her for part of the walk to London.
Hebden Bridge Police Station update: local groups may have right to bid for building.
'Haberdashery' Arts Trail: As part of the Hebden Bridge WI Summer Rag Marke, the WI are holding a competition and opportunity for Artists and Crafts people to showcase their work around the Town. More info
Burlesque Debate: at last night's meeting (10th), Hebden Royd Council decided to set up a sub-committee to establish a booking policy for the Picture House. See response from Burlesque Festival. Over a thousand have signed the petition and there are over 100 messages in the HebWeb Forum thread.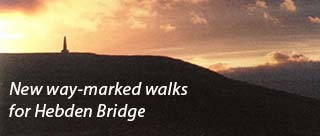 Hebden Bridge Walkers Action has just produced a new leaflet with three way-marked walks, to Hardcastle Crags, to Heptonstall and to Stoodley Pike. Read more (8 July)
Eastwood Recycling Centre to close for nearly 6 months: A major revamp at the Centre means it will be closed from August 2013 to late December 2013. Read more. (2 July)
Annual Reports for Hebden Royd Town Council and the Hebden Bridge Picture House, along with recent minutes of council meetings, are now online
School Sculpture Trail: Mill to Moorland: Hebden Royd School pupils have once again created artwork for a Sculpture Trail around the base of Lumb Mill Chimney in Colden Clough. See photos and read more. (27 June)
Flooding one year on - Council Leader urges more Government action as Calderdale's Economy and Environment Scrutiny Panel visit Mytholmroyd, Hebden Bridge and Todmorden this week. Read more. (26 June)
Hebden Royd Picture House vacancies: Three experienced duty managers needed, to work on a casual basis. More info. (24 June)
Handmade Parade Report: Wonderfully colourful and creative, dazzling and inventive - and flying pigs! Read this year's final report on the Handmade Parade. See also HebWeb gallery of photos. (24 June)
BBC R4 You and Yours covered floods and insurance on Monday, 24 June and interviewed businesses in Hebden Bridge (7 mins in) including new Workers Co-op, Valley Organics.
Josh Fenton-Glynn was selected on Saturday 24 June to represent Labour and fight Craig Whittaker at the next General Election. About Josh and Josh's answer's to HebWeb questions.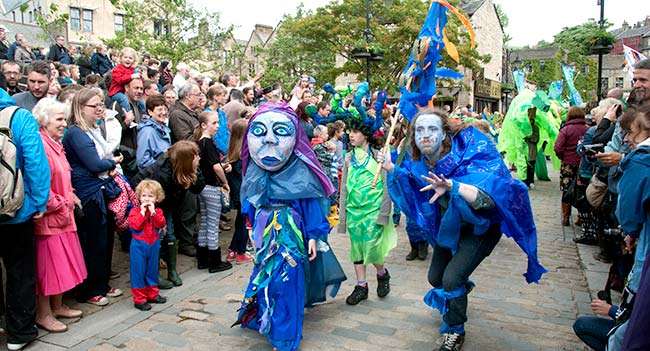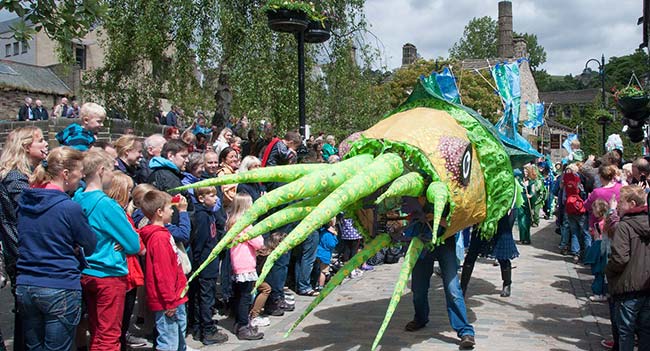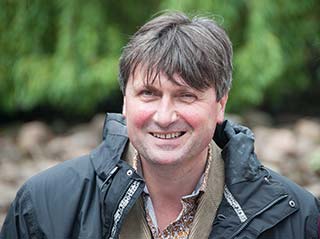 Poet Simon Armitage in Hebden Bridge today unveiling words from young writers carved into stone below the wavy steps, part of the Arts Festival
MORE PHOTOS OF BIGGEST HANDMADE PARADE ever

The Alcohol Years: Paul Clarke talks to award winning Film-maker Carol Morley about The Alcohol Years which is being screened as part of Hebden Bridge Arts Festival on Saturday, 29 June. Read more
Street Sundae come rain or shine: Street events on Sunday include Flamenco, choirs, harpists, man in a box, stories, magicians, music, dance, laughter, typefaces of Hebden Bridge and much more. Read more and download Sundae programme
ARTS FESTIVAL sets new record for sell out events: Hebden Bridge Arts Festival has set a new record with four sold out gigs a week before festivities kick off on June 22. Read more
June is coming to Hebden: . . . finally. Paul Clarke interviews June Tabor. Read more.

FOUR SHORT-LISTED LABOUR PARTY CANDIDATES sent detailed replies to seven questions posed by the HebWeb. Read their replies. In the next few days, one of these candidates will be selected to represent Labour to fight Craig Whittaker at the next General Election.
Kenneth Branagh's Macbeth at the Picture House, broadcast live from Manchester's International Festival, on 20th July.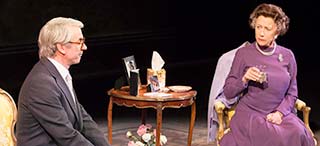 Review of An Audience at the Hebden Bridge Picture House, live theatre from Gielgud Theatre, London. Read more (14 June)

Tree felling in the Colden Valley. The Arvon Foundation seeks permission for felling 40 trees in the Colden Valley. Arvon at Lumb Bank is a former residence of Ted Hughes, former Poet Laureate who had a special reverence for nature, trees and the Calder Valley. Read more (31 May)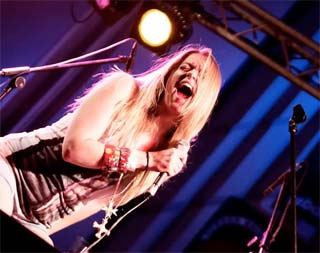 Hebden Bridge Blues Festival: See more photos from photographer Craig Shaw
Trades Club makes national final again: For the second year running the Trades Club has made the shortlist for the NME Small Venue of the Year award. More info (21 May)

HEBDEN BRIDGE IN 2020.
HB Partnership proposals include: rebuilding the iconic Buttress Brink; removal of traffic lights from the centre, the market's removal to Lees Yard, lifts at the railway station, new pedestrian bridge from Holme Street to Fairfield, bandstand in the park and much more. More info (16 May)
Lee Mill Road: limited access for two weeks from Monday, 20th May due to resurfacing.
Small ads: Received Sat 18th - "I've had an overwhelming response and the property is now let"
Hour Car - Community owned car club. Cars in Hebden, Mytholmroyd and Todmorden. Our fleet includes an electric car. See Listings
ABC Coaching & Counselling Services
Counselling from Dr Jim Byrne and coaching from Renata Taylor-Byrne. See Listings
Guardian covers the Fox: Community Spirit: Residents rally to save historic pub. (21 June)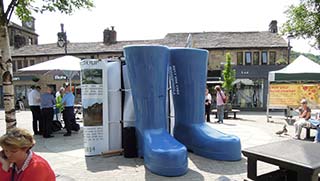 Flash Flood Awareness Day: Calderdale, Environment Agency, flood wardens, Yorkshire Water, the Canals & Rivers Trust giant wellies at Georges Square, 18 June. HebWeb News: The Floods one year on
More flooding in Calderdale would 'finish' towns: see BBC news item. (19 June)
Central Library: plans for new building. Campaigners disheartened that councillors failed to listen to voters. Read more (12 June)
Hebden Royd Town Council: latest newsletter: New Mayor, Community Awards and details of grants awarded to community groups.
Yorkshire Life: 10 reasons to love Hebden Bridge
Workers' Co-op takes over Valley Organics. The organic grocers on Market Street, which has been selling good organic produce and wholefoods for more than 12 years, is about to be owned and run by its employees - as a workers' co-operative. Read more
Canal makeover for Mytholmroyd: Work to improve access to the Rochdale Canal in Mytholmroyd will be starting on site next week. See Mytholmroyd Net
End of an era at Artsmill: Hebden Bridge based artist and founder of Artsmill David Wright passed away on 14th May after a short illness. Read more (30 May)
A New Mayor for Hebden Royd Town Council. Cllr Karl Boggis, who represents Caldene ward in Mytholmroyd, is the new Mayor of Hebden Royd Council. Read more (3 June)
Abolition of the Agricultural Wages Board: Hebden Royd has written to Craig Whittaker, MP outlining its dismay at his decision to support the scrapping of the Board. More info
Our MP Craig Whittaker voted in Parliament yesterday against gay marriages.

Blues Festival update: nominated again for British Blues Awards! Read more.
"Unbelievable result Hebweb. So many enquiries in response to the small ad on your site and now have lovely new tenants. What a success - Thank you Hebweb." Message received 6 May.
Calderdale Coalition breaks down over welfare cuts. Calderdale Council's coalition of Labour and Liberal Democrats lasted three years. It has now ended. The HebWeb was first to break this story on the afternoon of 24 April. Read more
Calderdale, including Hebden Bridge, was on Countryfile, Sunday 21st April
HebWeb Listing a-z
Canal Narrowboat holidays - Shire Cruisers boating holiday. Explore the Pennine waterways, canals and rivers in a narrow boat. See Listings
HebWeb Listing a-z
Alison Grant Architects Ltd. Experienced local architect skilled in renovations, conversions and extensions, including work to traditional and Listed buildings. See Listings
Burlesque Festival: see galleries of photos from local photographer Craig Shaw or read the lively discussion on the HebWeb Forum
Hole in the Wall sold to a tap water pressure group. See Forum
WI Rag Market, summer art competition and Pedlar's Day. Hebden Bridge WI do the rag market on an annual basis and the event has been growing over the past few years. Read more.
Where to stay: Over a dozen bed and breakfast and self catering listings have been added or renewed in the past month.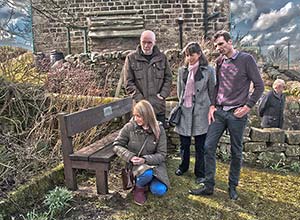 Commemorative Memorial to those harmed by exposure to Asbestos. This morning, 13 April a commemorative memorial plaque, to remember those who have died or been harmed by asbestos exposure, was unveiled with a ceremony in Pecket Well. Read more
Tour de France - Cragg Vale photo competition - Before the Tour de France cycles into Cragg Vale next year, the village is calling on all amateur snappers to find some pedal power and capture a cycling image. Read more (16 April)

A Celebration of the Life of John McNair, an educator, champion of the Spanish Language, a founder of the local University of the Third Age and long time Labour Party activist. Read more (17 April)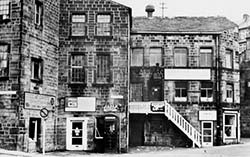 Bridge Mill: History on our doorstep. Justine Wyatt, with the support of the mill's current owner David Fletcher, has uncovered more of the story of the building, and gave a fascinating talk to the Hebden Bridge Local History Society. Read more (3 April)

More photos of the 2013 Pace Egg play as performed by the Heptonstall Players. Background news.
Hebden Bridge: the coolest place to live in Britain, according to the Times. Read about what The Times said.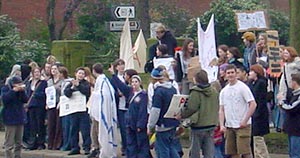 Calder High Student Walkout - ten years ago. As Britain was about to invade Iraq, Calder High students led local protests. Headteacher David Scott was forced to close the school on the day of the invasion and subsequently suspended 13 students. Calder High students demonstrated all day in Hebden Bridge. Read the HebWeb news reports from March 2003.
Calder High Ofsted Report Feb 2013. Now available on the HebWeb. Download. And see Forum.

Bernard Ingham column ended: campaigners have learned that Bernard Ingham has been told his longrunning column in the HB Times has ended. They had been calling on Ingham to apologise for what he said about Hillsborough. Read more (27 Feb)
Ofsted remove Calder High from special category - The possibility of Calder High being forced into becoming an Academy was very real; it all hinged on last week's Ofsted visit. Read more (18 Feb)
Horsemeat: Todmorden slaughterhouse raided and closed by food standard officials. See Guardian report
Small Ads - "I am very pleased to say the response was terrific and both properties are now let." (Less than a week)
Small Ads - "We placed a job ad on the Hebweb recently, intending to keep it there for 2 weeks, but we had to take it down after 3 days due to the huge response generated"
Five hundred words on Hebden Bridge - "Everything in the house was heated by the fire, all the old terraced houses used coal for heat and cooking back then, the valley had a serious smog problem." Read more from Dave Bridges' 500 words.

Jason Elliott's 500 Faces of Hebden Bridge

Small Ads - I just wanted to let you know that through my small ad on your site I found my ideal new home, meeting all my requirements. Thank you very much for such a great resource

906 launch went ahead on Sunday Hebden Bridge Walkers Action launched the 906 bus on Sunday (31st) with a guided walk. Read more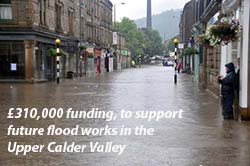 Boost for flood-hit communities: Calderdale Council is to receive Government funding to work with local communities to be better prepared for flooding. Read more (25 March)
Guardian Northerner: Hebden Bridge the UK's coolest place? The Yorkshire Paradise has won its fourth accolade in a decade. Born, brought up and living here, Rachel Pickering is loyal, but has one or two cautionary thoughts. (25 March)

Hebden Bridge woman refuses to pay taxes for war. Peggy Thomas, a retired teacher, living in Hebden Bridge, is refusing to pay the Inland Revenue some of her income tax. She is a conscientious objector, against taxes being used for warfare. Read more (22 March)
Guardian Northerner: Jill Robinson's last column reflects on how, arriving in Hebden Bridge 30 years ago, she felt immediately at home, even though the "Tories were gunning for single parents."(20 March)
HebWeb archive: quickly view HebWeb home pages of the past few years.
Guardian Northener: A Dark Water - remembering Sylvia Plath in Hebden Bridge and how she and Ted Hughes might have fared better in the Hebden Bridge of today. (1 Feb)
The Trades Club thanks the HebWeb: "The Trades has had a great year with more than 30 sell-out gigs and a huge part of that is the regular updates we get on Hebweb" Read more.
Small ads: "We've successfully rented our house. Thanks for an excellent service - I'll heartily recommend Hebweb, as our house was previously listed through an estate agent who didn't manage to get us a tenant in 3 months - through Hebweb we had 4 prospective tenants within a week." (4 Jan)
Hebden Bridge and its Co-op featured in this Radio Four programme - about 11 minutes in

TOUR DE FRANCE: on Sunday 6 July 2014, the eyes of the world will be on Hebden Bridge when the 200 competitors of the Tour de France cycles through our town, and Cragg Vale's famous five-and-a-half mile incline, the longest in England. Read more
More from Hebden Bridge Web