News, Features and forthcoming Events
Electrification of a Trans Pennine route - but not the Calder Valley line. The Upper Valley Transport Group has called on the Government to go further and commit to electrifying the line through Hebden Bridge, Todmorden, Brighouse and Halifax. Read news item and see Forum thread 1 Oct
Protest songs: Local musicians have volunteered for a special We Shall Overcome weekend (3-4 Oct) at Hebden Bridge Trades Club to challenge the austerity agenda. Read more 25 Sept
Minutes of latest Town Council meetings and committee meetings now online.
Durtanczyc Jewellers and Valet Stores to close this month, after many years of business in Hebden Bridge. See HebWeb Forum
Calder Valley Community Land Trust celebrates its first birthday. This October will see its first AGM and 4 test digs in the now deserted High Street (above Bridge Lanes) Read more 29 Sept
Riverside need a few more votes! Riverside School in Hebden Bridge has been shortlisted for an Award from the M&S Energy Fund. Riverside have asked for £12,500 to buy solar panels. Read more - updated
Second New Mayor this year for Hebden Royd Town Council. Deputy Mayor Cllr James Fearon has taken over from Cllr Karl Boggis who has stood down for family reasons. Read more 25 Sept
Hebden Bridge Steampunk Weekend. 19-20 September. Photo thanks to H Gregg of the After Alice Project - click photo to enlarge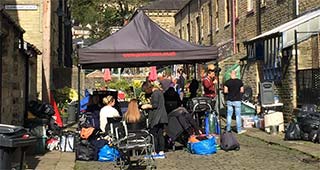 Major new TV drama comes to Calderdale: In the week when more filming has been taking place around Hebden Bridge for the next series of Happy Valley (see above), another major new TV drama is announced for Calderdale. Read more
Community Funding grants Hebden Royd Town Council is keen to hear from local community organisations who need financial support. Read more 18 Sept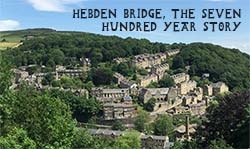 What's on in September - around 35 events now listed in our events section. Up the Buttress, workshops, talks, village fete, storytelling, open days, film premiere, ward forum, steampunk and much more. What's on
Little Park to be overshadowed as council gives permission for 8 more flats next to the McCarthy & Stone development - with parking over the river. See Planning Watch and Forum.
Vacancy for Town Councillor filled White Lee Ward: Tony Hodgins has been selected by co-option following disqualification of Conservative Councillor, Nicola May. Read more
The First Film - with Q&A. Was the film industry born in Yorkshire? That's the question asked by David Wilkinson in this enthralling documentary into the origins of cinema. Picture House. 9 Aug. See What's on.
Vintage Car Weekend: 1-2 August. The Rotary Club of Hebden Bridge hosted the annual charity fund raising event. More info
Jeremy Corbyn's bid to be Labour Leader now has the support of Calder Valley Labour Party. (28 July)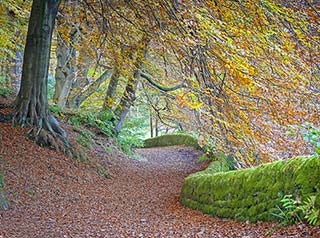 Camera Club Annual Exhibition winning pictures: visitors were asked to vote for their 3 favourite images in order of merit. Read more and see the 3 winning photos. 6 July
FESTIVAL STREET SUNDAE: 2nd weekend. Some of the nation's top street performers joined in the fun, including Phoenix Nights star Janice Connolly. Read more and see more photos from Paul Clarke
Hebden Royd Town Council annual report and councillors' attendance records both now online.
Car Park Closes: Calderdale councillor Janet Battye has told the HebWeb that she thinks the old Fire Station land should continue as a car park. Read more
Move Parliament to Hebden Bridge, argues Professor Tony Travers in today's London Evening Standard. "With both MPs and peers in Parliament and the Queen in Buckingham Palace facing the possibility of decamping while renovations are made to their historic homes, is it now the time for power to shift in the UK?" To Hebden Bridge? Read article 25 June
BBC News: West Yorkshire Police to get £1.5m to review 'cold case' murders, including that of Hebden Bridge's Lindsay Rimer

Photos from 50 years ago: Terry Roberts grew up in Hebden Bridge and has been in touch with the HebWeb to make available some of his old photos. Read more and see photos. (17 June)
Hebden Bridge Partnership - how things get done The Partnership is an umbrella organisation which brings together community groups. At its meeting of 12 October, around 30 groups will speak for 3 minutes explaining just what they do. Read more 2 Oct
Gallivanting on Public Transport: A Bus Pass from Berwick to Land's End - latest talk from the University of the Third Age, with speaker David Whatmough. Read more 30 Sept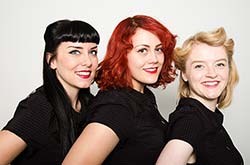 Wainsgate Concert: The Bobby Pins - a performance on Saturday 3rd October by May Lester, Gina Walters and Debra Ann Finch – aka The Bobby Pins. Read more 29 Sept
Speed networking comes to Hebden Bridge. Forty three diverse local businesses attended the Speed Networking event organised by the Hebden Bridge Business Forum. Read more 28 Sept

Citadel, a new epic mountain film, premieres at Hebden Bridge Picture House - hosted by Calder Valley Search and Rescue. Read more 23 Sept
SITA becomes SUEZ and keeps council waste contract. Residents in the Hebden Bridge area will be seeing some changes next year, including more recycling options and new vehicles. Read more 22 Sept
Art Fair Planned for early November: The Town Hall's Waterfront Hall will host 20 unique stalls, highlighting an innovative mix of local art, craft and photography available to purchase.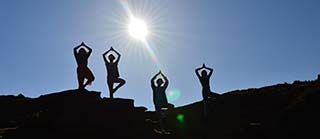 Alternative Secondary School proposed for Hebden Bridge. Hebden Bridge School will be a small, alternative secondary school 11 to 16 year olds, planning to open in the Hebden Bridge area in September 2016. Read more 21 Sept

Acre Mill asbestos site could become a caravan and campsite: Update: The HebWeb has been informed by one of our readers that the scheme will not now go ahead. Read more Updated 22 Sept
Untouchable Things by Tara Guha was launched to a packed crowd at the Town Hall on Friday, 18 Sept. The novel's quirky characters and literary references will appeal to many readers in Hebden Bridge. Read more

Haworth - Hebden Bridge: Launch of Walking Guide. Hebden Bridge Walkers Action has produced a guide to walking between the two towns. Read more 16 Sept
Cragg Vale School saved: A short and sharp campaign to save Cragg Vale Junior & Infant School has halted plans by Calderdale Council to launch a consultation in relation to proposals to close down the school and 'relocate' it to a new site at Calder High School.  Read more 15 Sept
Wuthering Bytes: the annual Hebden Bridge one week technology festival at the Town Hall includes exciting events and speakers, including Professor Danielle George who presented the BBC's 2014 Royal Institution Christmas Lectures. More info about speakers and events.
Calderdale Council budget - have your say. How do you think Calderdale Council money should be spent, and what do you think our priorities should be for the future? Read more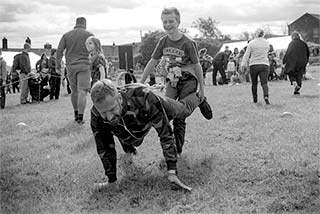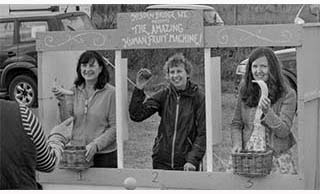 Blackshaw Head's Village Fete: Photos by H Gregg as part of the After Alice Project. See more photos and read background to Saturday's fete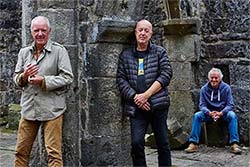 Happy Valley Collective: New Hebden Bridge label's first release to support Macmillan. Read more 4 Sept

Calder Valley Voices welcomes anyone interested in joining in for a 'taster session' and consider membership for this term. No audition, so no worries on that score. Read more 2 Sept
Charity collectors break rules: Radio 4's You and Yours has highlighted how fundraisers for the RSPCA in Hebden Bridge broke charity rules by failing to reveal how much they charge the charity for the service. Read more 1 Sept

World premiere for Arts Festival first short film commission By day Kevin Boniface was posting letters, but after his shift he was making his half hour long film, The Rookery. Read more - Saturday, 5 Sept.
Magna Carta - A (Mostly) Light-hearted look at 800 Years of History by the University of the Third Age (U3A). Read report 1 Sept

Northlight Art launch new Autumn term programme of Art and Craft courses. Classes for all - from the terrified to the gifted! Read more
Hebden Royd and hilltop parishes - there's still time to have your say. Online consultation.
Kilimanjaro challenge - Earlier this month, Drew Whitworth from Hebden Bridge climbed the highest mountain in Africa to raise over £1000 for Calder Valley Search and Rescue. Read more
Local History Talks - the winter programme starts in September and includes: when Oxford University came to Hebden Bridge, the lost Kingdom of Elmet, the further history of Calrec, the suffragette census boycott, connections to the Magna Carta, conscientious objectors of the First World War and much more. See What's on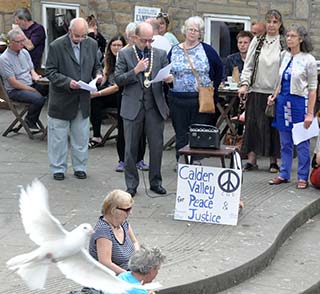 Mayor Karl Boggis read the peace declaration on the 70th anniversary of Nagasaki atomic bomb, 9 August, by the Old Bridge. The white dove flew in, right on cue. More info with brief report and photos of the event.
Overgate Hospice Furniture Shop Opened, at Shepherds former car showroom. Saturday 1 August.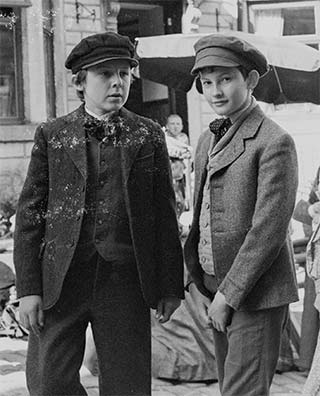 Young actors on set in Heptonstall during the making of new 8 part ITV drama series, Jericho. Photo by Rob Costello, part of the After Alice Project. (28 July)

Blackshaw Head Methodist Chapel is 200 years old. On Sunday, 12 July, a photo from around 1908 was recreated. Read more and see larger versions of both photos.

Norman Hurst: Graham Packham and others remember their friend, Norman Hurst, who died at home Friday, 3 July. If you wish to add your memories of Norman, who lived round here for over 40 years, see this Lives Remembered page.

Book Launch: All Our Own Work, Andrew Bibby's history of the HB Fustian Manufacturing Coop at Nutclough Mill. Launched Sunday 5 July. Read more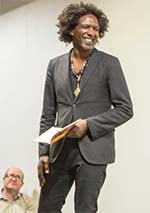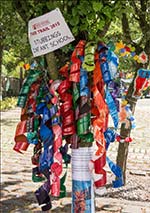 Arts Festival - Above: photos from Craig Shaw of first couple of days of Arts Festival: Poet Lemn Sissay and part of the trail of decorated trees throughout the town centre 28 June
Hebden Bridge writer, Peter Riley, short-listed for for this year's Forward Arts Foundation prize for Due North, worth £10,000. Read more (12 June)
HebWeb Quirky Small Ads:
As well as services, and houses and homes offered and wanted, recent ads have included campervan, Mediterranean apartments, smallholding for sale, meditation for modern life, squash coaching, yoga, massage and fiddle tuition. See our Small ads page.
Calderdale Planning Committee has turned down an application to build 14 apartments towards the bottom of Heptonstall Road. See Planning Watch.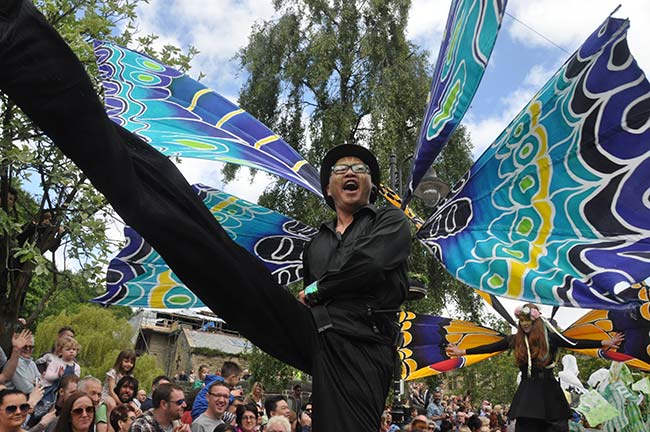 Handmade Parade report - in the sunshine - more photos
Nicola May, the only Conservative councillor elected to Hebden Royd Town Council has been disqualified for not accepting the post within the prescribed time period.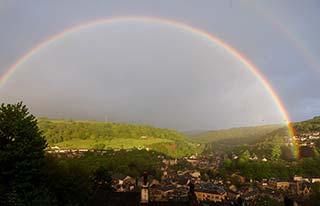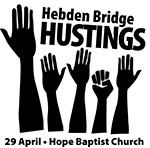 Around 230 people turned out to question 6 of the 7 candidates standing for election in the Calder Valley constituency.
HebWeb Election Section: for news and discussion of the May 2015 General Election in the Calder Valley
HebWeb also available on the slightly shorter hebdenbridge.uk as well as hebdenbridge.co.uk
650 Years on the South Pennine Moors by David Nortcliffe: an account of life over the centuries on the moors above Hebden Bridge. A brief history of what was the western end of the ancient township of Wadsworth - a Pennine Pens eBook. Read more (19 May)

New 2015 Hebden Bridge Visitors' Guide Published: The 2015 Guide, which points out all the places and sites visitors should not miss, is available throughout the town and for download here on the HebWeb. More info
Pennine Loop Launch: The launch, Saturday 25 April, of the Hebden Bridge Loop fn the Pennine way was a huge success. Over 200 people joined the series of walks through the day. More info, photos and audio clip from Will Sutcliffe (89) Click photo above to enlarge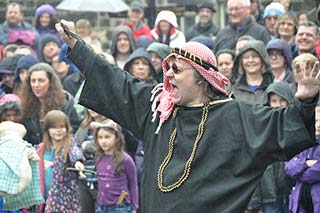 Pace Egg Play 2015 - read more
More photos
Guardian Northerner: What the UK can learn from Hebden Bridge? The BBC's Mind the Gap asks how London's success can be replicated elsewhere: Claire Donnelly argues that our small town could have the answer. Read more
Hebden Bridge, the UK's second city, BBC article by Evan Davis. "Hebden Bridge is an inverted city with a greenbelt centre and suburbs called Manchester, Leeds and Liverpool." Read the article
Small Ads - I just wanted to let you know that through my small ad on your site I found my ideal new home, meeting all my requirements. Thank you very much for such a great resource
Small Ads - "We placed a job ad on the Hebweb recently, intending to keep it there for 2 weeks, but we had to take it down after 3 days due to the huge response generated"
Small Ads: "Ad posted Monday, lease to be signed Saturday and tenant moving in Sunday. Thanks HebWeb."

"Unbelievable result Hebweb. So many enquiries in response to the small ad on your site and now have lovely new tenants. What a success - Thank you Hebweb."
Hebden Bridge: more plaudits - Last year's Valley of Lights won APSE's best community and neighbourhood initiative, and the Old Gate pub restaurant is Yorkshire Post's "Pub of the Week".
Britain's favourite market town? Hebden Bridge has been shortlisted in the 'Britain's favourite market town' category in the BBC Countryfile Magazine Awards 2013. Read more
HebWeb uses Google ads to help cover its costs and they vary for each user. This has worked well for many years. However, please let us know the url of any ad thought to be inappropriate. If we agree, the ad will be blocked.
Guardian Northerner: Hebden Bridge the UK's coolest place? The Yorkshire Paradise has won its fourth accolade in a decade. Born, brought up and living here, Rachel Pickering is loyal, but has one or two cautionary thoughts.
Small Ads - "I am very pleased to say the response was terrific and both properties are now let." (Less than a week)
Small ads: "We've successfully rented our house. Thanks for an excellent service - I'll heartily recommend Hebweb, as our house was previously listed through an estate agent who didn't manage to get us a tenant in 3 months - through Hebweb we had 4 prospective tenants within a week."




More from Hebden Bridge Web