News, Features and forthcoming Events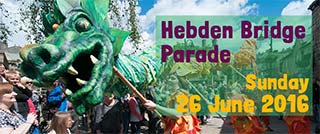 Handmade Parade: Thousands of people will make their way to Hebden Bridge on Sunday June 26 to watch the 9th Handmade Parade with the theme this year Muck In! More info, links, galleries and map of route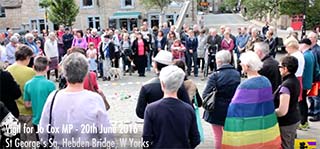 Vigil in memory of Jo Cox on Monday, 20 June 2016 at 6pm. Click here to see video from Jason Elliott
Made in Hebden event launches Arts Festival next Friday 24 June. Local craftspeople and businesses are joining forces to help open Hebden Bridge Arts Festival. Read more
Alternative Christmas Day is 25 June - three large Christmas trees are on their way. See this video.
Handmade Parade: Last week of workshops - last chance to come and create a head-turning show stopper costume for this year's Handmade Parade, with open workshops entering their final week. (15 June)
Six months after the Floods: Where are we up to? A Friends of the Earth briefing identifies "some significant weaknesses that need to be corrected now, in June-July" if the process leading up to the publication of the Calder Catchment plan in October is not to be substantially compromised. Read more (11 June)
Questions re police raid on Calder Valley Conservatives. The journal which broke the original story has now published an update, raising serious questions of public concern. Read more. (10 June)
Community orchard seeks help on 11 June, spreading the wood chip - already bagged - around the fruit trees and fruit bushes
Police seize documents at Calder Valley MP's HQ. On Wednesday, police seized the accounts of the Calder Valley Conservative Association in connection with enquiries they are currently undertaking. The Party Chair has resigned. Read more (27 May)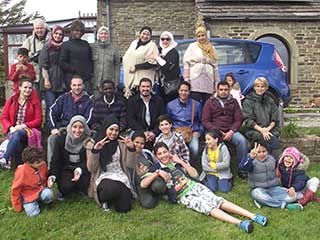 Asylum seekers and refugees work with Together We Grow which aims to promote the social and emotional wellbeing of asylum seekers and refugees in our area. "We want them to feel welcome in our community," says Finn Jensen in his piece for the HebWeb. Read more (21 May)
From Hebden Bridge in May, bluebell woods in every direction. Click to enlarge
Labour win Hebden Bridge's Calder ward. Josh Fenton-Glynn won 2310 votes, against 1424 votes for the current councillor, Janet Battye (Liberal Democrats). Jane Scullion (Labour) won the Luddendenfoot ward which covers Mytholmroyd. More results and figures (Updated 8 May)
Shape the future of the Valley Road Town Centre site Now that Sainsburys will not be building their store, there is a consultation about the future of the land. Post your views online about the development of the wider area around the old Fire Station premises. Read more
Retired Head walks to Italy. Roger Gill, 69, is walking 1,200 miles from Hebden Bridge to Italy. Read the article in the Yorkshire Post 21 April
Floods Meeting Report - report of Monday's public meeting, called by the Hebden Bridge Partnership. 7 April
Trouser Town in Happy Valley - scroll down to see the item on Hebden Bridge in The Observer. "The picturesque town of Hebden Bridge was once better known for producing menswear than providing the set for Happy Valley. 3 April
Fighting back after the winter floods: BBC news item includes report of Ian McMillan re-opening The Book Case. 26 March
Duck Island saved as Hebden Water dredged: Today Jos Wattam, who is managing the dredging by the Environment Agency of Hebden Water gave a reassurance that the Duck Island would be preserved Read more 11 March
After the floods: Hebden Bridge Partnership has called for more transparency in the way the Environment Agency and Calderdale plan flood resilience schemes. Read more 28 Feb
Hebden Bridge reservoirs to be considered for floodwater storage. See BBC report
Insurance for businesses hit by floods. See this Look North snippet from Wednesday, 9 February 2016.
After the floods: at The Deli on Market Street, Hebden Bridge, these posters were uncovered during refurbishment. They all seem to date from May 1882 - photo thanks to After Alice Project. Click photo to enlarge. 5 Feb
Hebden Bridge Market wins Best Small Outdoor Market award:
Hebden Bridge Market has been crowned one of Britain's best markets in a prestigious national competition. Read more 3 Feb
BBC's The One Show - came live from Hebden Bridge, Tuesday evening (2 Feb).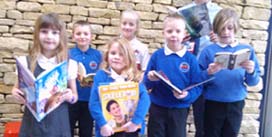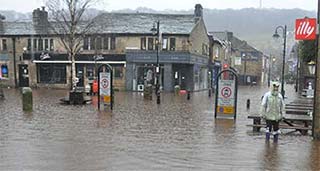 Hebden Bridge is Open for Business - see video of shopkeepers, café owners and more, filmed by Jason Elliott on Monday, 18 January, telling us they are back open for business.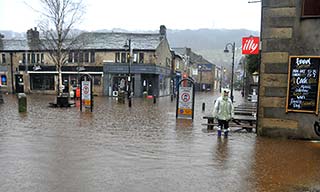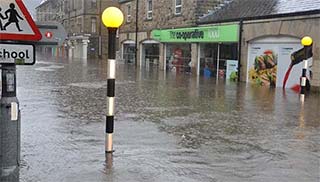 The Impact of the Boxing Day Floods on Hebden Bridge's Economy: the Hebden Bridge Partnership have produced a report seeking to raise the profile of Hebden Bridge in the clamour for flood funds, showing that 80% of town centre shops, cafes, pubs, services were hit by the flood. More info and link to report
The Hebden Bridge Picture House is too special to lose. Now that new seats have been installed, and the foyer is back open, the Picture House urgently needs to increase the numbers attending. Read more and download leaflet. (21 June)
Plants and people wanted for Station Have you any spare seedlings, seeds, plants, or small shrubs? Can you give some away to further beautify Hebden Bridge Station? Read more (20 June)
Mincemeat: Valley Organics step in, offering mincemeat for Alternative Christmas Day. See Forum thread
Debate Cancelled Old Town Remain or Leave debate cancelled, as part of the suspension of referendum campaigning in the light of the tragic killing of MP Jo Cox.
Convoy to Calais Some people from Blackshaw Head will be going to the refugee camps in Northern France with donations from local people in Calderdale, as part of a national convoy leaving from London. Read more (13 June)
Hebden Bridge 1916 - On Saturday 25th June it is your opportunity to experience what life was like 100 years ago. Hebden 1916 is an event for children to learn about Hebden in WW1 looking at toys, photographs and clothes.
HebWeb Forum discussion includes noise, charity collections at the Co-op, floods, the Hebden Bridge Suffragette, the fustian needle and amplified busking. (7 June)
Sustainable Business Awards: Hebden Bridge company runner up Based in Hebden Bridge Town Hall, Pennine Pack have been awarded runner up in the Supply Chain category, Guardian Sustainable Business Awards 2016. Read more (27 May)
Alternative Christmas Lunch 'Thank you' for Flood Volunteers - and HebWeb readers are urged to help track down those who gave their time in the aftermath of the Boxing Day Floods. Read more (26 May)
Floods: Mytholmroyd Action Plan released by the Environment Agency (26 May)
Small Ads: "Amazing but my house in Tod got rented out within 30 minutes after putting the house on Hebweb." From message received, Thursday, 26 May 2016
Trades Club becomes a Co-op. Trades Club members unanimously agreed to turn the Holme Street venue into a co-operative at their AGM. The Club spent 18 months considering the proposal that gives each member an equal £1 share. Read more (25 May)
Convoy to Calais on Saturday 18 June 2016. The People's Assembly has organised a convoy of vehicles to take supplies to refugee camps near Calais and Dunkerque. Food donations needed. Read more (24 May)
Pay As You Feel Café in Hebden Bridge. The Real Junk Food Project Calderdale is to officially open a Pay As You Feel Café on Thursday 26 May at Midday. Read story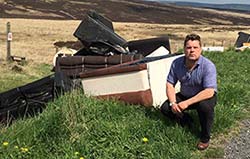 Massive fly tipping in Cragg Vale over the weekend: Residents and visitors to the beautiful moors above Cragg Vale were horrified to find a huge amount of household clearance items dumped roadside over the weekend. Read more (19 May)
Hebden Bridge to have its own Radio Station: Launching in June, designed specifically for the people of Hebden Bridge, Hebden Radio will play music with local presenters and news, local gigs and events and much more! Read news item (14 May)
Amplified Busking: What do you think? See our HebWeb Forum discussion
After the floods: Rotary Clubs offer support to community groups. They want local community groups who were affected by the floods to get in touch, as they have some funds available. Read more 19 April
Last Night A Venue Saved My Life. One local resident Nick Rice's personal account of the Boxing Day flood, and ending up at the Trades Club. Published this week in the award winning music magazine Clash Magazine. "There's no food, heat or water at home and I'm caked from head to toe in toxic slurry after attempting to clean up." Read the article. 15 April
From Steve Farrell, now living in Mysore, India: "As someone who lives abroad, the Hebweb site has always been critical for keeping in touch 'back home' in Hebden. I've just needed to re-advertise my home for rent, so where to turn to? The Hebweb, of course. The Ad was up within minutes and there were 10 enquiries within 24 hours. Superb!" See Small Ads. 1 April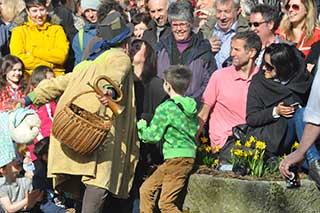 Above: Tosspot gets a kiss
More Pace Egg photos.
Pace Egg Play 2016. Hundreds turned out for the Heptonstall Pace Egg play in the Good Friday sunshine. More photos. £1144.94 was raised which will shared between Calderdale's Flood Relief Fund and the East African Playgrounds project.
The floods: taking stock three months on: Public Meeting, called by Hebden Bridge Partnership on Monday, 4 April 2016. See What's on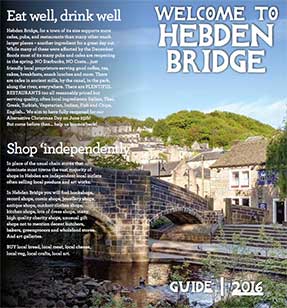 2016 Hebden Bridge Tourist leaflet.
More info here
Budget: Calder Valley Flood Defences. The Chancellor has allocated £35 million to the Calder Valley for flood defences. See this short clip from Look North. 16 March
The Manchester and Leeds Railway: 175th Anniversary - 1st March 2016. Read story (PDF) from Friends of Hebden Bridge Station.
Craig says yes to Europe: Calder Valley MP Craig Whittaker has said on his website that he will be voting to stay in the European Union. 24 Feb
BBC Look North reports on the floods in Hebden Bridge and Mytholmroyd, one month on.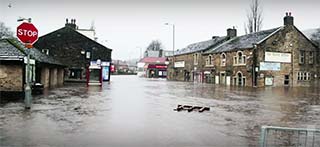 The Floods in Mytholmroyd. A selection of remarkable video footage from Raphael Pavel. Click here to see.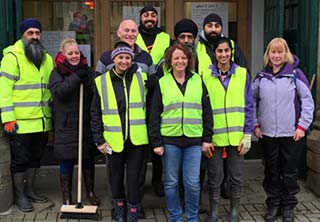 The real story of the Calder Valley floods: restored communities and faith in humanity - Eight days on from the devastating Boxing Day floods that swamped Calder Valley, the real story is that people came together and have been magnificently supported by a wide range of groups from all backgrounds, some of whom have travelled long distances to help. 3 Jan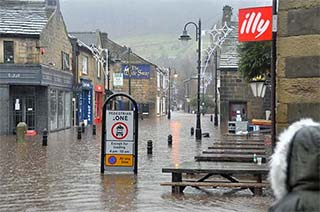 THE FLOODS - AFTERMATH.
Funding for residents and businesses, Army on the streets; video of Town Hall hub co-ordinating support; businesses needs support; help from Halifax mosque; George Monbiot - "warnings disregarded"; message of support from twin town, and more. News and photos updated 3 Jan
Guardian article: "When we opened the (Town Hall) doors on the 27th we just weren't expecting the sheer volume of people wanting to volunteer. We thought maybe we'd be able to provide hot drinks and somewhere for people to charge their phones… it soon became apparent that it was going to be much, much bigger than that." Read full article 11 Jan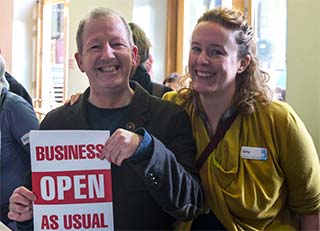 The Guardian used this photo from Craig Shaw for the above article - see more of Craig's photos of the floods aftermath and cleanup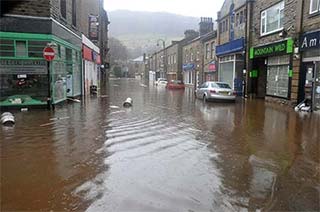 Sainsburys' latest court action thrown out. See court ruling here. The High Court has dismissed Eshton Gregory's/ Sainsbury's judicial review challenge to the Planning Inspector's refusal to grant an appeal to Calderdale Council's refusal of planning permission 30 Dec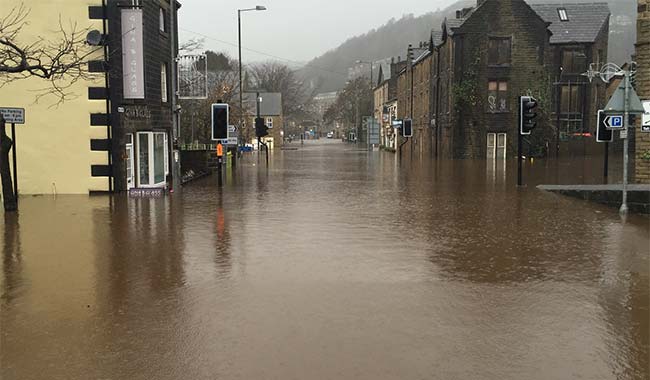 See HebWeb Forum thread for floods discussion.
FLOODED AGAIN! More video added.
Worse than 2012 - see our news page with more photos and info. Offers of help are being co-ordinated by the Calder Valley Flood Support Facebook group. At least two Sunday papers have Mytholmroyd on their front page. Read and see more 26 Dec
'Calder Valley under water: Sacrificed to indifference and political ideology': an open letter from Calderdale Friends of the Earth to Craig Whittaker MP challenges the actions, inaction and political ideology that contributed to the floods. Read letter 27 Dec
Sunday 27th: Picture House is appealing for people to help. Bring a headtorch as no electricity. Free gas check offer. See our flood news page
Flood Sirens went off at 9.30pm Christmas Day in Hebden Bridge and again throughout the length of the Upper Valley at 7.30am Boxing Day morning. Updates can be found on the Calder Valley Flood Support Facebook group. An Environment Agency flood warning is in force. Main roads remain closed, Boxing Day, 8.30pm.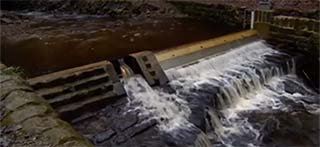 Hydro-power scheme in Hebden Bridge: Situated in the Colden Valley, Jane and Bede Mullin's Water Turbine installation will produce enough power for 40 houses. However, recent cuts in government subsidies for renewable energy means that similar projects in the future would no longer be economic. Read more. Updated 20 Dec
Arriva awarded Calder Valley rail franchise with the promised of the phasing out of Pacer trains, new services and routes, better stations, smart ticketing, free wifi and air-conditioned carriages. The new franchise has been welcomed by the Sustainable Transport Group. Read more. 9 Dec See Forum message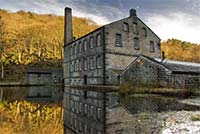 Gibson Mill celebrates 10 years, OffTheGrid - not connected to the National Grid, all energy comes from wood, sun and water, and all waste is recycled. More info here
Fair for Youth: how it changed me. A personal account by Alex Kostyakov of his involvement with Fair for Youth, now that he has stood down as its Chair. Read more 26 Oct
HebWeb Quirky Small Ads:
As well as services, and houses and homes offered and wanted, recent ads have included Jewellery workshop, bycycle maintenance classes, English, French, Italian, Spanish and Voice tuition, Hawaiian massage and Mindfulness. See our Small ads page.


Happy Valley writer loves Calderdale. "Hebden Bridge is vibrant; there's a lot going on artistically and it's also got great galleries, pubs and restaurants." Sally Wainwright talks of our "dramatic and awe-inspiring" landscape and the influence of local historian Jill Liddington's Anne Lister book. Read her Guardian article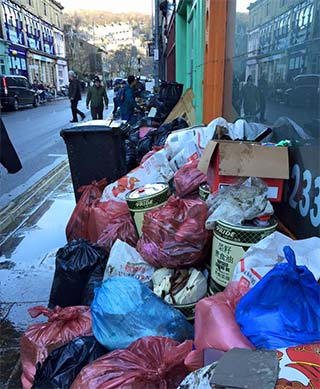 The big clear up began in earnest yesterday (27th) with hundreds of helpers all over town. Photo of Market Street: Sara Robinson.
Carols in the Square: Our town square was overflowing on all sides as hundreds congregated for the annual Christmas Eve carol singing.
Flood siren went off in Hebden Bridge just before 4pm, Sat 12 Dec. Road and rail problems reported along the valley. See Facebook group, Calder Valley Flood Support for latest info. Market Street was flooded again but was clear later in the evening.
"Many thanks Hebweb, the Small Ad asking for Volunteers to cook and help at Wadsworth Lunch Club has already had success. We now have someone coming to help cook. We'd still welcome a washer up, and occasional helpers please."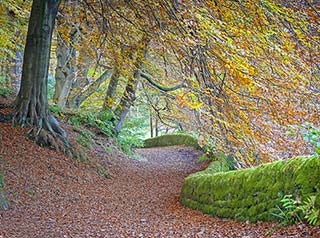 Camera Club Annual Exhibition winning pictures: visitors were asked to vote for their 3 favourite images in order of merit. Read more and see the 3 winning photos.

HebWeb on Twitter - The HebWeb now has over 2400 followers.
Guardian Northerner: What the UK can learn from Hebden Bridge? The BBC's Mind the Gap asks how London's success can be replicated elsewhere: Claire Donnelly argues that our small town could have the answer. Read more
Hebden Bridge, the UK's second city, BBC article by Evan Davis. "Hebden Bridge is an inverted city with a greenbelt centre and suburbs called Manchester, Leeds and Liverpool." Read the article
Small Ads - I just wanted to let you know that through my small ad on your site I found my ideal new home, meeting all my requirements. Thank you very much for such a great resource
Small Ads - "We placed a job ad on the Hebweb recently, intending to keep it there for 2 weeks, but we had to take it down after 3 days due to the huge response generated"
Small Ads: "Ad posted Monday, lease to be signed Saturday and tenant moving in Sunday. Thanks HebWeb."

"Unbelievable result Hebweb. So many enquiries in response to the small ad on your site and now have lovely new tenants. What a success - Thank you Hebweb."
HebWeb also available on the slightly shorter hebdenbridge.uk as well as hebdenbridge.co.uk
Hebden Bridge: more plaudits - Last year's Valley of Lights won APSE's best community and neighbourhood initiative, and the Old Gate pub restaurant is Yorkshire Post's "Pub of the Week".
Britain's favourite market town? Hebden Bridge has been shortlisted in the 'Britain's favourite market town' category in the BBC Countryfile Magazine Awards 2013. Read more
HebWeb uses Google ads to help cover its costs and they vary for each user. This has worked well for many years. However, please let us know the url of any ad thought to be inappropriate. If we agree, the ad will be blocked.
Guardian Northerner: Hebden Bridge the UK's coolest place? The Yorkshire Paradise has won its fourth accolade in a decade. Born, brought up and living here, Rachel Pickering is loyal, but has one or two cautionary thoughts.
Small Ads - "I am very pleased to say the response was terrific and both properties are now let." (Less than a week)
Small ads: "We've successfully rented our house. Thanks for an excellent service - I'll heartily recommend Hebweb, as our house was previously listed through an estate agent who didn't manage to get us a tenant in 3 months - through Hebweb we had 4 prospective tenants within a week."




More from Hebden Bridge Web