News, Features and forthcoming Events
Mytholmroyd Flood works - next stage, including the relocation of Caldene Bridge, from 9 May. Bluetooth technology is to be used to improve traffic flow during Mytholmroyd flood works. More info. (2 May)
HebWeb Discussion currently includes, drinking and buskers in the square, preserving Mill chimneys, Bonsalls, litter and transport in the north.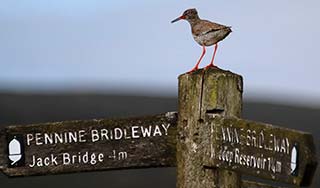 Through the Lens - South Pennines' Photographic Competition is open to all, amateur or professional. The only limits are geographical; all the images have to be of the South Pennines. More info (22 April)
"In a world where style often triumphs over substance, Hebweb is reassuringly informative, reliable and clear. An invaluable community resource and public information forum reflecting the independent spirit of Hebden Bridge. Lesley at Elmet Farmhouse. (18 April)
Jeremy Corbyn in Mytholmroyd speaking to a packed Community Centre, supporting Labour's candidates for the local elections. Click photo to enlarge (14 April)
RSPB Call For Objections to Walshaw Moor Track: The RSPB is seeking help to put a stop to a planning application that could seriously damage an area of blanket bog, a rare and precious deep peat habitat that takes thousands of years to form. Read more. Updated
Slow The Flow Film and AGM: The Slow the Flow group showed the film High Water Common Ground, about flooding and what we can do now to reduce its risk - made by filmmaker Andy Clark, on Thursday 12th April. More info
Where to Stay in the Hebden Bridge area - many of the listings in this popular section have been updated over the past couple of weeks. And following several requests, there is now a new page which features only Bed and Breakfast listings. (3 April)
Flood alert no longer in force. (3 April, 9pm)
Heptonstall 2018 Pace Egg Photos
"The oldest drama in the world, dating back to ancient Egypt and performed by many civilisations across the centuries." Good Friday, Weavers' Square. Photos
Mytholmroyd Flood Scheme from April: traffic slowdown for up to 2 years, whilst further essential flood defence work is carried out. New measures are being implemented this time to make sure the temporary traffic lights are as effective as possible. Read more (20 March)
Weather disruptions: latest update from Calderdale (19 March)
Calder High decision on sixth form closure will be considered by Calderdale Council's Cabinet at the next meeting on Monday 19 March 2018. An option for a new 6th form college at the former library site in Halifax is being considered. More info (12 March)
New leaflet for Hebden Bridge - download it here (26 Feb)
Labour councillor condemns Craig Whittaker for failing Calderdale "The official figures show Government funding is being cut by another £3.9m next year. And since 2015, annual government support for Calderdale has been cut by more than £20m." Read more. (21 Feb)
Lib Dem's Alternative Council Budget "pictures a Council and Calderdale that is more like Silicon Valley than what was portrayed in Happy Valley." Read more (20 Feb)
Shoreditch of the North - is how today's Guardian's full page 3 feature describes Halifax.
Todmorden Community College is to become Todmorden Learning Centre after campaigners last night persuaded councillors to reject the bid for another supermarket, Aldi, a move which will benefit Hebden Bridge and all in the Upper Valley. (13 Feb)
Signal Box planning application - The Friends of Hebden Bridge Station are concerned that these plans may cause difficulties and expense for any group wishing to secure a heritage future for the signal box. See Planning Watch for more info (17 Jan)
Proposals to reduce flood risk in Mytholmroyd and create wet woodlands in the upper valley. The Mytholmroyd scheme involves the relocation of Caldene Bridge, which is one of two crossing points over the Calder in Mytholmroyd centre and currently constricts the amount of water that can flow downriver. Read more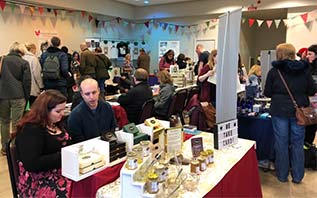 Vegan Fayre at the Town Hall on Sunday, 7 Jan. Hundreds packed the cafe area, Waterfront Hall and the outside area where vegan food was served.
Long waits at Calderdale and Huddersfield A&E - NHS Calderdale advises patients to choose services wisely: only go to A&E in an emergency as there are currently long waits in emergency departments. Read more
Two years on from the floods: Over the past 2 years the local community, Calderdale Council and partner organisations have been working hard to recover from the floods that hit our area on Boxing Day 2015. For more information on progress made, flood resilience schemes and works to be carried out in 2018, see this news page
Reservoir drawdown trial starts 21st December 2017 through to the 31st March 2018.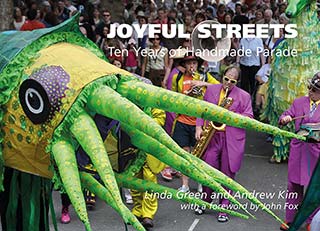 Handmade Parade Launches Book Celebrating Ten Years Joyful Streets: Ten Years of Handmade Parade, written by author Linda Green and artistic director Andrew Kim. The 96-page book tells the story of the parade and is illustrated by local photographers. More info.
Plans for for improving towpath axed The proposals for making the towpath between Hebden Bridge and Todmorden into a high quality cycle and walking route have been scrapped. Read more (3 Dec)
Town Council co-option: this week, Hebden Royd Town Council co-opted Cragg Vale resident and Labour Party member Chris Phillips for the Cragg Vale ward, filling the vacancy which followed Luke Daber's departure. The Council now has 11 Labour, 5 Lib-Dem & 2 Independent members.
Hebden Bridge commuter stirs up Northern Rail A Facebook group has been set up by frustrated commuter, Kate Anstee. With over 1500 members already, rail travellers report being delighted to find a group where they can share frustrations, problems and info. Read more
Accessible Hebden Bridge: this 7 minute video shows the work of the Making Hebden Bridge Accessible for All project and how accessibility can be good for business. (27 Oct)
Five years ago in the Guardian, Martin Wainwright wrote, "Witness current comments on the community website, the Hebweb, which is one of the best of its kind in the country. No, world." 25 Oct 2012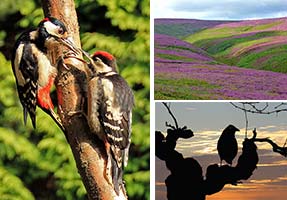 Hebden Bridge Camera Club winners: At the club's recent exhibition at the Town Hall, people came from all over to view the photos and take part in the 'People's Choice', where they voted for their favourite 3 images. Read more and see larger versions of the above photos.
Dig deeper inside the HebWeb There's much more on the HebWeb than you may think. This website has become a unique resource of local activity over the past twenty or so years. Read our brief summary of some of these less obvious features. (29 May)

Less than an hour from Hebden Bridge: try these halls, houses and galleries which many may not have heard about. Yet they are just on our doorstep. If you can't find anything to do locally (see What's On), have a look at this new HebWeb Feature.
Small Ads - "Choosing to advertise the house for rent on the Hebweb was incredibly effective. The perfect tenants were found within 48 hours"
Accessible Venues guide - a brief guide to which venues for hire, might be suitable for community groups, classes, meetings, events or activities, to be accessible to disabled people. From the Disability Access Forum (3 Oct)
Hebden Bridge Station car park to expand: Calderdale Council is working with Network Rail, which owns the land to the east of the existing station car park to create 46 extra places. Read more.

Local campaigners challenge NHS cuts in court- Jenny Shepherd, one of the claimants in the Judicial Review, told the HebWeb that the court case was about whether the NHS across West Yorkshire and the whole of England remains safe and fair for patients. Read more (3 May)

Café Culture is back thanks to generous grants. Café Culture, organised by the Arts Festival,  helps tackle isolation and was under threat of closure. Read more (2 May)
Community Business Weekend: 4-7 May at the Town Hall. The Community Association invites you along to find out more. Aimed at shining a light on the 7,000 community businesses across England including a good few in our area. Read more (1 May)
20 mph means fewer casualties - and saves money. The 20mph limit implementation will have prevented 30-40% of casualties over three years. The reduction in injuries means a public saving in the region of £3m Read more (1 May)

The Tour de Yorkshire passes through Hebden Bridge this coming Sunday, 6 May. More info and links
HebWeb Small Ads We've been overwhelmed with the response and quality of applicants! Thanks so much!
Heptonstall Bowling Club Bonfire last November - appeal for witnesses. Read more (24 April)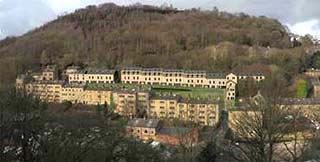 Hebden Bridge High Street The Community Land Trust hopes to bring back a lost Hebden Bridge street, with ambitious plans for new housing on the former High Street, parallel to Bridge Lanes. A public consultation is on 21 April. More info (14 April)
Carpark to close: The former Fire Station site is close to being sold to a new developer But there is still plenty of spare space left to use for parking, argues a forum contributor. See Forum message (10 April)
Hebden Royd Annual Town Meeting: Residents are invited to attend the Annual Town Meeting for Hebden Royd Town Council was held on Wednesday, 18th April at the Mytholmroyd Community Centre at 7:30 pm. Read more. (16 April)
Dock Pudding Competition cancelled "Massive apologies but, due to the never ending cold spell, there are no docks so we are having to cancel the championship for 2018." See Facebook page (8 April)
Disputes over boundaries and commons in the South Pennines: Dr Nigel Smith told the History Society how disagreements over the location of township boundaries reached a peak of litigation in the 16th and early 17th centuries. Read more (5 April)
Working in the Cafe and Bar Culture. Read a thoughtful contribution from local employer, Dan Debenham posted 2 April in the HebWeb Forum
Gridlock at Bankfoot! With tailbacks right through Hebden Bridge, even between rush hours, and work about to start in Mytholmroyd (HebWeb News, 20 March), Calderdale have issued a press release, explaining how the Bankfoot roadworks will continue for another 3 weeks including Easter. Read more (29 March)
What's on this Easter? (30 March-2 April). Heptonstall and Midgley versions of the Goood Friday Pace Egg plays, Craft Fairs, the Easter Monday Duck Race. See What's On for more events.
Hebden Bridge in Yorkshire crowned best place in the UK - 'Machine learning' used millions of data points to discover top locations. Read more (20 March)
From the archive: five years ago today The Times listed the 30 coolest places to live in Britain. Number one was Hebden Bridge. (19 March)
Closure of Calder High 6th Form: Michael Prior argues that the possible closure of the 6th form at Calder High "raises some serious questions about education in the Upper Valley and, in particular, the management of Calder High School" - See HebWeb Forum (18 March)
Hebden Bridge losing key shops? Following the news of the closure of Holts, our town's last greengrocers, comes the warning on this Forum thread that our last hardware shop, Bonsalls is struggling.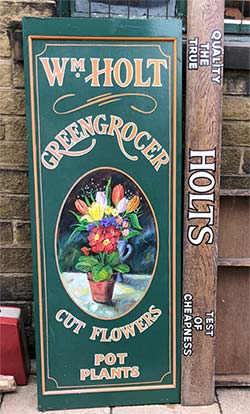 Seven Centuries of Recorded Floods in the Calder Valley: Thirty people struggled through snow and blizzards to attend a talk on the subject of floods. Nick Wilding, local filmmaker, was the speaker at a meeting of the Hebden Bridge Local History Society. Read more (6 March)
Overnight closures for A646 between Mytholmroyd and Luddendenfoot from 12 March (28 Feb)
Let's move to Hebden Bridge From the Guardian, 23 Feb. If the roots of its liberal and creative image are a mystery, its appeal is obvious. See also: HebWeb report from Sept 2005
Visitors' Centre reprieved according to a report in today's Yorkshire Post - see earlier HebWeb report (14 Feb)
Calderdale Compass Group Launch: Compass is a home for people, political parties and other organisations to work together to create a fairer society. More info (12 Feb)
The Book Case - highlighted by The Guardian (12 Feb)
HebWeb Small Ads message received 8 Feb: "Please could you close the advert? We've been overwhelmed with the response and quality of applicants! Thanks so much!"
Hebden Bridge Visitors' Centre threatened with closure - report now updated with response from Hebden Bridge Walkers Action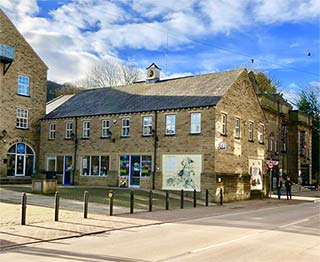 To save money, Calderdale Council is looking at closing our Visitors' Centre. Cllr Dave Young has argued against the idea, but told the HebWeb "due to the vicious Tory Cuts" Calderdale have had to cut its budget by £100m. Read more (Updated 5 Feb)
View from the Council Chamber: Josh Fenton-Glynn, one of Hebden Bridge's 3 Calderdale councillors, gives a personal account of last night's council meeting. Read his report (1 Feb)
Ben's three year bike ride Ben Page has just recently returned from a three-year bike ride, which took him from the tip of South America via the Canadian Arctic to his front door in Heptonstall - an adventure now to be made into a film. See Yorkshire Post article (27 Jan)
Bringing trousers back to Trouser Town: The Guardian talks with Brant Richards and Ed Oxley whose company, launched inJan 2016, now has a turnover in excess of £500k. (24 Jan)
Hebden Bridge Junior Band would like to thank the generous people who gave to their Candlelighters collection on Christmas Eve. The band has a long history of collecting for the Leeds-based charity at the Carols in the Square and this year raised a record £609.89.
Yorkshire's top 5 independent booksellers includes Hebden Bridge's Book Case, according to the Yorkshire Post
Plans: Land off Townfield Lane, Heptonstall - see Planning Watch (28 Dec)
Above: Gertrude Grouse enjoying the snow. Photo with thanks to Andrew Smith. Click photo to enlarge.

Twenty thousand descend on Hardcastle Crags: Using photos from the Archive, David Taylor conducted a virtual walk for the Local History Society, following the route taken by visitors who arrived in Hebden Bridge by rail, and then walked to and around Hardcastle Crags, Whitsun, 1897. Read report. (26 Nov)
Hebden Bridge Flood Marks: the Local History Society has commissioned a set of flood marker plaques commemorating the major floods of the past century. The one at the Picture House was unveiled yesterday, in the pouring rain. Read more (24 Nov)
Town Council Bye-election for Caldene ward in Mytholmroyd on Thursday, 23 November. Both candidates, Barnaby Neale for Labour and Stephne Harrison for the Liberal Democrats have now sent the HebWeb statements. Read more (updated 22 Nov)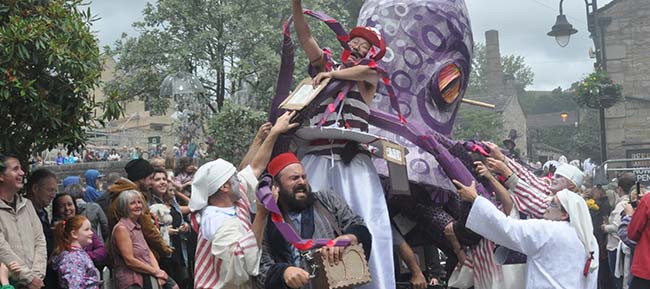 Small Ads: "House successfully rented through Hebweb. Fantastic posting wall!"
Selling my house on HebWeb was "extremely successful - I hope to complete on the sale in 2 weeks time, and I think I could have sold it a few times over."
Smll Ads: "I had so many wonderful responses to my ad for someone to help me re-organize my house post-flood, I wanted to employ everyone! Thank you." - Susan
Small Ads: "Amazing but my house in Tod got rented out within 30 minutes after putting the house on Hebweb."
From Steve Farrell, now living in Mysore, India: "As someone who lives abroad, the Hebweb site has always been critical for keeping in touch 'back home' in Hebden. I've just needed to re-advertise my home for rent, so where to turn to? The Hebweb, of course. The Ad was up within minutes and there were 10 enquiries within 24 hours. Superb!" See Small Ads.
Small Ads success - "Hi there I have found lovely tenants for my house in less than 24 hours. Amazing!" Re house to let in Mytholmroyd.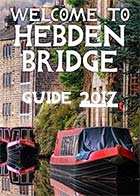 Tourism Guide - 2017 With sections on this year's festivals and events, visiting Hebden Bridge, eating, drinking and shopping independently, attractions, getting and staying here, and links to more information about our 'intriguingly, creative' town.
HebWeb Small Ads - The HebWeb is brilliant. Found tutor within 3 days… We have found a candidate. The response was excellent as was the calibre of the candidates.
HEBDEN BRIDGE WINS! - Great British High Street Award in the Small Market Town category. Almost one year after our town was wrecked and shut down by the Boxing Day Flood.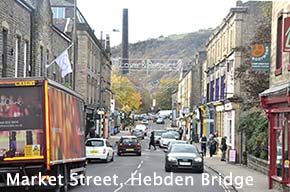 Happy Valley writer loves Calderdale. "Hebden Bridge is vibrant; there's a lot going on artistically and it's also got great galleries, pubs and restaurants." Sally Wainwright talks of our "dramatic and awe-inspiring" landscape and the influence of local historian Jill Liddington's Anne Lister book. Read her Guardian article
Guardian Northerner: What the UK can learn from Hebden Bridge? The BBC's Mind the Gap asks how London's success can be replicated elsewhere: Claire Donnelly argues that our small town could have the answer. Read more
Hebden Bridge, the UK's second city, BBC article by Evan Davis. "Hebden Bridge is an inverted city with a greenbelt centre and suburbs called Manchester, Leeds and Liverpool." Read the article
Small Ads - I just wanted to let you know that through my small ad on your site I found my ideal new home, meeting all my requirements. Thank you very much for such a great resource
Small Ads: "Ad posted Monday, lease to be signed Saturday and tenant moving in Sunday. Thanks HebWeb."

"Unbelievable result Hebweb. So many enquiries in response to the small ad on your site and now have lovely new tenants. What a success - Thank you Hebweb."
HebWeb also available on the slightly shorter hebdenbridge.uk as well as hebdenbridge.co.uk

HebWeb on Twitter - The HebWeb now has over 3000 followers.
"Many thanks Hebweb, the Small Ad asking for Volunteers to cook and help at Wadsworth Lunch Club has already had success. We now have someone coming to help cook. We'd still welcome a washer up, and occasional helpers please."
Small Ads - "We placed a job ad on the Hebweb recently, intending to keep it there for 2 weeks, but we had to take it down after 3 days due to the huge response generated"
Britain's favourite market town? Hebden Bridge has been shortlisted in the 'Britain's favourite market town' category in the BBC Countryfile Magazine Awards 2013. Read more
HebWeb uses Google ads to help cover its costs and they vary for each user. This has worked well for many years. However, please let us know the url of any ad thought to be inappropriate. If we agree, the ad will be blocked.
Guardian Northerner: Hebden Bridge the UK's coolest place? The Yorkshire Paradise has won its fourth accolade in a decade. Born, brought up and living here, Rachel Pickering is loyal, but has one or two cautionary thoughts.
Small Ads - "I am very pleased to say the response was terrific and both properties are now let." (Less than a week)
Small ads: "We've successfully rented our house. Thanks for an excellent service - I'll heartily recommend Hebweb, as our house was previously listed through an estate agent who didn't manage to get us a tenant in 3 months - through Hebweb we had 4 prospective tenants within a week."




More from Hebden Bridge Web