News, Features and forthcoming Events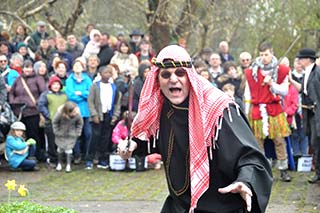 Heptonstall Players Pace Egg Play: Once again, the Heptonstall Players performed their unique version of the Pace Egg Play this Good Friday. More photos
Hebden Bridge Market moves to Lees Yard on Thursday 13 April - new Saturday Artisan market, a weekly Sunday local produce market and the Wednesday market moved to Fridays. More info
Sunday's Spring Sunshine in Hebden Bridge filled the town with visitors. Click photo to enlarge.
Market to move in two weeks, Markets Officer John Walker told the public meeting of the Hebden Bridge Partnership Thursday evening, and the Weds market will now be on Fridays. Read report of this and some of the other main points from the meeting. (24 March)
A tale of the Great Stink! Speaker Tony Boughton gave Hebden Bridge Local History Society a talk about the problems caused by the rapid growth of urban areas in the 19th century. Read more. (16 March)
After the Floods: new project to promote working together for a more resilient valley - and an online survey. Read more. (15 March)
Salem Cricket pavilion lifted into place - see Bruce Cutts' photos of the large crane assisting in moving the new pavilion over the Hebden Water and into place at Salem Cricket club. (14 March)
Northern rail strike: Travellers and commuters using Hebden Bridge Station faced disruption Monday (13 March) due to a planned strike. See Guardian report and ITV News.
SHIBDEN HALL is the new Sally Wainwright eight part drama series: After Happy Valley, Last Tango in Halifax, Scott and Bailey and others, the first few episodes of Sally Wainwright's next drama is based on the book Nature's Domain by Mytholmroyd writer Jill Liddington, published by Hebden Bridge publishers Pennine Pens. Read more. (5 March)
Blackshawhead launches crowd-funded defibrillators: On Saturday 4th March, two newly installed defibrillators in Blackshawhead went online with a training and 'launch' event, attended by around 30 residents. Read more and see photo and video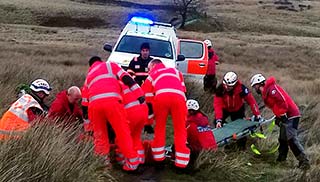 Calder Valley Search and Rescue hit 1000 The CVSR was formed in 1966 and on Thursday, 2 March the team was out at Top Withens (or Wuthering Heights) for their 1000th incident. Read more. (4 March)
Tree planting plan to cut flood risk: Hundreds of thousands of trees are to be planted on moorland to try and reduce the risk of flooding in the Calder Valley. See BBC news page
HebWeb Forum: latest threads include Deportation and Immigration involving a local family, dogs on a lead, 906 bus, Customer First, and the cuckoo. (1 March)
Big wins for Labour Candidates in Fairfield and West End Wards. Sue Fenton (Fairfield) and Sarah Courtney (West End), the Labour candidates for the Town Council bye-elections, each landed over 50% of the vote. The 3 candidates who didn't respond to the HebWeb invitation to post messages and photos received the least votes. Results and info (17 Feb)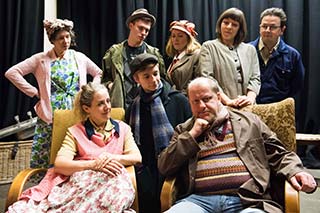 Spring and Port Wine at the Little Theatre this February. Thanks to Bruce Cutts for photos of the cast. Read more.
How floods inspired investment at Craggs Country Business Park. The recently completed Business Park is bringing a boost to the local economy, and firms such as Make Solutions, Blazing Saddles and VisioSound thanks to the vision and determination of the landowner and support from Calderdale Council.  Read more (19 Feb)
Floods minister visits Mytholmroyd: Thérèse Coffey was in Mytholmroyd to see design options for a new £15 million flood alleviation scheme. See ITV news report (15 Feb)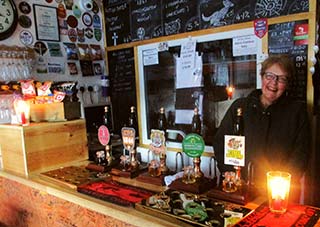 Beer by candlelight: A power cut from 11am - 3:50pm left half of the town centre between George Square and the Trades Club without electricity and heating. A few businesses remained open, like the bakery, the book shop, Holt's and Calan's Micro Pub (see photo above) (13 Feb - thanks to Ralph Nimmann)
What's going on? Check out all the events listed in the HebWeb What's on Section
Calrec sold to a French buyout group Astorg for £203m. Based at Nutclough Mill, the company employs 135 staff, designs and makes consoles for the BBC and other UK and overseas broadcasters. See Yorkshire Post article.
Above: work on Lees Yard in preparation for being the new home of Hebden Bridge Market. Click photo to enlarge. (1 Feb)
Town Council Bye-Election candidates: On Thurs, 16 Feb, bye-elections will take place in Fairfield and West End wards of Hebden Royd Town Council. Eight candidates are competing for the 2 seats. This news page give details. The HebWeb will post candidate messages and photos (5 to date) as they are received. (updated 27 Jan)
Hebden Bridge Market on the move: Work is finally due to start later this month on the relocation of Hebden Bridge market to Lees Yard, off our main square. Read more (19 Jan)
Demolition: Damaged during the 2015 Boxing Day floods the Children's Centre is being demolished to make way for a new car park. Photo: After Alice Project. Click photo to enlarge. See also: Forum thread (17 Jan)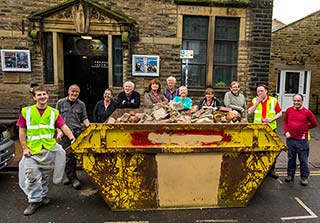 Trades Club Ground Floor work starts: A volunteer work brigade of socialists and trade unionists has begun the task of renovating the ground floor of the Trades Club at Hebden Bridge, which was devastated by the floods of Boxing Day, 2015. Read more. (8 Jan)
King Arthur ruled from Hebden Bridge! Retired Bangor University professor Peter Field claims to have found evidence showing King Arthur was a Yorkshireman who ruled Camelot from Slack above Hebden Bridge. See BBC News article (18 Dec) But is it the correct Slack? See Forum
Calder Valley Voices raise £600 for Freedom from Torture and the Forget-me-not charities, at their annual Christmas concert. See photo below. Read more (11 Dec)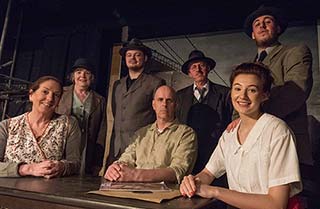 Arthur Miller's A View from the Bridge is the next Little Theatre production, set in 1950s Brooklyn. Love, lust and pride make a lethal combination for Eddie Carbone and his family. 17-22 April. More info
Midgley Pace Egg Play: Former pupils of Calder High School joined together with current pupils to continue the tradition of performing the Midgley Pace Egg through the ancient settlements of the Upper Calder Valley. 
Criminal Damage at Hope Baptist Chapel: The Chapel is 2 months away from reopening after major repairs, including dealing with flood damage. Now a group of locl teenagers has chosen to add to its problems. (7 April)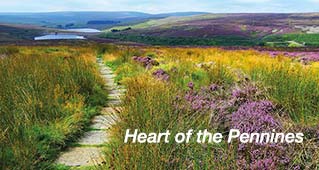 Heart of the Pennines - a new venture to promote walking in the Upper Valley. Local walking groups have organised a new website to to promote our area to walkers from other parts of the country. Read more (3 April)
Small Ads success - "Hi there I have found lovely tenants for my house in less than 24 hours. Amazing!" Re house to let in Mytholmroyd. (3 April)
Join the Twinning Society trip to St Pol: Hebden Bridge Twinning Society still have places for their trip of 25-28 May to Hebden Bridge's twin town in France. More details here (31 March)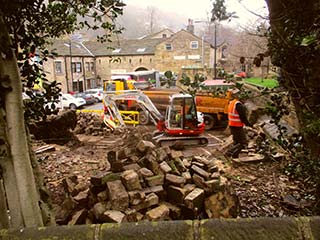 New Market Place preparation - Ralph Nimmann has taken photos of the work being done in Lees Yard to get it ready for the market to move there very soon. More info and photos (27 March)
Switch to LED street lighting will halve costs. Calderdale Council is set to save up to £600,000 a year, reduce its electricity use and cut its carbon footprint by switching to LED street lighting.
HebWeb Forum - the 20 mph speed limit and cleaning up paths are among the topics currently being discussed. (14 March)
Mayor's 1940s Charity Event. Cllr Tony Hodgins will be holding the Mayor's annual fundraising event on 1 April. Music and 1940s buffet and classic drinks.Read more. (10 March)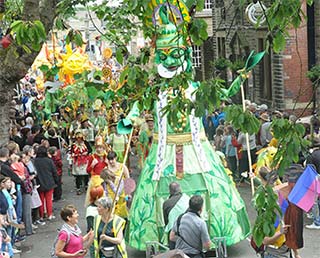 Handmade Parade Spark Day: Would you like to see giants in George's Square, Bridge Gate awash with crazy inventions or Calder Holmes Park transformed into a intergalactic playground? If so, now is the chance to make it happen. Read more. (27 Feb)
Town Council Vacancy: A vacancy on the Council has arisen (White Lee ward) following the resignation of Green councillor, Elizabeth King. A Bye-Election will be held if, within 14 working days, 10 electors for the ward give notice in writing. Read more. (23 Feb)
Worse than the Poll Tax says Labour group leader Cllr Tim Swift who has slammed Calderdale Conservatives for targeting people on low incomes in their budget proposals. (22 Feb)
Barclays Demo - today in Hebden Bridge by opponents of the bank's support and ownership of fracking companies. Click photo to enlarge. (22 Feb)
Yorkshire Post on Hebden Bridge and the Trades Club "Hebden Bridge is one of Yorkshire's most-famous towns. With a thriving community of independent stores and a population of people who champion the arts, built around some of the UK's most picturesque countryside, it has become a large tourist attraction. The Trades Club, has transformed into one of Britain's coolest intimate venues." Read more(20 Feb)
Calderdale are looking for School Governors Governing bodies rely on a variety of experiences and perspectives. No prior knowledge is required. Training and support is available for new and existing governors and is free of charge. Read more. (20 Feb)
Flood Alleviation Scheme for Hebden Bridge: the scheme will also aim to address surface water issues in the town, and wish to gather knowledge and anecdotal evidence from the community. Read more.
Job Vacancy - Catering Assistant (Maternity Leave cover until February 2018). The Town Hall are looking for a committed and enthusiastic person to assist in the day to day running of The Town Hall cafe, bar and events catering. Read more. (14 Feb)
906 Bus Service axed - see Forum message
Book Review: Jonathan Timbers reviews Michael Haslam's Scaplings, Star Jelly and a Seeming Sense of Soul which is to be launched at the Stubbing Wharf on 17 February. Read review. (6 Feb)
HebWeb Small Ads - The HebWeb is brilliant. Found tutor within 3 days… We have found a candidate. The response was excellent as was the calibre of the candidates.
Job Vacancy - Casual Cafe/ Bar assistant. The Town Hall is looking for a committed and enthusiastic person to assist in the day to day running of The Town Hall cafe, bar and events catering. Read more.
'Molly and Bill' launched in local residential care homes. The name of the project is an acronym of 'making our lives lively and being involved in local life', and the project is working with 5 residential care homes and the Community Place at Calderdale Royal.Read more. (2 Feb)
Mytholmroyd: the development of a Pennine village - Rodney Collinge told the Local History Society how developments from the Ice Age to the end of the 19th century have left their marks on the area. Read more. (31 Jan)
New grant available for flood-hit businesses: A new grant launched by Calderdale Council and the Community Foundation for Calderdale will help businesses affected by the 2015 floods to expand. Read more. (26 Jan)
Calder High and Cragg Vale schools consultation Proposals to close Cragg Vale J & I School and to enlarge and change the age range of Calder High School to create an all-through School. See consultation document (pdf) - and see Forum message
Station Parking: the Yorkshire Post has reported this morning that a scheme to expand parking at Hebden Bridge, Mytholmroyd and other stations in the region has been given the go-ahead. (9 Jan)
What was on in 2016? We've just archived our past events page. Hundreds of events from last year can be viewed or searched. And from previous years. Just click here. See also: HebWeb archives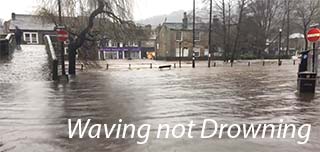 Waving not Drowning: How Hebden Bridge and Mytholmroyd fought back after the Boxing Day Floods. Producer Jason Elliott says, "This not a film about a weather event. It is the story of community self-empowerment." Watch video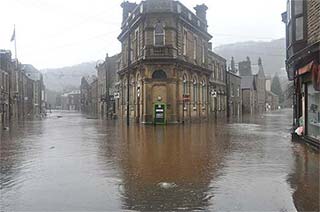 FLOODS: BOXING DAY 2015. A year ago, all shops, cafes, most pubs and hundreds of homes were wrecked. One year on the town has bounced back and is thriving once again. See more photos and read the HebWeb feature on the great flood. And our news section for how Hebden Bridge and Mytholmroyd coped with the aftermath. (Photo: HebWeb)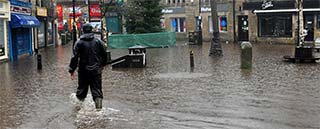 The Floods one year on - see this news item for details of some of the progress which has been made over the past year. And for some of the plans for continued work into 2017. Read more (16 Dec)
HebWeb Sounds and Vision: 3 new videos added. One showing the new flood prevention movable sign at The Book Case. Others on a Hebden Bridge map, and the Safer Together Christmas Tree. Sounds and Vision section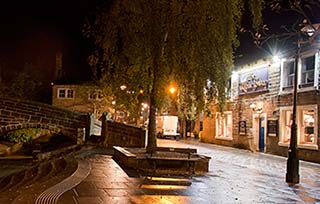 The White Swan Takes Flight Again after being closed due to catastrophic flood damage last Boxing Day, was finally able to re-open its doors on Thursday 3 November following extensive restoration work. Read more
Craig Whittaker, our MP, spoke Friday in Parliament against a new law to pardon all gay and bisexual men in England and Wales historically convicted of sexual offences that are no longer criminal. Read more. 22 Oct)
Hebden Bridge on YouTube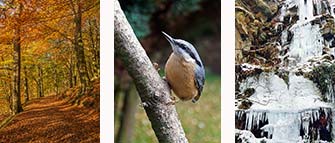 Hebden Bridge Camera Club winners. More info and larger photos
Small Ads: "House successfully rented through Hebweb. Fantastic posting wall!"
No place for young men: Alex Kostyakov has written a moving piece on work chances for young men in Hebden Bridge. Why do you never get served a latte by a young man, and is there a connection with break-ins at the park and station cafes? Read more.
HebWeb Small Ads - jobs offered, accommodation, cleaning, tax books, summer school, venues, plumbing, services and other quirky Hebden Bridge stuff.
From Steve Farrell, now living in Mysore, India: "As someone who lives abroad, the Hebweb site has always been critical for keeping in touch 'back home' in Hebden. I've just needed to re-advertise my home for rent, so where to turn to? The Hebweb, of course. The Ad was up within minutes and there were 10 enquiries within 24 hours. Superb!" See Small Ads.
Small Ads: "Amazing but my house in Tod got rented out within 30 minutes after putting the house on Hebweb." From message received, Thursday, 26 May 2016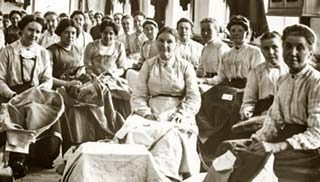 1916: The women machinists' strike in Hebden Bridge Andrew Bibby told the recent History Society meeting how, exactly a hundred years ago, in November 1916, at the height of World War One, women garment makers of Hebden Bridge came out on strike. Read more
Balanced Stones in the river, in front of the wavy steps, by Juan Cerruffo. Photo: Ian Hodgson. Click photo to enlarge
Selling my house on HebWeb was "extremely successful - I hope to complete on the sale in 2 weeks time, and I think I could have sold it a few times over."
Smll Ads: "I had so many wonderful responses to my ad for someone to help me re-organize my house post-flood, I wanted to employ everyone! Thank you." - Susan
Handmade Parade 2016 - photos of the Parade, and news report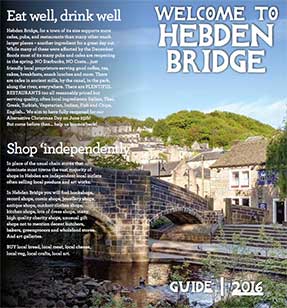 Hebden Bridge Tourist leaflet.
More info here

Happy Valley writer loves Calderdale. "Hebden Bridge is vibrant; there's a lot going on artistically and it's also got great galleries, pubs and restaurants." Sally Wainwright talks of our "dramatic and awe-inspiring" landscape and the influence of local historian Jill Liddington's Anne Lister book. Read her Guardian article
Guardian Northerner: What the UK can learn from Hebden Bridge? The BBC's Mind the Gap asks how London's success can be replicated elsewhere: Claire Donnelly argues that our small town could have the answer. Read more
Hebden Bridge, the UK's second city, BBC article by Evan Davis. "Hebden Bridge is an inverted city with a greenbelt centre and suburbs called Manchester, Leeds and Liverpool." Read the article
Small Ads - I just wanted to let you know that through my small ad on your site I found my ideal new home, meeting all my requirements. Thank you very much for such a great resource
Small Ads: "Ad posted Monday, lease to be signed Saturday and tenant moving in Sunday. Thanks HebWeb."

"Unbelievable result Hebweb. So many enquiries in response to the small ad on your site and now have lovely new tenants. What a success - Thank you Hebweb."
HebWeb also available on the slightly shorter hebdenbridge.uk as well as hebdenbridge.co.uk

HebWeb on Twitter - The HebWeb now has over 3000 followers.
"Many thanks Hebweb, the Small Ad asking for Volunteers to cook and help at Wadsworth Lunch Club has already had success. We now have someone coming to help cook. We'd still welcome a washer up, and occasional helpers please."
Small Ads - "We placed a job ad on the Hebweb recently, intending to keep it there for 2 weeks, but we had to take it down after 3 days due to the huge response generated"
Hebden Bridge: more plaudits - Last year's Valley of Lights won APSE's best community and neighbourhood initiative, and the Old Gate pub restaurant is Yorkshire Post's "Pub of the Week".
Britain's favourite market town? Hebden Bridge has been shortlisted in the 'Britain's favourite market town' category in the BBC Countryfile Magazine Awards 2013. Read more
HebWeb uses Google ads to help cover its costs and they vary for each user. This has worked well for many years. However, please let us know the url of any ad thought to be inappropriate. If we agree, the ad will be blocked.
Guardian Northerner: Hebden Bridge the UK's coolest place? The Yorkshire Paradise has won its fourth accolade in a decade. Born, brought up and living here, Rachel Pickering is loyal, but has one or two cautionary thoughts.
Small Ads - "I am very pleased to say the response was terrific and both properties are now let." (Less than a week)
Small ads: "We've successfully rented our house. Thanks for an excellent service - I'll heartily recommend Hebweb, as our house was previously listed through an estate agent who didn't manage to get us a tenant in 3 months - through Hebweb we had 4 prospective tenants within a week."




More from Hebden Bridge Web