Free swimming lessons for over 16s
Can't swim, or scared to try? Take the plunge with free swimming lessons at Todmorden and Halifax pools. Lessons for over-16s start at Todmorden pool on Monday 5 October, for ten weeks. They are on Mondays from 2.30pm to 3.15pm and Thursdays from 7pm to 8pm. Lessons for girls and women start at Halifax pool on Sunday October 11. They are at the following times: From 5.30pm to 6.15pm, for girls aged 11 to 16, From 6.15pm to 7pm and 7pm to 7.45pm, for women aged over 16. To book a place, ring Sam between 9am and 3pm on 01422 284406. . 22 Sept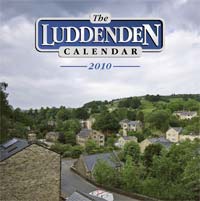 The 2010 Luddenden Calendar
Entering its 9th year the Luddenden Calendar is now available to buy. Featuring images from the Luddenden Valley and surrounding areas it helps raise approaching £3,000 each year for good causes supported by the Mayor of Luddenden. This year's Mayor, Matt Kay hopes to use some of the funds to help install a new basketball hoop and football goals in Luddenden's popular play area. Images for the calendar are submitted by members of the public each year and then judged to be the most scenic. Priced at £3 they are available fromLuddendenfoot and Midgley Post Offices, Hares Newsagents, local community groups or by calling 07796940391. 21 Sept
Calderdale to give away 200 tons of compost
Calderdale Council will be giving away 200 tons of its popular 'Black Gold' compost at the next Big Heap event in Sowerby Bridge on Saturday 26 September. The Council's parks and streetscene section will give away the compost to anyone who turns up at the Milner Royd site between 10am and 3pm. The only criteria are that you are a Calderdale resident (please bring proof of your address), and the compost must be used for non-profit making purposes. Please also bring a bag for your compost which is made by compost by mixing green waste from parks with fallen leaves collected by street cleaning teams. 18 Sept
Join the Global Climate Wake-Up Call
- a wave of local events throughout the world on and around Monday September 21. From Singapore to Sydney and Johannesburg to Buenos Aire. "Together we'll be sounding the alarm calling for climate action from our leaders."
George's Square, Monday, September 21 at 12:18 pm
More info
Missing 51-year-old Jacqueline Anne Wilkinson


Police in Lancashire are appealing for a 51-year-old Burnley woman who is missing from home and possibly in the Hebden Bridge or Heptonstall area to come forward. She has been missing from her home since Monday.Officers have discovered a bag of personal items belonging to her in a field above Heptonstall near to Hardcastle Crags. It is thought that she is still in the Hebden Bridge area.Jaqueline is described as 5f 1" tall with straight light brown hair and wears glasses. When she went missing she was wearing grey trousers, a grey coat with a large black fluffy collar and had three rings on her left hand.Jacqueline, or anyone who knows the whereabouts of her, is asked to contact Lancashire police on 0845 1 25 35 45. 13 Sept
Update: now found safe and back with her family
Strangely coloured River Calder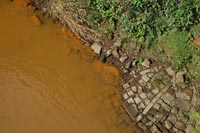 The Hebweb has been informed that the strange colour was due to a mine water break out above Todmorden. It shouldn't effect fish or other animals in the river but theEenvironment Agency are monitoring it. It may pose a problem to spawning but they expect there will be enough rain to clear it up before the spawning season starts. They are monitoring it and expect it to remain for a few days yet. 10 Sept
TV, radio, phone and electricity problems: BBC transmission page reported problems on our local transmitter. We've also received reports of loss of mobile services and last night electricity supply to several Hebden Bridge streets was cut from early evening until the early hours of Monday morning after flames were seen coming from the manhole cover at the corner of School Street and Birchcliffe Road. 8 Sept
Horror Films wanted for Halloween Screening
As part of an evening of Halloween celebrations at The Trades Club, there will be a screening of short films on Friday 30th October. The night will also feature a gore/slash make-up artist, a chroma-key video booth, dj's, lush decor and live art presented by the LaPuta team. LaPuta are calling all local film makers to submit film entries by 10th October. Films should be less than 10minutes long, and copyright free. The finest film of the evening will receive an award. Please send a link to your film, or enquiries to Alice Hutt. 6 Sept

Blackshawhead Village Fete - latest info
Women only singing group at the Little Theatre
Every Wednesday a group of women come together in Hebden Bridge and sing fabulous songs, just for fun. We don't perform anywhere, have no solos and most of us can't read music, but we all love getting together and singing songs from all around the world, led by some of the best singing teachers around. If you'd like to join them, just come along, most term time Wednesdays (7.30pm) in the Little Theatre from 23rd September. You can pay by the term or per session. More info: 01422 845432. - 16 Aug
HB Partnership - next meeting includes three presentations, including one by Richard Marshall and Dorothy Sutcliffe on the swimming pool - see
Recycling now over 40% of household waste
Calderdale Council's Cabinet Member, Health and Social Care, Cllr. Graham Reason, says he wants to thank the people of Calderdale for their efforts to improve recycling rates.
"Thanks to the efforts of householders across Calderdale, we are now recycling over 40% of household waste. "It means that we have reached national targets set for us by the Government for 2010 a year early. And we are well on the way towards the 2015 target of 45%." - 31 July
It's free to check your council tax banding
Calderdale Council says it costs nothing for people to find out whether their homes are in the wrong council tax band. The advice follows a number of enquiries to the Council from residents who say they have been approached by one of several companies offering their services, at a fee to find out whether or not their homes are in the wrong band. But Pete Smith Calderdale's Chief Finance Officer says there's no reason why people can't check on their valuation band for free. "All people need to do is contact their local Valuation Office Agency, who set Council Tax bands on 01422 307000 or visit their website at www.voa.gov.uk - 20 July
Police target drunken behaviour in Hebden Bridge
Extra foot patrols have been in Hebden Bridge over the last week where positive action has been taken in respect of drunken unacceptable behaviour. As a result, three people have been arrested for public order offences. One was a drunken, abusive 50 year old man, who was a visitor to the area. He was dealt with by way of a £80 fixed penalty ticket. In a separate incident two local men, aged 16 & 23, were arrested at the Railway Station for their drunken abusive behaviour. They are currently on police bail for various other offences. Sgt Norbury states: "Foot patrols will continue in the area in order to reassure our local residents. May we also stress that any unacceptable/anti social behaviour will not be tolerated and we will take firm action against any persons found engaging in such a manner." - 20 July
Former Hebden Royd mayor admits downloading child pornography
Former Calderdale Council lor and Hebden Royd mayor, Stewart Brown today pleaded guilty to 22 child porn offences, some involving images of girls as young as three and one involving distribution. Brown, who was Mayor of Hebden Royd in 2006, and often featured in Hebweb news items, was told to sign the sex offenders register before leaving the court on bail. Sentencing will be on August 25 when all sentencing options would be available. Source: Yorkshire Post - 14 July
Old Fire Station and Secret Garden: Hutchinson Demolition moved in on Monday, 6th July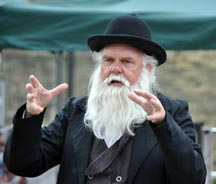 Charles Darwin (aged 200) was seen around Hebden Bridge and
Mytholmroyd today as part of the HB Arts Festival - 4 July
Festival events in Mytholmroyd: This year's Hebden Bridge Arts Festival features a number of events in Mytholmroyd. Festival co-ordinator Rebecca Yorke said: "We're pleased to be able to expand the festival into Mytholmroyd and are looking forward to meeting new audiences.".. . . .. Read more
A 17-year-old, from London has died while swimming in the Widdop Reservoir. His friends lost sight of him and called the police at around 1.30pm Wednesday, 1st July. A West Yorkshire Police underwater search unit was called out and recovered the teenager's body. - 2 July
Bowling Green at Calder Holmes Park is available free
Calling all Crown Green Bowlers! The Bowling Green at Calder Holmes Park is available free of charge over July & August for anyone turning up with their own Bowls. The Green is in good condition & is crying out for the feel of Woods bearing down on the Jack. Just turn up with your own Bowls & John the gardener will welcome you. - 30 June
Calderdale Writers' Roadshows comes to Hebden Bridge
The first roadshow is at Hebden Bridge Library on Sunday 5th July. It includes a session with author Jill Liddington on writing history, and a choice of workshops including memoir writing, short story writing and romantic fiction. Whether you're an established writer, need some help getting started, or have just never shown your work to anyone, the workshops offer encouragement and support at all levels. or more information or to book a place, pick up a leaflet from local libraries, or contact Anna Turner on 01422 392606 or by email: anna.turner@calderdale.gov.uk - 22 June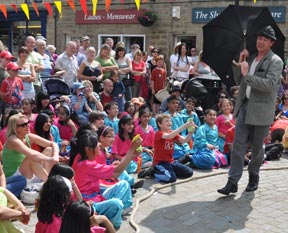 ARTS FESTIVAL LAUNCH - a great day of sunshine and street events in the square - see gallery of photos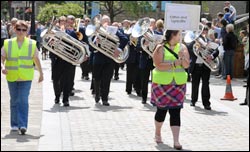 Brass Band Weekend: Hebden Bridge welcomed bands from all over the country for the Brass Band's second Heritage Weekend. See Media Page for 4 min video sample
A pilot project to increase insulation in 'hard to treat' homes
Members of the Calderdale Cabinet last night approved the reallocation of £140,000 'Economic Fighting Fund' funding to develop a series of initiatives that will boost the local economy.This includes a pilot project to increase insulation in 'hard to treat' homes (£100,000) like so many of the houses in Hebden Bridge. It is estimated that there are around 40,000 pre-1910 properties in Calderdale, which, despite being energy inefficient, have been overlooked by mainstream government funding due to their construction type. Householders could be offered a range of measures to improve their home insulation. As well as potentially improving the health of the occupants of these houses, it could also cut their annual fuel bills by up to £400, as well as providing employment and training opportunities for local residents working in this field. - 2 June
It is estimated that there are around 40,000 pre-1910 properties in Calderdale, which, despite being energy inefficient, have been overlooked by mainstream government funding due to their construction type. Householders could be offered a range of measures to improve their home insulation. As well as potentially improving the health of the occupants of these houses, it could also cut their annual fuel bills by up to £400, as well as providing employment and training opportunities for local residents working in this field.
Midgley: Yorkshire Post do feature on the Village Shop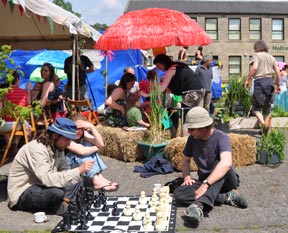 Chess in The Secret Garden
| | |
| --- | --- |
| Food campaigner Geoff Tansey kept an audio diary relating his experience of prostate cancer and his quest to discover the effects of diet. Click here to listen | |
Heptonstall Museum
Head to Heptonstall Museum to have your old photographs dated and identified by a team of experts on Monday 25th May from 11am-4pm. See the Calderdale Museums collection of photos and have your own images scanned and added to this wonderful collection. Drop-in. Free. - 18 May
| | |
| --- | --- |
| | Hebden Bridge Arts Festival 2009 - programme launched and now available around Hebden Bridge and on the festival website - 8 May |
Tie Amnesty for Big Green Weekend
Now is your chance to chuck out those old ties that are lying unloved at the back of your wardrobe and help save the planet in the process. A local ethical fashion project is collecting unwanted ties to give them new lease of life as recycled party-gear for the Hebden Bridge Big Green Weekend fashion show. If you have any ties you don't want – no matter how garish – phone Tansy Dyer on tel: 01706 819161 to arrange collection. - 3 May
Cllr Nader Fekri of Hebden Bridge has been re-selected as the Liberal Democrat candidate for the Keighley parliamentary constituency - 1 May
O2 give £1000 to buy trailer
Dot-Communication's project based in Hebden Bridge is to receive a £1000 award from O2's It's Your Community programm to purchase a renovated trailer for their 3R-iT division that will help collect refurbished computers for distribution to those in need. - 28 April
Stoodley Pike
What were those strange lights from the Pike over Easter? This blog offers some clues, video, photos and a history of our local landmark - and should that be spelt "Studley Pike"? - 20 April
Dock Pudding Contest - results and videos on the Mytholmroyd Net
Moving Market
Members of the Calderdale's Regeneration and Development Scrutiny Panel will consider the timetable for the relocation of the Hebden Bridge Market to Old Lees Yard when they meet on Wednesday 22 April. - 17 April
Tree works in Hebden Bridge Memorial Gardens
Hebden Bridge Memorial Gardens in the next 2 weeks will see the removal of a dying pine spruce tree and also a decayed sorbus. Both these have been identified during the regular inspection programme undertaken by CMBC to ensure the tree stock in Calderdale public spaces is both healthy and of a high amenity value. A line of self seeded ash and sycamore saplings will be removed from the canal bank opening up the rear of the memorial garden giving views both from and into the memorial gardens and adding both security to the gardens and increased amenity value. - 13 April
Jason Boom, Environmental Community Warden for Hebden Royd told the Hebden Bridge Web, 'the removal of these dying and decaying trees will allow us further scope for improvements in the Memorial Gardens, with the sapling removal on the canal banks the space will really open up, there will be no more dark dingy corners in the Memorial Gardens. We have consulted with the Friends of the Park and the local Police who are very happy to see the opening up of this area'. - 13 April

Hebden Royd Mayor Susan Press has lost her bid to become the Calder Valley Labour candidate - defeated by postal votes. The Labour candidate for the next general election will be Stephenie Booth, Cherie Booth and Tony Blair's mother in law - 10 April

Journalists' action
NUJ journalists on HB Times and Courier to ballot for industrial action - 8th April
Specialist Domestic Violence Court
Victims of domestic violence in Hebden Bridge will receive extra help and support from a new specialist court. Justice Minister Bridget Prentice announced the locations of 18 new Specialist Domestic Violence Courts last week, and Calderdale has been selected. The court will promote a combined approach to tackling domestic violence. Police, Crown prosecutors, magistrates, courts and probation services work with specialist victim services to provide support and care for those affected by violence in the home. 6 April
Click image above to enlarge with more info and times of both the Heptonstall and Calder High versions of Good Friday's Pace Egg play
Town Hall Project to receive £15000 grant from Adventure Capital Fund
Governor of the Bank of England learned cricket (and economics) in Old Town
"I was 10 years old, we lived on the moors above Hebden Bridge . . . I became a slow bowler. I was taught to bowl – slow left arm – at Old Town primary school by the headmaster, Alfred Stephenson. During the morning break he would mark the wickets in chalk in the playground, and draw a small circle exactly on a length. If we could pitch the ball within that circle he would give us a farthing. As we improved, and the payout of farthings increased, the morning break became shorter and shorter – my first lesson in economic incentives, or what is known in the trade as "moral hazard'." Mervyn King in The Independent - 28 March
Free swimming for under 17s and over 60s
From 1st April, free swimming for 16 year olds and younger and the over 60's comes into effect across Calderdale. 27 March
| | |
| --- | --- |
| | On Saturday, March 29, 2008, Earth Hour invites people around the world to turn off their lights for one hour – from 8:00pm to 9:00pm in their local time zone. More info |
Todmorden Pool closes for nearly a month
Calderdale Council is to carry out essential maintenance and improvement works at Todmorden Sports Centre. The work will commence on Monday, April 13 and is expected to take until Tuesday, May 5. The pool will remain closed throughout the duration of the work and reopen on Tuesday 5 May. 25 March
Teacher suspension features in the Guardian: "Pupils rally behind teacher suspended for writing school novel". And Radio Leeds. Background and links - 24th March
Fast broadband to be trialled in Mytholmroyd - see Forum thread - 23rd March

Our Hebden Royd Mayor failed in her bid to be selected for the Keighley parliamentary seat, but came a respectable second. Now Cllr Susan Press is going to stand for the Calder Valley constituency. Cllr Janet Oosthuysen was originally selected by the local Labour Party, then rejected by Labour's National Executive and now supports Susan. See Grimmer up North on our blogs page - 15 March
| | |
| --- | --- |
| Cllr John Beacroft-Mitchell will be the next Mayor of Hebden Royd, taking over from Cllr Susan Press in May. His wife, Cllr Joanna Beacroft-Mitchell, will be consort. | |
Nicholas Hughes, the son of poets Sylvia Plath (buried at Heptonstall) and Ted Hughes from Mytholmroyd, has taken his own life at the age of 47, after a period of depression. See BBC article 23rd Mar
FRIENDS OF
RUSTY AND STEVE

Mounting concern over the suspension of two popular Calder High teachers has led to the formation of a support group, who have called a public meeting and are collecting testimonials from students, former students, and parents.

Click here for background, more details, group letter, info and form for sending your testimonials

SECOND TEACHER SUSPENDED
A second highly respected and popular teacher, Steve Cann, has been suspended from the Calder High School. When the Hebden Bridge Web contacted Calder High, they refused to give us any information about their reasons. It is widely believed to be connected with the furore around the earlier suspension of Ms Rustamova or "Rusty" as she is affectionately known. See discussion on Hebweb Forum and the Facebook group Save Miss Rusty's Job- 10 March
Council Approves Fair and Equal Pay Scheme
Public serving staff are set to benefit after Members of Calderdale Council's Cabinet and Full Council agreed to move forward with plans to re-grade thousands of jobs. Working alongside the Trades Unions, the Council has evaluated nearly 7000 jobs, with staff completing detailed questionnaires about their work, and having in-depth interviews with a specially trained team. This was to identify any inequalities in pay on the Council's existing pay structure. - 13 March
Valley Fibres group
Valley Fibres is an informal group for all those interested in working with natural fibres, including actual and potential hand spinners and weavers, as well as knitters and felt makers. They plan to meet on the 3rd Tuesday of every month, starting on 17th March in the White Lion between 7.00 and 9.30pm. The focus is on self-help and enjoyment and all are welcome to take an active part. - 4 March
Road casualty reduction for Calderdale
Casualty figures for Calderdale have reduced from 1112 in 2002 to 784 in 2008 - a reduction of nearly 30% in six years. The figures are broken down into three main categories and include: Fatal accidents - reduced from 11 incidents in 2002 to 9 in 2008 a reduction of 18%. Serious incidents - reduced from 111 incidents in 2002 to 95 in 2008 a reduction of 14%. Slight incidents - reduced from 990 in 2002 to 680 in 2008 a reduction of 31%. - 27 Feb
Speed monitoring devices in Blackshaw Head
A trial scheme aims to reduce vehicular speeds through the village, and maintain and improve road safety. It includes: a reduction in the speed limit to 40 mph on the approaches to the village; introduction of 40 mph roundels on approach to the village
improved gateway signing and lining on entry to the village; improved high visibility warning signing through the village; new lining through the village; installation of solar / wind powered vehicle activated speed signs. - 27 Feb
Council tax rise of 1.78%.
At last night's Budget Meeting, councillors voted to increase council tax rise by1.78%. More than 40% of all households in Calderdale are rated in Band A for Council Tax valuation purposes. A couple living in a Band A property and not qualifying for any rebate will pay £826.20 per year. - 24 Feb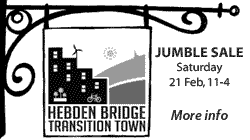 KERBSIDE CRISIS: Calderdale Council have finally decided to launch an independent inquiry into the issuing of the Sita contract and how Kerbside was sidelined. - 20 Feb
KERBSIDE CRISIS: At Wednesday's Calderdale Council meeting (18 Feb) , Kerbside will again be raised at full council. There is likely to be a vote of no confidence in Cabinet. The meeting is of course open to the public. - 17 Feb
Yorkshire's Green Champions
The search is on for Yorkshire's green champions. Entrants have the chance to compete in nine categories which recognise the determination of groups and individuals to protect the environment and reduce their carbon footprint. Click here for more details and entry form - 11 Feb
Government boost to improve local rail services
Passengers in many parts country could benefit from a new approach to Government funding of new local and regional train services Transport Secretary Geoff Hoon has announced. The Department for Transport could take over long-term financial support for new or enhanced rail services that are promoted successfully by local authorities and Passenger Transport Authorities. One example cited was a new service between Burnley and Manchester. It might presumably include having more late-night trains from Manchester or a better Sunday service. More info 11 Feb
Credit Crunch Hebden
Laughing Gravy and Hebden House have closed because of the current economic climate. Lynn Prior, proprietor, told the Hebden Bridge Web she would like to thank all the customers who have visited over the past twelve years, and wishes everyone "a safe journey through the present economic situation". 10 Feb

Police Pedal Power
Local police have been out in the town centre this week on foot, in vehicles and on bikes. Inspector Norbury said: "The advantage of using bikes is that our Officers can get to a scene much quicker than on foot and heavy traffic is much less of a problem. Also, on bikes, our Officers are much more accessible to the general public." 3 Feb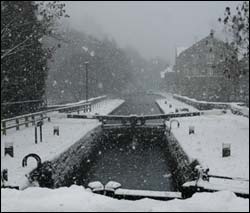 The canal - Monday, 2nd February
Click image to enlarge
Gaza Vigil:
Despite the fact that unilateral ceasefires are in place in Gaza, there will still be Vigil for Gaza this Friday, Jan 23rd from 5pm to 6pm.The emphasis will be slightly different in the circumstances and will focus on alleged Israeli war crimes and the end of the occupation which is at the root of all the problems in Israel-Palestine. 22 Jan
Calder Valley's choice as Labour Candidate, Janet Oosthuysen, has been rejected by Labour's National Executive - see Yorkshire Post article and forum - 20 Jan
Central Street - Tory Cabinet member explains why funds were refused. Read Forum thread 20 Jan
Parliamentary candidate
Calder Valley's choice as Labour Candidate, Janet Oosthuysen, has been rejected by Labour's National Executive - see Yorkshire Post article and forum - 20 Jan
The Cotton Mill Express
The organisers, Past Time Rail, have announced the excursions are to run once a month starting on Saturday, January 31. Passing through Hebden Bridge, it threads together many of Lancashire and Yorkshire's former cotton and textile mills on a breathtaking 100-mile circular route, embracing en route some of the most wild and rugged hill country the Pennines has to offer. Arriving in Hebden Bridge between half eleven and midday.
Burglaries
There have been two burglaries in the past week, one at at Duck Hill and the other at Waterside Fold. In one of these burglaries, a distinctive Sunderland FC embroidered purse was stolen. In both instances, the offenders gained entry through either an insecure window or unlocked door. 7 Jan
Hi-Visibility Patrols over Christmas Period
Local police were out on high visibility foot patrols in the town centre over the Christmas period and as a consequence, they report that crime and anti social behaviour problems still remain very low. On Friday, 19 December, many local businesses were visited in order to check on licences and to give advice re underage drinking. Whilst on patrol, alcohol was seized from a group of youths in St George's Square who were moved on without incident. 2 Jan
---
News in Brief: June - December 2006
News in Brief: January - June 2006